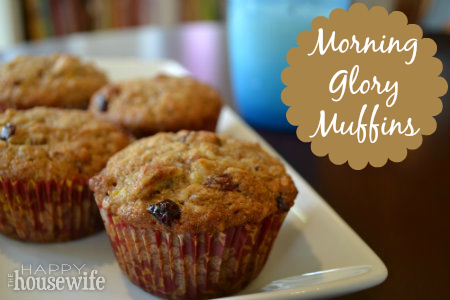 This is not your typical Morning Glory Muffin recipe. It has all the flavor, but has been tailored to use what is in season: zucchini. Loaded with pineapple, zucchini and apples, these Morning Glory Muffins bake up tender and moist. The addition of whole wheat flour and pecans help make the muffins hearty enough to satisfy, making them the perfect breakfast or after school treat.
Once cooked, you can freeze the muffins for up to six weeks. Simply remove from the freezer and microwave for 2 minutes, or until warm.

Morning Glory Muffins
Ingredients
⅔ cup whole wheat flour
⅔ cup all purpose flour
⅔ cup sugar
¾ teaspoon baking soda
½ teaspoon cinnamon
⅔ cup grated zucchini
½ cup shredded coconut, unsweetened
½ cup dried cranberries
½ cup shredded apple
⅓ cup crushed and drained pineapple
⅓ cup chopped pecans
2 eggs
½ cup canola oil
½ teaspoon vanilla
Instructions
Preheat the oven to 375. Line a muffin tin with paper liners.
In a large mixing bowl, stir together the whole wheat flour and the all purpose flour with the sugar, baking soda, cinnamon, and salt.
Add the zucchini, coconut, cranberries, apple, pineapple and pecans. Stir until everything is well coated in the flour.
Make a well in the center of the flour mixture.
In a small mixing bowl, blend the eggs, oil and vanilla. Pour into the well in the flour mixture and stir until all ingredients are moist.
Fill the muffin tins ¾ full.
Bake 20-25 minutes, or until a wooden skewer inserted into the center of a muffin comes out clean.
Cool the muffins in the pan for 10 minutes before removing from pan.