Wouldn't it be awesome if your kids requested veggies as much as they did pizza and pop tarts? When my kids were little I was tired of meal time battles (and chicken nuggets) so I made it my mission to get my kids to eat healthier.
But I didn't want my kids to make better food choices because I forced them to, I wanted them to actually like the fruits and vegetables I served at mealtime so that when they were older (and not eating every meal with me) they would continue to make smart, healthy choices.
Here's how I expanded my children's palate and encouraged them to eat more vegetables.
Limit sweets and processed foods when they are young.
Most children (and I know there are exceptions) will prefer a cookie over cauliflower. You can still give your children choices, but give them two healthy choices instead. I am always amazed at the two year olds who will eat anything from salad to okra, but it is usually because they have been introduced to a large variety of vegetables and fruits as babies.
Involve your children in the kitchen.
My children are always more likely to eat something they made no matter what it is. Kids like to take ownership of things and the kitchen is a great place to start. If they are old enough, they can be involved in the menu planning process, from choosing what's for dinner, to preparing it. Younger children can help by washing fruits and vegetables, cutting softer vegetables with a butter knife, and arranging them on a plate.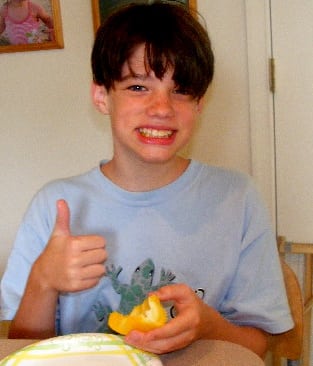 Don't be afraid of ranch dressing and cheese.
For a long time I didn't like my kids to dip their veggies in ranch or melt cheese on their potatoes, but then I realized that if it was helping them to eat more vegetables what was the harm? You can make your own (healthier) version of ranch dressing and kids need the protein in cheese so this can be a great way to help get kids to try new vegetables.
Pay your kids to eat vegetables.
I realize this is a bit unconventional, but I tried it a few years ago when all my kids went through an exceptionally picky stage. It worked. I made a chart, had a list of vegetables I wanted them to eat, and paid them a quarter each time they ate a small helping. Little kids (especially those who think a quarter is a lot of money) are very excited to earn money by eating. What happened when I tried this was that many of my children realized that they actually liked certain vegetables that they had been unwilling to try in the past.
Sneak them into their food.
This is my least favorite option, but sometimes you gotta do what you gotta do. Smoothies are my favorite way to add extra vegetables to my kids' diet, but you can also incorporate cooked and pureed vegetables to soups, sauces, and even pizza crust!
If you still need help, check out my ebook The Happy Housewife's Guide to Dealing with Picky Eaters,
it's only $1.49 on Amazon.
Next week 5 Simple Ways to be On Time with Kids.