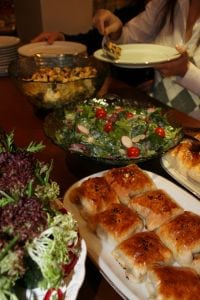 Many people I talk to think they are spending too much on groceries every month. Years ago I was in the same position, spending over $800 dollars a month to feed a family of six. My biggest problem, lack of planning. I would go to the store each week with a small list of essentials- milk, diapers, bread and come home with hundreds of dollars worth of food we didn't need. This food would then sit in my fridge and pantry for weeks because I didn't have a plan for it.
Then one day, when we decided to get serious about our finances, I realized that even though I didn't have an income, I could help reduce our spending. The first area I examined (after cutting cable) was the grocery budget. I didn't have any idea how much I was spending each month, but I was sure I could spend less if I just had a plan.
It was then that I learned about menu planning. I started creating weekly meal plans for my family and shopping lists based on the meal plan. I am sure it is no surprise that my monthly grocery budget was drastically reduced, immediately. Menu planning had another unintended consequence to our family's budget. We ate out significantly less, thereby saving our family more money and improving our nutrition. Having a meal plan meant less "oh no, it's 5 o'clock and I don't know what to make for dinner" moments that resulted in take-out pizza or the drive-thru.
A menu plan meant I was saving money, my family was eating better, and there was less stress at meal times. I sometimes wonder how I went so long without planning. You know what they say,
Those who fail to plan, plan to fail.
If you are struggling in this area, here are 5 Simple Ways to Menu Plan.
Ask Your Family
If you want to have a successful plan, ask your family what they like to eat. If no one is eats what you prepare your menu planning will be in vain. Every few months I poll my family and ask them to list their favorite meals. I try to incorporate their favorites into my weekly plan. While I can't accommodate every person every week, if they know I am considering their preferences in my planning they are better eaters throughout the week.
Make a Meal List
I have about 40 meals on my list. One afternoon last year I sat down and made a list based on preferences, nutrition, cost, and convenience. Whenever I am having trouble thinking of a meals I go back to my list. Depending on the budget, or other meals I've planned, I choose a few off the list. On weeks that I'm really not motivated, I pick all the meals off the list. This list takes the thinking out of planning.
Make a Weekly Outline
For those who follow my Menu Plan Monday posts, you know that I create a meal outline, and I don't assign meals to specific days of the week. This works well for our family due to my husband's work schedule and the fact that with 9 people in a house things are always changing. If a doctor's appointment comes up, that might be a good night for the crock pot meal or if we are going to be home all day I might make the more involved meal on that evening. Being flexible with my meal planning has allowed me to be successful with the implementation of these meals.
Create Themed Meal Nights
If you are really struggling with meal planning consider creating themed nights. For example:
Monday: Pasta
Tuesday: Ground Beef
Wednesday: Chicken
Thursday: Mexican
Friday: Leftovers
Saturday: Breakfast for dinner
Sunday: Meatless meal
This works well for families that have a set schedule as well as for families who need a strict routine. I have child who asks what we are having for dinner before he puts the first bite of breakfast in his mouth. Some children do better when they know what to expect and themed nights can really help with mealtime struggles.
Just Do It
The hardest part of menu planning…. getting started. My friend Erin from $5 Dinners has some wonderful free menu planners on her site, I would recommend you download them to help get you going. Then make a plan. Set aside 30 minutes a week (maybe 45 minutes if this is your first time) to create a menu plan and a shopping list. Sometimes you can create a menu plan just by shopping your freezer and pantry, other times you can create a plan based on your weekly sales flyers.
Menu planning is really quite simple and once you start you'll wonder why you waited so long to begin.
Save Money. Better Nutrition. Less stress. What's holding you back from menu planning?
This post is linked to Frugal Friday.