Have you ever tasted a slice of delicious whole wheat bread right out of the oven? It is probably one of my favorite foods! Whole wheat baking totally changed my opinion of whole grains because baking from scratch tastes so much better!
My journey to baking with whole wheat flour started several years ago when our oldest son was diagnosed multiple with more learning disabilities. We decided to try medication to help with some of his issues. While the medicine worked, it also had some nasty side effects.
After much debate and we decided to take him off the medicine. We decided see if some drastic diet changes would have a similar effect as the medication.

Years ago, I relied heavily on convenience food, so it was pretty easy to start cutting out all the prepackaged food and start cooking and baking from scratch. After a year or so I heard a talk by Sue Becker on the benefits of grinding your own grain to make bread and other whole grain foods. I'm typically a skeptic, but her talk convinced me that grinding my own grain was the next step in our family's healthy lifestyle.
I purchased a Nutrimill
and began grinding grain to make fresh homemade bread. (After my nurtrimill died I purchased a Wondermill) I was not an experienced bread maker when I started, but it only took one loaf to convince me I made the right decision.
Fresh ground wheat is so much different than a bag of whole wheat flour. 100% whole wheat bread made from your own wheat does not taste like the burnt, dense bread you find at the store either.
I started making 100% whole wheat loaves that were light and delicious. My kids, who normally balked at a piece of whole wheat bread, could eat a whole loaf in one sitting.
To understand the health benefits of milling your own grain here are some facts about freshly milled grain.
There are three main layers: the bran, the germ, and the endosperm.
The bran is the outer layer where all the roughage that helps move unwanted poisons and toxins through your system is found. The bran also contains numerous vitamins, minerals, and proteins.
The germ is the health center of the grain, overflowing with vitamins B and E, as well as unsaturated fat and protein.
The endosperm is the starchy white center. Whole grains contain almost 90% of all the vitamins, minerals, and protein you'll ever need. However, commercially milled products don't offer you those nutrients.
Why? Once milled, the oils found in the bran and germ oxidize and turn rancid within 72 hours. So for commercial purposes, both the bran and germ—and all the nutrients contained within them—must be removed in order to give products a shelf life.
When you grind your own wheat you are getting the freshest flour possible with the biggest health benefits. The cost initially is high (when you consider the price of a mill) but the cost of ingredients for whole wheat bread is around a $1.
I also use fresh whole wheat flour to make pancakes, waffles, biscuits, bagels, cookies, cakes, pizza, muffins and a variety of other items. The baked goods are light and fluffy even when I use 100% whole wheat in recipes. I also use leftover bread to make whole wheat bread crumbs.
Getting started is expensive. An electric mill costs around $250. I also use my bread machine
to make my dough and then bake the bread in the oven. This is not a necessity but it does make the job a little easier.
Whole Wheat Baking Tips
Use the right type of grain for the recipe.
Hard Red Wheat: This grain is has the most protein of all the grains and should be used in breads and rolls. It has a slightly bitter flavor and is also darker in color.
Hard White Wheat: This grain has less protein than hard red wheat and is lighter in color. It is best for non-yeast baked goods like muffins, pancakes, waffles, etc.
Soft White Wheat: This grain also has less protein and should never be used an any bread recipe. It works well in cakes, pie crusts, and pastries.
Kamut: This grain has a rich nutty flavor and is perfect in waffles and pancakes.
Don't add extra flour.
Too much flour in your dough will make your bread heavy and dry. Try oiling your hands to keep the dough from sticking to your fingers. Also, flour changes with the humidity in the air. Because flour absorbs liquid from the air, in the humid months try adding a little less liquid in your recipes.
Sift the flour before baking.
As I mentioned previously, commercial bread has the germ and bran removed from the flour to give the bread a longer shelf life.
With whole wheat baking, if you sift the flour and then add the germ and bran back into the mix as you are kneading the bread the bread rises higher and is lighter. You are still getting all the nutrients of homemade bread, but it is fluffier than without sifting.
Use orange juice in your recipes.
Orange juice is acidic and that makes the yeast happy. Especially in sweet breads, where the sugar tends to inhibit the yeast, a tablespoon of orange juice can help give the yeast a little kick.
Many of you have asked for my whole wheat sandwich bread recipe. I use hard white wheat in this recipe and it makes great sandwich bread as well as dinner rolls. I also use this recipe for pizza dough, adding parmesan cheese, garlic, and Italian seasoning before I knead it.
Let the batter rest before baking in non yeast recipes.
The bran and germ in whole wheat flour is coarse, allowing it to rest helps it to absorb more of the liquid in the recipe making a lighter baked good in the end. (This works great with muffins and pancakes too!)
Substitute slowly with new recipes.
If you are new to whole wheat baking and are using recipes that typically call for white flour, don't replace all the white flour with whole wheat flour right away. Slowly increase the amount of whole wheat flour (and reduce the white flour) in the recipe to make sure the recipe still works with the new flour.
Avoid a burnt crust by tenting.
If your crust is cooking too quickly try "tenting" it halfway through the baking cycle. Take a sheet of foil and cover the bread making a tent shape with the foil. For a softer crust, brush your loaf with butter soon after you take it from the oven. The crust will stay soft for days.
Enhance your loaf.
If you want to enhance your loaf consider adding dry milk or substituting potato water for water in bread recipes. You can also add potato flakes to a recipe. Potatoes add starch to the loaf which keeps the bread moist longer. Dry milk also keeps your loaf moist and fresher longer.
Which is better whole wheat flour from the store or grinding your own?
Most people who are selling grain mills and wheat berries will tell you that fresh ground wheat starts to lose important vitamins as soon as 24 hours after grinding. If this is true, then flour from the store, including King Arthur flour would have significant vitamin loss by the time you purchase it.
This information is disputed by many and after doing a lot of research I haven't found a clear answer in regards to how quickly or how many vitamins are lost. As a personal preference I think fresh ground whole grain flour gives breads and baked goods a lighter taste, whereas some of the whole wheat flour sold at the store produces heavy loaves. I've also found that I can substitute 100% fresh ground whole grain flour in recipes, whereas when I'm using store bought whole wheat flour I still need to use a little white flour to get the desired results.
As far as store bought whole wheat flour, King Arthur is my first choice because they are the closest thing to fresh ground flour. Many flours remove the bran and germ, then add it back in later which changes the nutritional content of the flour by doing so. They also have the best results in baking compared to the other brands I have tried. I definitely think King Arthur flour is a great place to start for those wanting to try out switching to whole wheat without committing to buying a mill, 50 pounds of grain, and other supplies.
The only option better than using King Arthur Flour is to check and see if one of your local health food stores will grind wheat berries for you in the store. This method is may be more expensive than King Arthur, but it would be a good way to see if you think there is a difference in buying whole wheat flour and grinding it yourself.
My No-Fail Whole Wheat Bread Recipe
Whole Wheat Bread (No Fail Recipe)
I've been making this recipe for over ten years. It turns out perfect every single time! 
Ingredients
1 1/2

cups

warm water

1/3

cup

olive oil

1/3

cup

honey

2

tsp

salt

4-4 1/2

freshly milled hard spring wheat flour

sifted

1

teasp orange juice

1

Tbs

yeast
Instructions
Bread Machine Directions:
Add all the wet ingredients to the bottom of the bread machine loaf pan.

Then add dry ingredients.

Add the yeast last.

Use the dough setting unless you want to bake it in the bread machine.

Shape into the desired pan and let rise again until doubled. 

Bake at 350 degrees for 25 minutes. 
Mixer Instructions 
Combine all the wet ingredients. 

Add yeast, salt, and half the flour. 

Knead the dough until smooth. 

Slowly add the rest of the flour.

Knead for about 10 minutes. 

Let rise until doubled. 

Shape into the desired pan and let rise again until doubled. 

Bake at 350 degrees for 25 minutes. 
I make this recipe in my bread machine by adding all the wet ingredients and then all the dry ingredients. Add the yeast last. I use the dough setting, but if your machine has a whole wheat setting you can use that too and bake it right in your machine.
If you are making this recipe by hand combine all the wet ingredients. Then add yeast, salt, and half the flour. Mix until the dough is smooth. Then add the rest of the flour. Add the flour slowly so you don't use too much. Knead for about 10 minutes. Let rise until doubled. Shape into desired pan and then rise again until doubled. Bake at 350 degrees for 25 minutes. This will make 2 loaves of bread or two large pizzas.
Our family has enjoyed fresh bread and other whole grain products for almost four years. I can start a loaf of bread in under ten minutes and the entire hands on time is under 20 minutes. Making bread is not difficult once you get the hang of it, and this skill can be taught to your kids as well.
My whole family agrees it is hard to beat the taste of fresh homemade bread from the oven.
How to get a perfect looking loaf.
If you are baking your bread in the oven it's easy to get a beautiful, perfectly shaped loaf of bread with this simple trick.
Roll out the dough into the shape of a rectangle after the first rise. Make sure your rectangle is not wider than your loaf pan. Then roll the dough up like a cinnamon roll. Place it in the bread pan. This will give your bread a nice even shape through the second rise and baking.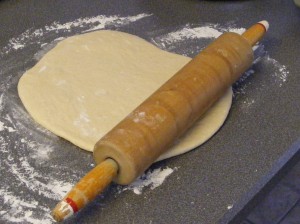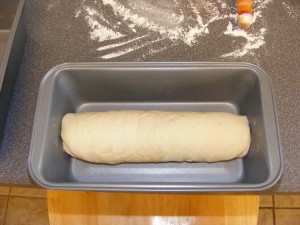 When your bread is finished baking brush your loaf with melted butter. It will keep your crust nice and soft.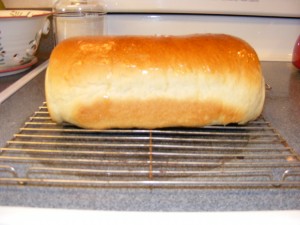 Additional information: Merrilee asked where I purchase my grain. I purchase my grain from the Bread Beckers or Quail Cove Farms which is a co-op on the Eastern Shore that delivers to my area once a month.
The wheat comes in 50 pound bags so I only order every few months. The price of grain fluctuates significantly but depending on where you live you can purchase grain for about $1 a pound for organic and about $0.60 a pound for non-organic.
Once you have tried fresh, whole grain baked goods it is hard to go back to store bought!