Do you have a picky eater? When my kids were little I didn't realize I had a picky eater, I simply thought that's how things were for every child. As my family grew I found out things didn't have to be that way…
A question from Heather:
How do you get your kids to eat what you make? Mine are 6 & 3 and used to eat anything I make but now will pretty much only eat chicken fingers, pasta, grilled cheese, that kind of thing. It makes shopping and meal planning a nightmare and mealtimes miserable. I want to stop making 2 meals and get them to broaden their horizons. Any tips? Thanks!
When I had two children I was much more lenient during meal time. I would usually make food I knew my kids would like, or I would cook up a bowl of macaroni and cheese for my picky one.
Then my family exploded in size. Meal time was no longer a simple dinner for four. We had a table full of kids all with different likes, dislikes, and a couple of really picky eaters.
I had no option, but to get tough about eating. Usually when I make a meal that I know one child does not like I try to prepare a side that they do like. For example I have one child who really dislikes shepherd's pie.  On the nights I serve this dish I make sure to have a bowl of fruit and a veggie that this child really loves. While they do have to try a small piece of pie they can fill up on the other healthy options at the table.
What about the child that dislikes everything? I had one of those. In the beginning I catered to this child and only made him eat a handful of items. After a while this became unacceptable to me, plus I was tired of making two different meals at dinner. We finally had to just make them eat a little bit of everything at the table. The exception to this is if there are two fruit or vegetables being served. The child has a choice of eating one or both. If we are serving green beans and salad the child can choose between the two or have some of both, but they must eat at least one.
When training my kids to eat what was served I started slow. For example, I would give them one green bean or one piece of broccoli. The next time it was served they would get a larger portion. If a child truly dislikes something then they are given just a small amount to eat, a bite or two.
The interesting thing is that over time my kids have learned to like a lot of food they thought they disliked. Usually they never really disliked it, they would just refuse to try new things. With my littlest ones they are always given a small amount of everything on the table, even as babies they tend to eat what I fix, just mashed up. The exception to this would be spicy foods or things that are not recommended before the age of 1.
What if the child refuses to eat? I am not one for a battle of the wills with my kids. If you don't eat what is on your plate you don't get seconds of anything else on the table. There is no arguing or debating. I know my children will not starve to death if they refuse to eat a full plate of food at one meal. This situation usually occurs during dinner, so I make sure that if the child is not going to try everything on their plate, the next morning's breakfast will not be a favorite dish. Eventually they realize they need to eat at each meal and not wait for something better to come along.
Lest any of you think I am the Wicked Witch of the West, my children have a lot of say in our menu each week. The fact that pizza is a weekly meal is proof of that fact. While menu planning I almost always ask my kids for input and usually two to three meals a week are picked by them. I also try to include a few new meals a month to help broaden their tastes and introduce them to new and different foods.
As for Heather and her question, if you decide to get tough I can promise you things will get worse before they get better. My recommendation would be to stick to your guns. You will have tears and your kids might cry too. Some days will look like this…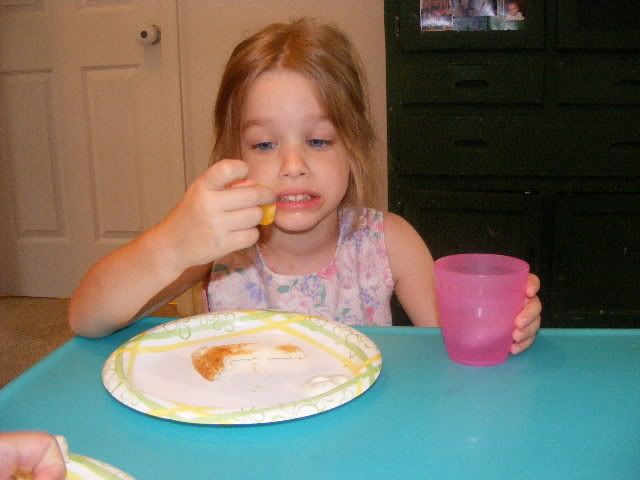 But eventually there will be more days like this…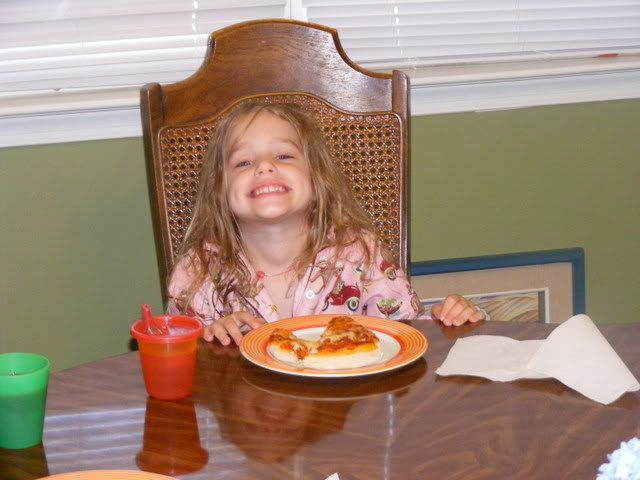 Teaching your children to like a variety of food is one of the best things you can do for them as a mom. Persevere and the rewards will be great.