By contributing writer Tessa
These hearty Paleo Banana Muffins could also be called Elvis Muffins to celebrate the King of Soul's favorite combination: bananas and peanut butter. But peanut butter is not paleo and with so many peanut allergies, it is banned in many schools. So any nut or seed butter will do in this recipe.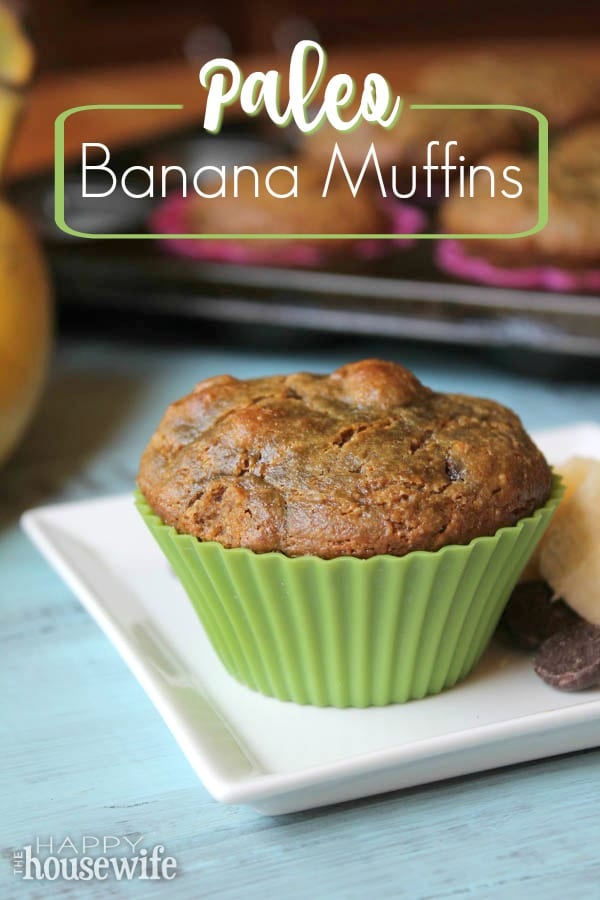 Muffin Recipes
Healthy muffins like this can be eaten for breakfast, lunch, or snack time. We have more muffins you might enjoy too:
Paleo Banana Muffins
Ingredients
¾ cup (280g) any nut or seed butter (I used sunflower seed butter)
3 very ripe bananas (~300g) , peeled
¼ cup (60g) coconut oil, palm shortening, or butter
½ cup palm sugar or other granulated sugar
2 large eggs
2 teaspoons vanilla extract
½ cup (70g) cassava flour
¼ cup (27g) coconut flour
½ teaspoon baking soda
½ teaspoon baking powder (use grain free brand for paleo)
½ teaspoon sea salt
Instructions
Preheat oven to 350° F and prepare a muffin tin.
In a food processor or a powerful blender, process the nut butter, bananas, coconut oil, sugar, eggs, and vanilla until smooth and creamy.
In a large bowl, whisk the flours, baking soda, baking powder, and salt, making sure there are no lumps.
Pour the wet ingredients into the dry and mix until blended.
Place the batter in the muffin pan about ⅔ of the way up.
Bake in a preheated oven for 18 - 22 minutes until the tops are just set.
Notes
If you are using sunflower seed butter, you can add a splash of lemon juice
to avoid the greenish tint to your muffins!