Shelled peanuts are a cheap, healthy and fun snack. What I do not like about peanuts is cracking the shells. It always seemed easier to me to buy the peanuts, sans shell and pay the extra price. That all changed recently when my husband showed me a little trick to cracking the shells.
Every shell has a little indentation near the tip of one end.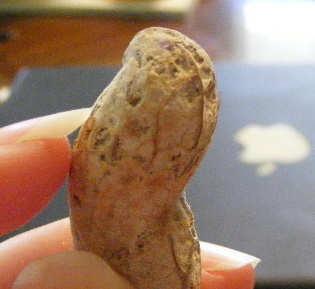 Take your thumb and gently press on the indentation. Your peanut will split in two perfect pieces.
Here is my first attempt at a video. I figured it was the best way to demonstrate the peanut cracking. I hope it makes sense!

For more Kitchen Tips visit Tammy's Recipes.