Last week I was searching for a cake to make for my daughter's 5th birthday. I found a cake tutorial on the web and wanted to try the Barbie cake. The lady in the video made it look really easy, and then I realized she was a professional cake decorator, which I am not. It might be easy for her, but how easy could it be for me, Queen of the Cake Massacre?
I searched my photo archives found a picture of a previous cake to prove that I really don't know how to decorate a cake, at all! Thank goodness he was turning two and didn't really care what the cake looked like! I am not sure what I was going for with this cake, a bus, car, who knows?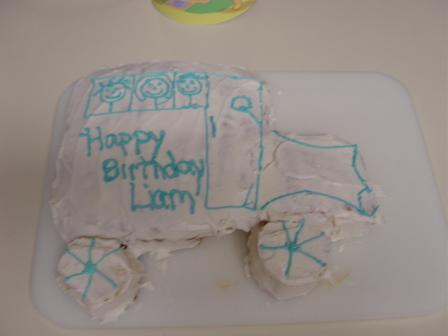 Anyway, I decided to video my cake experience and you can decide if this is something you want to tackle! For many years I paid grocery store premiums for cakes because I wanted my children to have a special birthday with a nice cake. Now I realize that I can make a nice cake for significantly less. This Barbie cake cost under $5 to make, and my daughter loves it!
Please excuse my unbrushed hair and the volume changes in the video. I was really tired!

My kids still talk about this cake and I made it almost seven years ago! It is definitely worth trying if your daughter wants a princess/ barbie cake!