Many people tell me that thrift stores are great when their kids are little, but once they hit the teen years they have to start shopping at the mall. I disagree. Shopping for teenagers at the thrift store is hard because… shopping for teenagers is hard in general. Don't even get me started on the latest fashions, because I've got issues. I do not want to send my kids out looking like they belong on the corner somewhere.
Other people tell me their kids refuse to wear thrift store clothes. Amy Dacyczyn author of Tightwad Gazette
has some great advice regarding teens and clothes. She gave her kids a clothing budget and them took them to the mall. It didn't take long for her children to realize they could buy one outfit at the mall or ten outfits at the thrift store.
My kids don't mind shopping at the thrift store. In fact my boys prefer shopping at the thrift store, my oldest once told me, "Mom, I like it when you buy us thrift store clothes because if we ruin them you don't get mad at us." Let's just say my reaction is a bit different when they put a hole in the knee of a $30 pair of pants.
Here are a few thrift store shopping tips.
Plan your trips around the bargain days. Many thrift stores have one or two sale days a month where everything is 1/3 or 1/2 off. Or they have bag sales, you know the ones where you fill a bag and pay a set price.
Shop out of season. Just like the mall, thrift stores will mark down their winter clothes as summer approaches. This is a great time to stock up on gear for next year.
Know your prices and brands. I am not going to pay $3 or $4 for a Target T-shirt because I know I can buy a new one on clearance for a similar price. I will pay $4 for a shirt from LL Bean or Lands End. If an item is priced close to the "new" price I pass and look for something else.
Carefully examine your purchases. There is nothing more frustrating than coming home from the thrift store with a great find and then realizing it has a tear or a stain that cannot be removed. Since most thrift store sales are final it pays to be picky.
Don't pass up a really great deal because of a small flaw. Sometimes the deal is so great it is worth it to buy something with a small flaw and hope you can fix it when you get home. Especially buttons! These are easy to replace.
Go with a list of items you want to purchase. Sometimes the deals are so good you can get carried away and overspend, even at the thrift store. Last fall my boys needed soccer shorts for practice. I went to the thrift store and found great shorts for under $2 a piece. Many of them looked new. I ended up buying a crazy amount of shorts. Fortunately I have a lot of boys who can hand them down to each other, but a kid doesn't need 5 pairs of soccer shorts!
Think outside of the box. Do you see the girl in the purple dress?
She found the dress at the thrift store last fall. With help from her mom they turned the dress inside out, added straps and the tulle at the bottom and created a unique dress for the homeschool end of the year banquet.
This purse was made from a skirt I found at the thrift store. I really liked the colors in the skirt, but it was several sizes too big so I turned it into a purse, and a pillow (not pictured).
Now on to my thrift store finds. Actually I prefer yard sales because they are so much cheaper, but it is still a little slow for yard sales, and it has rained for the past one million days. (I am exaggerating, but only slightly!)
My husband is promoting in a week and since it is kind of a big deal my older kids needed something nice to wear to the promotion. Truth be told I plan on taking a lot of pictures on that day and I didn't want my son wearing one of his usual "I do my own stunts" t-shirts!
I found this red polo shirt for $2.00, the shorts for $2.50. Total cost $4.50
His everyday clothes.
T-shirt $2, swim trunks $2. Total cost $4.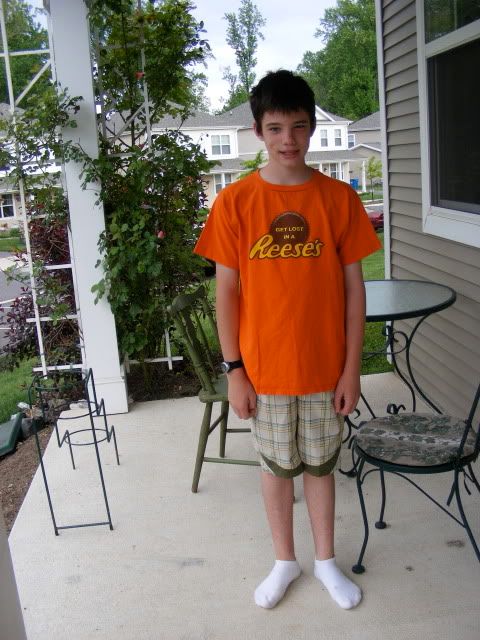 Tank top $3, goucho pants $2. Total cost $5.
Outfit for the promotion.
Pink tank $2, dark pink shirt $4 (big bucks, but we really liked it!) skirt $2. Total cost $8.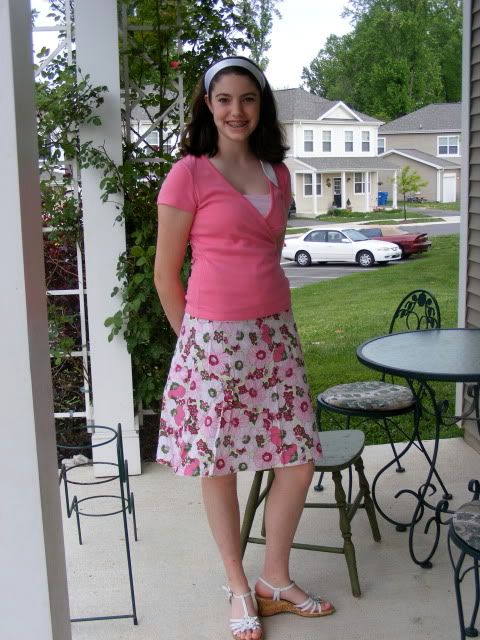 For more thrift store fashion visit Jen and her Frugal Fashionista Fashion Show Link Up Party.
This post is also linking to Frugal Fridays and Friday Show and Tell.