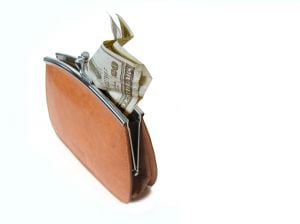 Many people I talk to don't use the envelope system because they think they will be walking around with large amount of cash, especially at places like the grocery store. Initially this was one of my concerns too. Then I figured out a way to use the envelope system while not carrying huge amounts of money while shopping.
Depending on how often you shop, divide your monthly grocery budget by the amount of trips you make to the store. Now, if you are shopping every day, this could be a challenge, for you, I suggest dividing your grocery budget by four.
My February grocery budget is $600, divided by four that gives me $150 each week for groceries. On my first trip to the store I pull out $150 from the ATM and put it in my grocery envelope. I use the $150 to pay for that shopping trip. Most likely I will have money left over and that stays in the envelope for the rest of the week. I can use the extra, if there is any, to pay for quick trips to pick up essentials if necessary.
Each week, you pull out your weekly amount right before you go to the grocery store. You spend the money right away and are not carrying around large amounts of money in your wallet. I usually only have $20 to $30 in my grocery envelope after shopping.
I use the ATM since my bank does not charge for withdrawals, but if you are charged a fee, stop by your bank and cash a check for that amount each week.
For more Frugal Fridays visit Life as Mom.