Several readers have asked me how to win Swag Bucks. I know there are still many of you who don't think it works, I was skeptical in the beginning too.
Then, last year I was able to pay for all our Christmas presents using swag bucks to purchase Amazon gift cards, and the gift cards to purchase gifts.
After Christmas was paid for I started saving my swag bucks for these: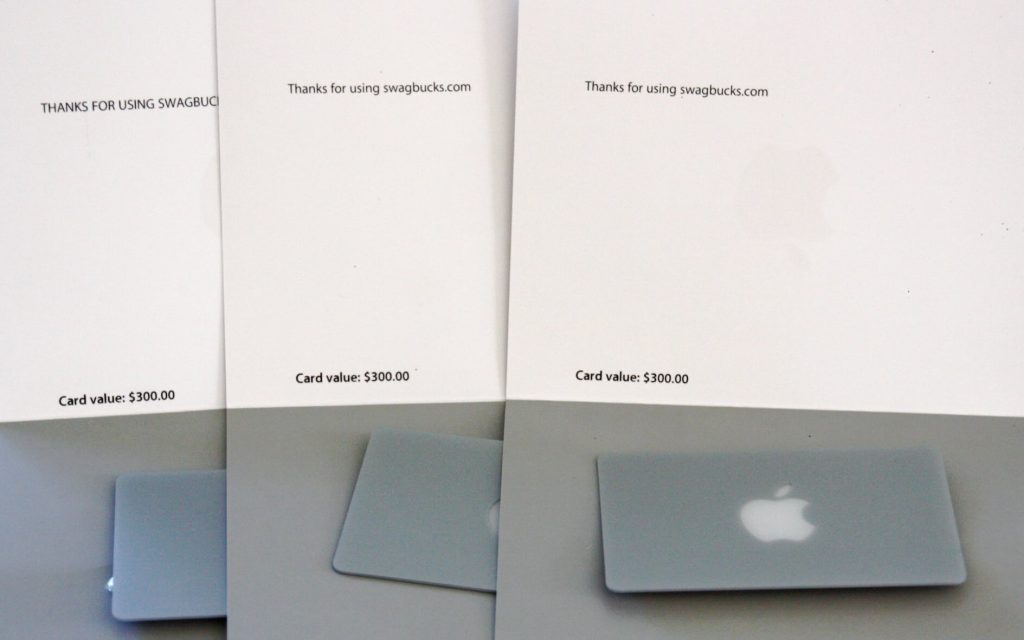 And last week, I bought an iMac computer for my children using Swag Bucks!
Now, you can't earn enough swag bucks to buy a computer overnight, (well some of you probably can) but over time they do add up.
Here are ways you can earn Swag Bucks:
1. Use Swag Bucks to search the web.
Instead of using google I use swag bucks. I almost always find what I am looking for, and if I don't, I just switch back to google. When you search using swag bucks you randomly win bucks.
2. Install the swag bucks toolbar.
I can't believe I didn't do this sooner. I installed the toolbar and I usually win several swag bucks a day for doing nothing! It just pops up on my computer screen.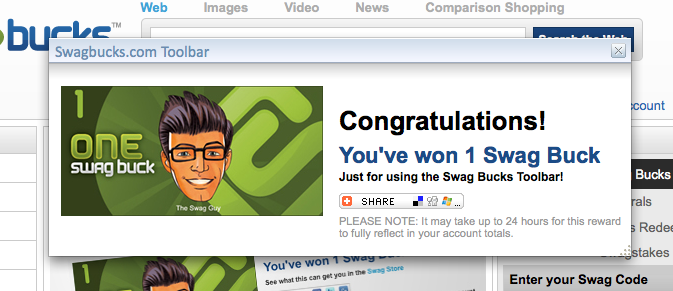 3. Purchase items through the Swag Bucks website.
The swag bucks website usually has incentive programs if you buy through their affiliate links. Currently, if you order flowers through their link you earn 700 bucks.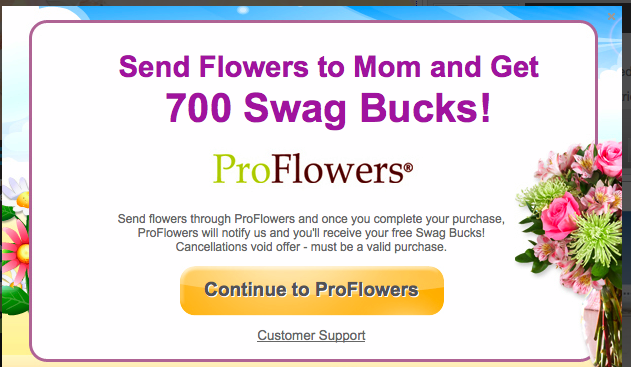 4. Find the Swag Codes.
Swag Codes are released about once a day. They can appear anywhere, and at any time, throughout the Swag Bucks network. This includes, Swagbucks.com; the newsletter, any Swag Bucks powered Search&Win Site; the Official Swag Bucks blog, Facebook Fan Page, Twitter page, Flickr page; and affiliated partner sites. When you find the code, enter it in the swag code box on the site and earn bucks.
5. Trade in your old electronics.
You can earn bucks for trading in your old cell phones, video games and electronics.
6. Vote in the Daily Polls.
Each day the Swag Bucks website runs a poll. They are only one question and random participants earn a swag buck or two after they submit their answer.
This is the best way to earn swag bucks. When you log in to your account you will find your referral code. Even if you don't have a blog you can share this code with your friends via email, facebook, etc. When your friends sign up using your code you earn swag bucks. You are awarded matching Swag Bucks only for the Bucks they win while searching (up to a total of 1,000).
A few more Swag Buck tips.
Recently Swag Bucks changed the value of the swag bucks. While you use to win 1, 2, or 5 bucks when you searched, now it is usually 10, 20, or 50 bucks. When they changed the value of the bucks, they also increased the cost of the prizes. A $5 Amazon gift card cost 45 Swag Bucks under the old system, now it costs 450 bucks. So if you had 300 Swag Bucks in your account, and now you have 3,000 it is because of the new system.
Redeem your Swag Bucks rather than hold on them. There is a limit on how many prizes you can buy each month so don't hold all your bucks until you want something, cash them in as you go.
Friday is Mega Swag Bucks day. That means you have the chance to earn more Swag Bucks on Friday than other days of the week.
If you aren't using Swag Bucks I would encourage you to give it a try and see if it works for you. If you signed up a long time ago, but stopped using it, try it again. It has been a financial blessing for our family and a great way to stretch the budget!