Enjoy this month's free homeschool printable set based on The Very Hungry Caterpillar book by Eric Carle  This printable packet is geared towards Preschool – Early Kindergarten, focusing on beginning sounds, scissor skills, simple addition, and matching.
This is a great printable pack to keep preschoolers active and busy while you are schooling the older kids. My kindergartener loved having her printable packs so she could "do school" just like the big kids.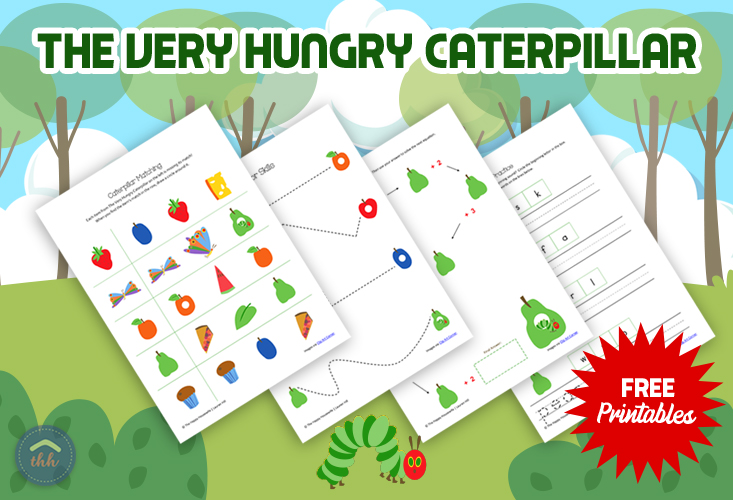 Use this preschool printable pack along with unit studies about bugs, caterpillars/ butterflies, or even healthy eatings (try the foods the caterpillar munches on in the book). The Very Hungry Caterpillar was one of my kids favorite books! From the board book when they were toddlers to the paperback for my preschoolers, the story delighted all my children when they were little.
In this 4-page printable set for The Very Hungry Caterpillar, you'll find:
Caterpillar Matching – Match each item in the left-hand column with its match in the row
Scissor Skills – Use scissors to match each item
Caterpillar Simple Addition – Follow the pear path, where each equation builds on the next; uses simple addition
Caterpillar Writing Practice – Determine the beginning sound of each picture; includes handwriting
Grab The Very Hungry Caterpillar book on Amazon!
More Free Printables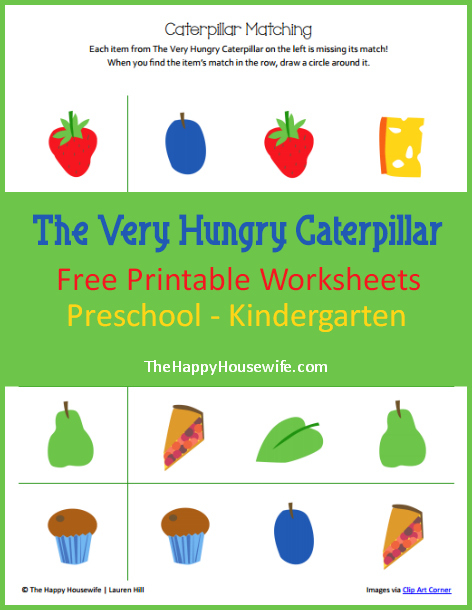 Visit Mama's Learning Corner for The Very Hungry Caterpillar Match Game.