My husband discovered Teaching Textbooks at a homeschool convention many years ago. Frustrated with teaching math I saw it as a way out. Before Teaching Textbooks I had used Bob Jones, Abeka, Horizons, Miquon, Rod and Staff, Life of Fred (see Life of Fred review here), and Chalkdust, Saxon.

Some might call me a homeschool math expert since I've used most of the curriculum published for homeschoolers, but in reality I was desperate for something that worked for my family. Except for Saxon, which sent my kids into hysterics every single day, the other programs were all good and I liked them. But I had a problem. I was homeschooling four or five kids at the time and I needed to find a subject they could do on their own, Teaching Textbooks might be the answer to my math problem.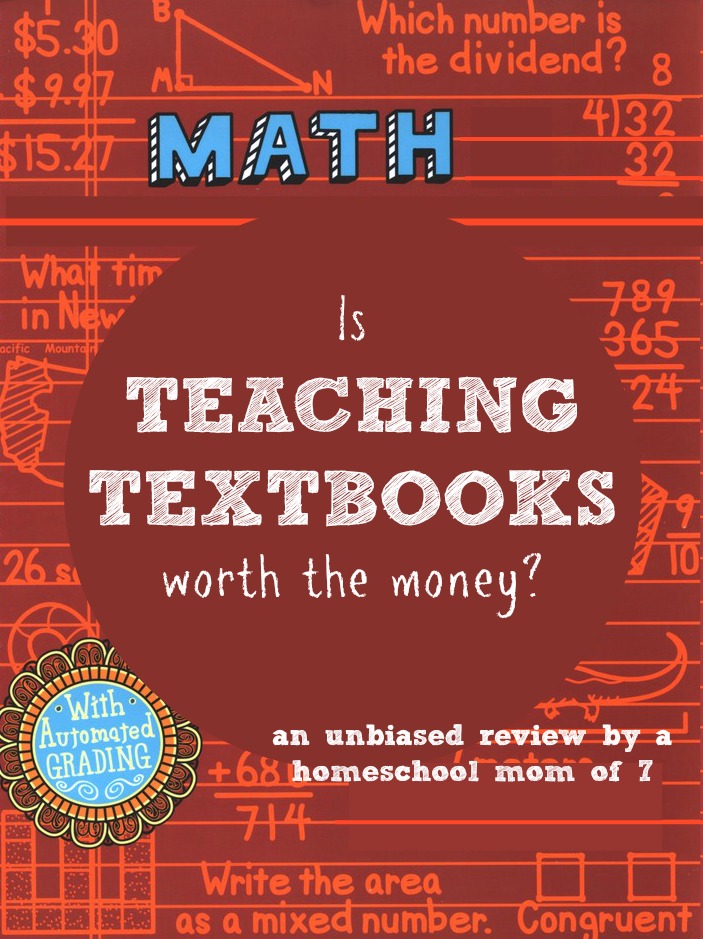 Before Teaching Textbooks, as my children progressed through the higher levels of math they would go through the book on their own and I would check their work. Inevitably they would come to a point (usually around lesson 75) where they didn't understand the concept being taught and I would then spend two to three hours looking through all the previous lessons to help explain the current lesson they couldn't understand. This was frustrating for my kids and for me!
When I heard about Teaching Textbooks it seemed too good to be true. The lessons were on CD's and for some levels everything was automated including the grade book. I was finished teaching math FOREVER!!! Or so I thought.
Over the past four years I've used Math 3,  Math 5, Math 7, Algebra 1, Algebra 2, Geometry, and Pre-Calculus. If you are doing the math you'll know that I've spent a lot of money on this curriculum.

Pros of Teaching Textbooks Math Curriculum 
Minimal Teacher Involvement: I think this is a positive because you can follow along with your child, but it is not necessary. In the four years I've been using this program I've probably spent less than 4 hours helping my kids with math. Since I was looking for a hands-off approach to math this definitely worked.
Teaching Textbook Lessons are Easy to Understand: The lessons are presented in an easy to understand way, especially at the younger levels. The teacher speaks slowly and the graphics are interesting but not overwhelming.
Favorite for Kids: My kids and many others love Teaching Textbooks. My younger boys ask to do math every day because they enjoy it. After years of crying through math lessons it is nice to have a program my kids actually like.
Computerized Grading: For all grades and math levels, Teaching Textbooks offers the entire program on CD rom and is totally automated, including automatic grading as soon as the child answers the question. The program tracks your child's progress, lets you know which problems they missed, and even keeps a grade book. This makes record keeping for math very simple.
NonConsumable: There are no workbooks, so more than one child can use the curriculum. Even the computer programs can be reset so siblings can use them.
Excellent Customer Support: I haven't needed customer support too often, but I've been impressed with their prompt responses and willingness to help.
They Sell Single Copies of the Cd's: If you have a careless child who gets into a fight with his brother and in the process cracks a CD in half, you only need to replace one CD, not the whole set. I wouldn't know this from experience, of course.
Cons of Teaching Textbooks Math Curriculum
Expensive: Teaching Textbooks Math 3 is $119 while Saxon Math 3 is around $60. The price goes up and in high school are close to $200, with Pre-Calculus selling for $185.00. Because Teaching Textbooks is such a popular program used sets are hard to find and the prices are still fairly high. (To their credit, the prices have stayed the same for over six years).
Fewer Review Problems: If you are familiar with Saxon (or Abeka to some extent) you know those programs incorporate a mind numbing amount of review problems. 🙂 Teaching Textbooks offers significantly less in the way of review.
For a child who needs concepts reviewed thoroughly and drilled consistently this is problematic. This would be one of my biggest complaints about the program. All my kids who used Teaching Textbooks in the younger grades still struggle with their math facts. My children who used Saxon (which we learned to love in later years) have a more solid math foundation.
Minimal Teacher Involvement: This program was designed for kids to use on their own. If you want to be involved in your child's math lessons this is probably not the best curriculum.

Low Test Scores: This is my biggest problem with Teaching Textbooks. My daughter starting using this program since Algebra 1, after using several different curriculum from K-8. She scored high on all her Teaching Textbooks tests and has an A average for math over the past four years.
This year she took the ACT and the College Placement Test and scored poorly on the math sections of both tests. Now, part of the low score was because she did not prep for the test (my fault, she only had two weeks notice). But she aced the language sections of both tests, receiving a perfect on one of them. This tells me she knows how to take a standardized test.
The disconnect comes at this point. Why would a child who has made all A's on the Teaching Textbook's tests for four years score below average on standardized tests? I researched this a bit on the internet and it seems to be happening to more than a few kids who have used the high school level curriculum.
Part of the problem seems to be Teaching Textbook's method of teaching, they aren't teaching to the test, which to me is a good thing. But, when you have a child who needs good, above average test scores because they want to go to college, this is a bad thing.
After spending another 5 years teaching homeschool math (since writing this review) I've come to a another conclusion about why I believe Teaching Textbooks failed my daughter in regards to test prep and why I ultimately switched to Saxon math and used it for the last several years.
One of the benefits of homeschooling is that kids can work at their own pace. Teaching Textbooks is no different, it allows kids to go back and correct their answers and there isn't much focus on math drills. During standardized tests, children are timed and must solve problems quickly, and math facts must be memorized in order to complete all the problems during the allotted time. For our family, Saxon had a better mix of review, timed tests, and general problems than any other curriculum we used.
I do not think Teaching Textbooks is a bad math curriculum, but because of the testing issue I did not use it for any of my other kids when they got to high school. Up to Pre-Algebra I think the lessons are adequate, but beginning in Algebra 1, this curriculum is probably not the best choice for our family. If you have your heart set on Teaching Textbooks, I would recommend a significant time investment in college test prep before taking any standardized test. For me, I would rather spend the money on a curriculum that builds that into the lessons. When you have a child taking 7 to 8 credit hours, working, and participating in extra-curricular activities, there isn't much time left for frequent test prep.
So, while I loved Teaching Textbooks, I'm disappointed with the test scores. I'd love to hear your feedback on Teaching Textbooks at the high school grade levels. If you've used it, has your child scored well on the ACT/SAT/CPT or have their test scores contradicted the scores received on the Teaching Textbooks tests?
Editor's note: Math is not my daughter's strongest subject, but before using Teaching Textbooks she always scored above the 85 percentile in math on the standardized tests.
UPDATE: As you know, not every curriculum is perfect for every family.  While I explained above why I'm not 100% sold on this curriculum, my managing editor and friend, Linda, loves Teaching Textbooks and wrote a review here explaining her position.