Homeschooling through high school can be tough. One resource I used to make sure my kids had all the requirements to graduate was a high school credit planner.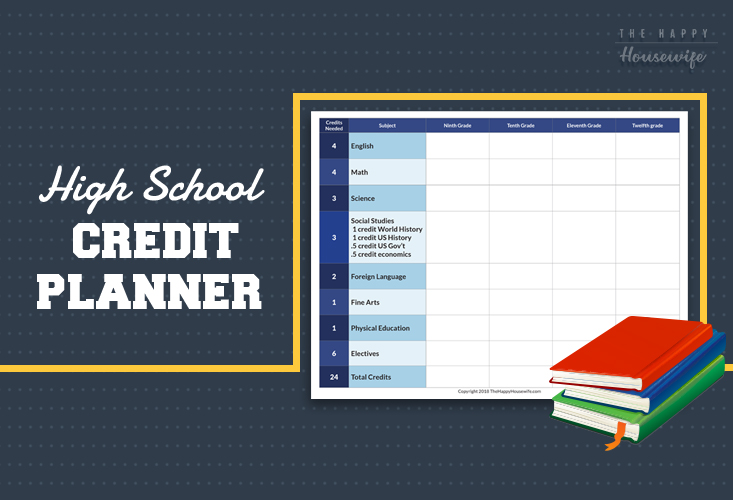 I recommend downloading the planner when your child is in the 8th grade.
High School Credit Planner
Why start so early?
In the eighth grade, download your state's graduation requirements. Unfortunately these vary by state so it is extremely important you know what's required where you live. All states have a minimum requirement to graduate. However many states offer scholarships to kids who meet additional requirements so make sure you know those as well.
By beginning this process in the 8th grade you will be prepared for high school before you choose your 9th grade homeschool curriculum.
How to use the high school credit planner
On the left side of the planner you'll find the credits needed and subjects. These are already filled in on the PDF version of the credit planner since the requirements and subjects are the same for most states. However, if you have different requirements use the editable version of this planner to make modifications.
Starting with ninth grade, fill in the planner with the courses your child will take to fulfill the requirements. I always had a paper copy of the planner that I filled in with pencil. I kept a digital copy that I would turn in to the state evaluator or use to create a transcript.
Think ahead
At the end of eighth grade, I would fill out the planner completely from ninth to twelfth grade. This will give you a big picture view of what your child needs to complete to graduate. I always made changes to the planner over the high school years, but knowing what was required helped me plan and purchase curriculum.
Planning ahead also gives you time to find co-op classes to supplement their education if necessary.
To download your homeschool high school credit planner just right click and save. You will then be able to open the document and print or edit.
Update the planner every year
At the end of every year, I total the credits at the bottom of the form. (The credits will automatically total on the spreadsheet)
This helps me easily track my child's progress and I can make changes based on their progress.
I was able to use this credit planner to help my daughter get into college. Recently I printed out my son's planner for him to take to the Navy recruiting office. Both the university and the Navy accepted the planner as a high school transcript. (I edited the planner to include grades and gpa)
It's never too early to start planning for high school, so download your planner today.
Need homeschooling through high school help? Check out these tips from Debra Bell.