A few years ago my friend Linda shared with me the high school credit template she used with her son. I didn't realize how valuable this form was until my own daughter was halfway through eleventh grade and I panicked thinking she was missing a credit or two. After quick look at the form I realized she was on track.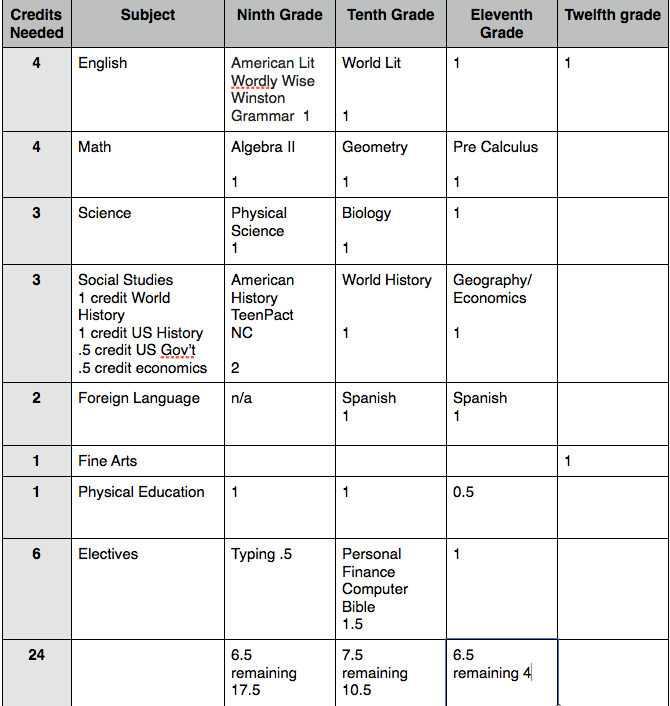 While preparing for the upcoming school year I created my own high school credit planner for my son. This form allows you to create a plan for your child's high school years and ensures they have enough credits to graduate. I've posted two versions of the high school credit planner. One is a pdf file that cannot be modified and the other is a word doc that you can modify.
To download your homeschool high school credit planner just right click and save. You will then be able to open the document and print or edit.
High School Credit Tracker (pdf)
High School Credit Tracker (word doc)
The form is easy to use. My form meets the graduation requirements of the state of Florida, but you can adjust it for your state. In the left column I've listed the required credits needed in each subject to graduate. Each year I fill in the curriculum for the subject and the number of credits earned. I total the credits for each year at the bottom to make sure we are on track to graduate. You can plan out all four years or take it year by year (like us).
Either way it will help you stay on track with high school planning and ensure your child graduates on time.