Do you have a family member with a birthday coming up? Make their birthday extra special with The Happy Birthday, Month. Dawn shares how she planned a birthday month for her husband earlier this year. Remember you don't have to spend a lot of money on The Happy Birthday Month, it's the thought that counts!
Birthdays are a really big deal around here. Our boys' birthdays are eight days apart in December. We take their respective birthdays off from school, decorate the house and allow the birthday boy to choose the meals and day's activities.
However, my poor husband has had really stinky birthdays the last few years. He hates being the center of attention and prefers spending his birthday with close friends just hanging out. I so messed this up in the first several years of our marriage (even throwing him a surprise party one year!)
The last few years I felt like I have "under-done" it. That coupled with circumstances that prevented plans from happening have made his birthdays less than ideal the last several years.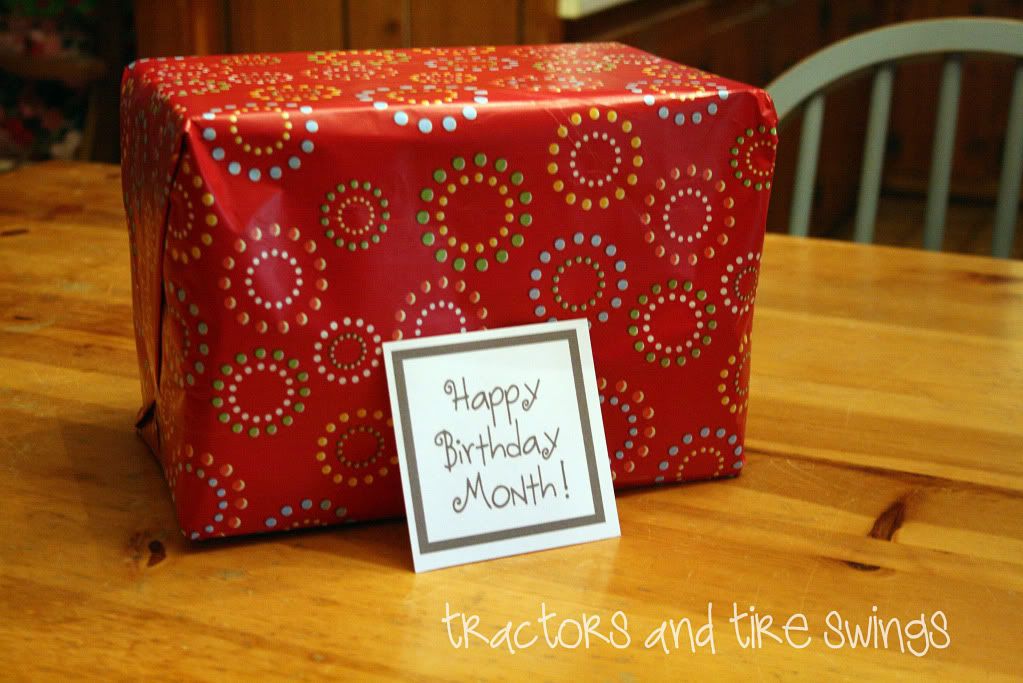 This year I wanted to be sure his birthday didn't get messed up. I had an idea (only a few days before June began,) to make June his Happy Birthday Month!
I started preparing For Happy Birthday Month by making a list of little ways we could show appreciation for him. I got our boys involved and they helped come up with some of ideas. We planned something a little special every day throughout the month and once a week did something a little bit bigger.
We made some cards one the computer and I printed them out. I had a blast hiding the gifts in various places throughout the house so he could find them. I wrapped them in birthday paper and taped the Happy Birthday Month card to the outside of the package.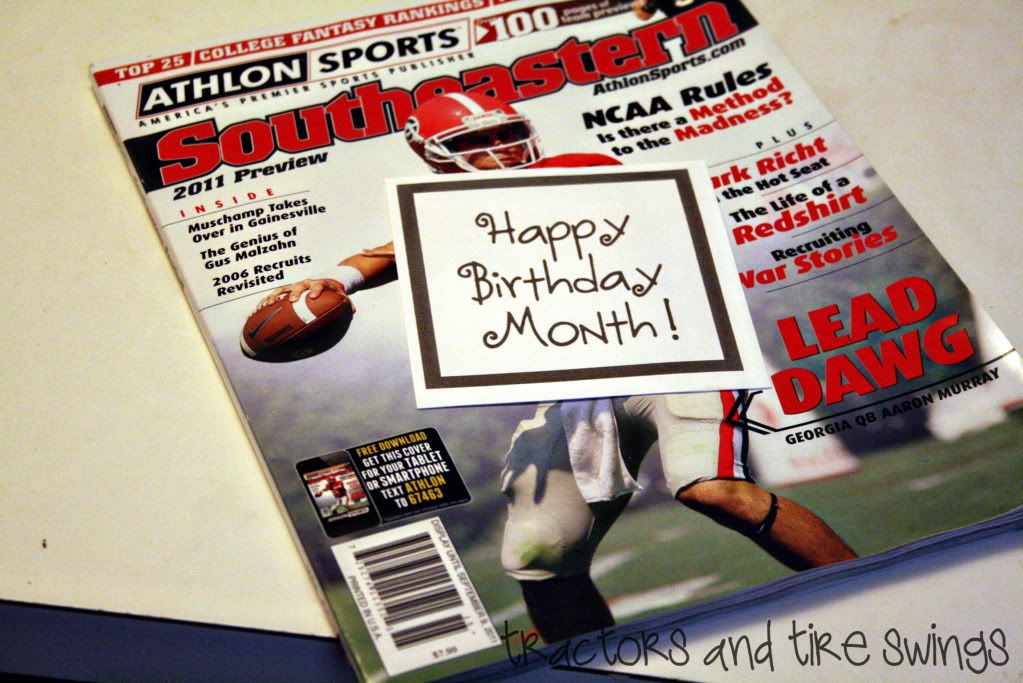 The week leading up to his birthday, the Happy Birthday Month gifts were a little nicer. On his actual birthday, we invited some friends over for a cookout and had birthday cake. His actual birthday present that day was a hammock chair.
His birthday falls at the end of the month, but I continued with small gifts after his actual birthday as well making it a full month of special days.
So what DID I do every day?
1. special dinner with dessert
2. fiction novel
3. flip flops
4. ice cold Perrier™ (something he loves but we don't splurge on often)
5. golf towel with our kids handprints on it
6. three dozen snickerdoodles (his favorite cookies)
7. wash his truck inside and out
8. Chinese food veg out night
9. neck roll pillow
10. magazine
11. reusable coffee mug
12. tee shirts/shorts
13. collage of places we've lived
14. Rice Krispy Treats ®
15. key chain
16. small tool set for his truck
17. milk duds
18. FATHER'S DAY disc golf stuff
19. gift basket of local novelties
20. homemade sock monkey (yes, there is a story!)
21. cleaned up and rearranged his office. Added new couch – purchased at the thrift store for a steal!
22. sun visor of favorite college team
23. diplomas framed for his office
24. new set of journals
25. BIRTHDAY! hammock chair
26. CD
27. non-fiction book from one of his fave authors
28. tee shirt of favorite college team
29. favorite box of candy
30. brownies
My husband is currently in seminary in school getting his Master's of Divinity in Military Chaplaincy. He is on track to graduate December 2012 after which he will pursue the chaplaincy program with the US Navy. I realize there are going to be holidays and birthdays that he is not going to be around for. Happy Birthday, Month will be a neat way to make him feel special when he misses out on special days while he is gone. We'll send care packages and gifts but this allows for more creative resources when he returns!
Next time I do this I will really plan ahead. Making sure that I had a little treat for each day became a challenge towards the middle of the month. Then there is the budget issue. I created homemade items (like the food and sock monkey) and sprinkled them throughout the month while purchasing little things to fill in the rest of the days. The cost on most days was very inexpensive – around $5 each.
Take these ideas and run with them. Customize what you do and how you do it for YOUR special guy.
—-
Dawn Chandler lives on a family farm in a small-doesn't-even-begin-to-describe-it town in Georgia. She blogs at tractor and tire swings about self-sufficiency, real food cooking and homeschooling her two boys. A lover of photography and cooking, she looks forward to her new nomadic life as a Chaplain's wife!