Did you know that most wrapping paper is not recyclable?
You don't have to use wrapping paper to have beautiful gifts under the tree. Here are a few inexpensive and "green" gift wrapping ideas.
Comics Wrapping Paper
I don't think wrapping gifts with the comics section of the Sunday paper will ever go out of style. This is an easy and very inexpensive way to wrap a Christmas gift!
Wrap in a Map
I cannot believe how many maps I have thrown out over years. It seems like every time we move we end up with numerous copies of the same map.
If you have a friend or family member who loves to travel, an old map makes great wrapping paper!
Paper Bags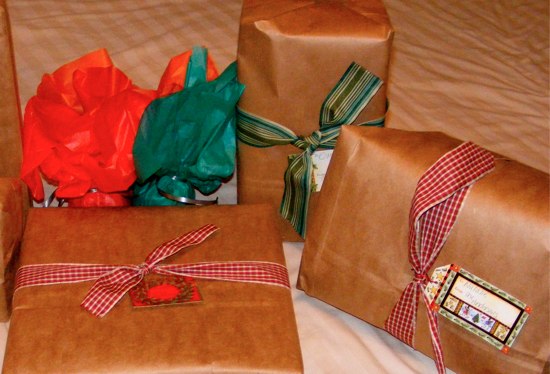 A few years ago I wrapped all our gifts in brown paper bags. I used a coupon to buy nice ribbon at Michael's so I was able to wrap all our gifts for under $10.
Butcher/ Craft Paper
You can purchase a huge roll of butcher or craft paper for under $10. I have one roll that lasted us almost three years! A few years ago my kids decorated the paper with stamps and artwork, but it's also pretty just to keep it plain.
The Gift is the Wrapping Paper
Wrapping gifts in towels, pillow cases, bowls, or baskets is a great way to incorporate the gift in the packaging. There isn't any paper to recycle or throw away either!
Handkerchief Gift Wrap
Do you have any handkerchief's hiding in your closet. Recycle them and use them as gift wrap. If you don't have any, you can always pick them up at the thrift store. They are usually lots of choices and they are cheap!
Fabric Gift Wrap
If you have basic sewing skills you can make these fabric gift bags that are reusable. Even if you don't have any sewing skills you can wrap gifts in fabric. Just use a ribbon to tie it together when finished.
Shop the clearance bin at your local fabric store for inexpensive quality fabric to use for wrapping gifts all year long.
See more frugal gift wrap ideas here.
If you need more inspiration for homemade gift wrap check out my Pinterest DIY gift wrap board.