There was a time when we threw huge elaborate birthdays for our children. We spent more money than we could afford and usually spent the day before the party extremely stressed out and the day after the party exhausted from all the clean-up. One day we realized that over the top parties were not a necessity for our family. This does not mean that if a child wants to have some friends over to celebrate their birthday we say no, we just keep it simple.
For our younger kids we celebrate with family only. The birthday child chooses their birthday breakfast and dinner.
This year our birthday girl asked for cinnamon rolls.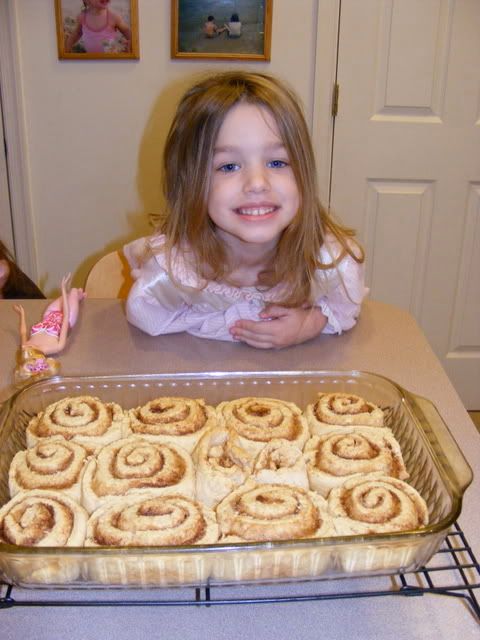 Then birthday child gets the day off of school and we do little things throughout the day to make sure they know we are celebrating their arrival into our family. Our other children are encouraged to make gifts for their siblings rather than buying cheap toys (that are in their budget) which will break 4 minutes after they are opened. Sometimes our children will wrap a toy that they have outgrown but they know their younger sibling will really enjoy.
Enjoying a photo notebook made by her older brother.
We give gifts, but once again keep them simple. One or two treasured items is plenty. We wrap in brown paper bags or fabric and add nice ribbons and bows to dress up the gifts. We also reuse gift bags, but doesn't everyone?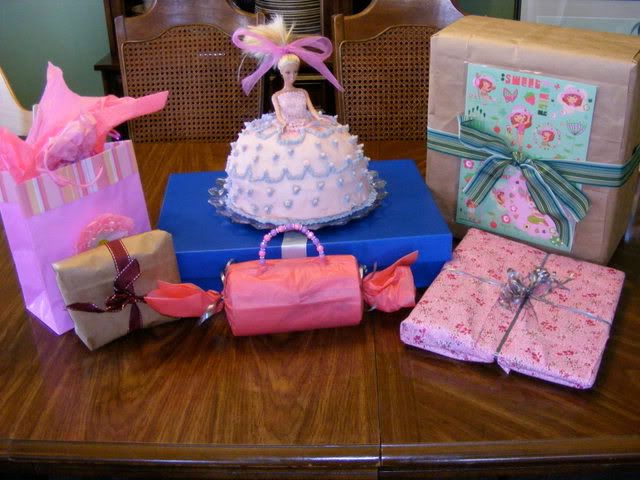 The birthday child also picks their birthday cake. For years I spent $30 or more on bakery cakes for my kids. Then I discovered that making my own wasn't so difficult. I spent less than $5 on this cake for my daughter and she loved it.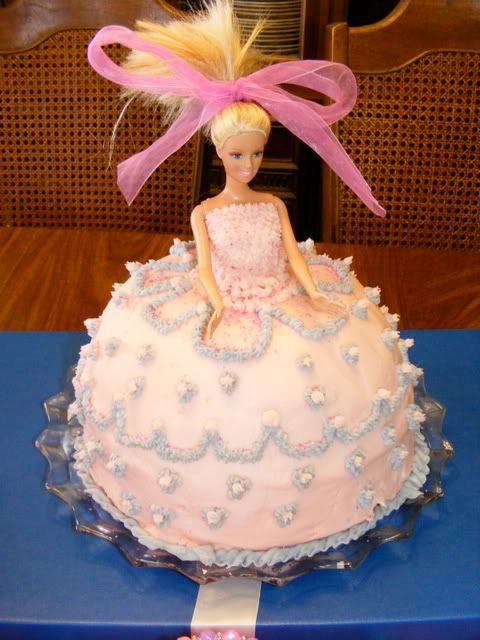 I used the 2 Pillsbury cake mixes and the icing recipe posted below. You can watch the video of the cake making here.
Buttercream Frosting
1/2 cup butter, softened
1 cup confectioner's sugar, sifted
2 tsp milk
1 tsp vanilla extract

1. Beat the butter until it is light and fluffy.
2. Mix in the sugar, milk, and vanilla (and food coloring, if using). Beat well until light and smooth. Add a little more liquid or sugar, as needed, to adjust the consistency.
*If it is too thick, it won't go on nicely – you want it a bit thicker in consistency than butter.
Thanks to Andrea for providing me with this recipe.
When Dad comes home from work the birthday child opens their gifts and then we have dinner. After dinner we celebrate some more with cake, ice cream and a few other birthday traditions. Then it is off to bed. The house isn't a wreck, and our savings account is untouched.
Here are a few birthday traditions we have with our kids.
Looking at baby books or scrapbooks with the birthday child.
Creating a photo slide show on the computer and add their favorite song.
Telling the story of the day they were born.
Having everyone tell one favorite story about the birthday child.
Letting them sleep in ( this works well with the older kids).
Giving them an extra special privilege on their birthday such as computer time, extra helping of ice cream, or a treat at lunch.
After asking around it seems that the average birthday party hosted at a party place costs around $200 and that usually does not include the cake or food. If you have 2 children that adds up to $7,200 over 18 years. I would rather keep birthdays simple and invest that money into a college fund for my child. Children, especially in the early years don't remember their parties anyway. Better to keep it simple and save.
If your child asks for a party here are some links to inexpensive, yet awesome birthdays tips!