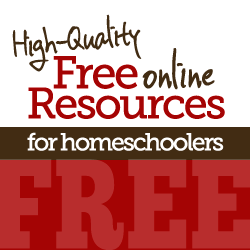 Homeschoolers today have a great advantage over the homeschooling pioneers of the early 1980′s. We have the internet! It is truly amazing how many FREE resources are available for homeschoolers. While I can't possibly list all the free resources available to homeschoolers, I'll list some of my favorites. If you have a free homeschool resource please share it in the comments and I'll add it to this post.
Ambleside Online: Full online curriculum using the Charlotte Mason method of learning.
FiveJs: Large selection of study sheets and learning helps as well as tons of links to free homeschooling websites. Spend some time on this site, you won't be disappointed!
Homeschool Creations: I meat Jolanthe a few years ago at a homeschool convention. My advice, subscribe to this site immediately! She has so many amazing free resources on her site I cannot even begin to list them all.
Starfall: Web based learning for kids. My kids think they are playing but they are really learning to read!
Dad's Worksheets: Over 6,000 free math worksheets. You can print them or work online.
Donna Young: One of the first free online homeschool resource site, you will find lesson plans, report cards, calendars, handwriting sheets and more. I've been using this site for years!
Hippo Campus: Multimedia content for high school and college classes.
Currclick: Offers one free download a week and occasional seasonal freebies.
Enchanted Learning: This site has a free version and a paid version. The paid version is very inexpensive, but check out the free worksheets to see if it is a good fit!
Homeschool Freebie of the Day: Just like the name, every day- one freebie.
Free Homeschooling Resources: Lots of printables, for all subjects, as well as free events.
Old Fashioned Education: Links to public domain books available online.
Homeschool Share: Unit studies, lap books, Five in a Row resources and more, the site is kind of plain but contains a ton of information.
Lapbook Lessons: This free site contains a wealth of resources including templates, resources, printables, and entire projects. The only problem with this site is that it doesn't display properly in Chrome or Firefox.
Affordable Online Colleges: Sorry, we don't have a free college to recommend, but Affordable Schools Online lists cheap online colleges which can be sorted by school, location, or tuition cost.
What are your favorite free homeschool resources on the web?
I'm partnering with 15 awesome bloggers to bring you some of the best homeschooling tips on the web! Be sure to visit these brilliant women in this 10 days adventure between February 7th-18th!