I'm not a huge fan of plopping the kids in front of a video regularly, but there are some awesome YouTube channels that can really help supplement your homeschool lessons or reinforce lessons learned at school.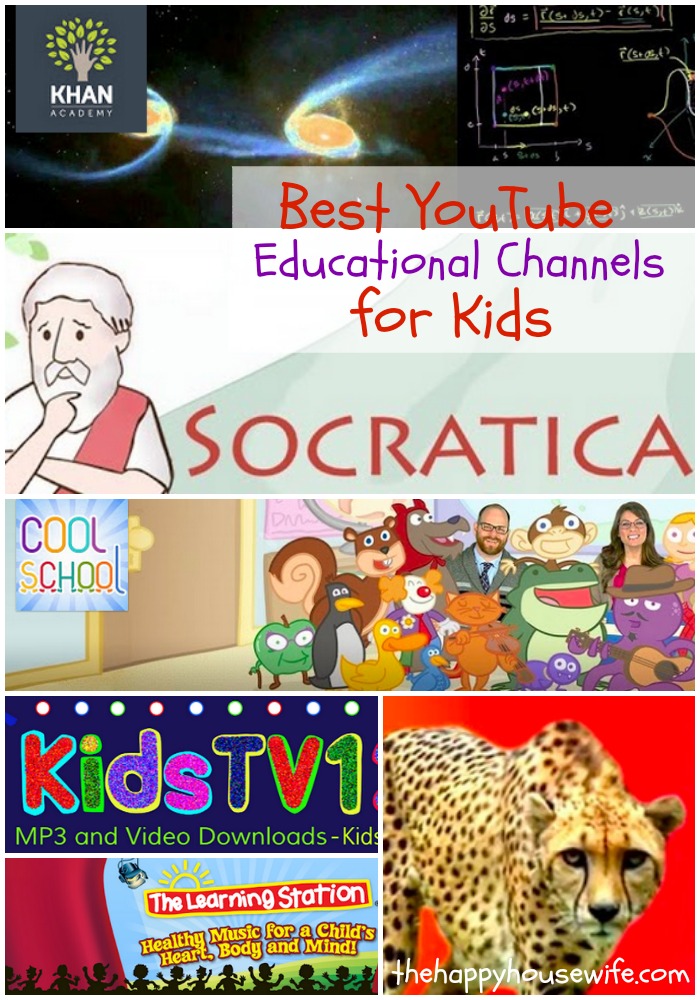 Here are our top ten favorite YouYube channels that encourage learning!

If you haven't subscribed to Khan Academy, do it right this minute! If your child is struggling in math or science particularly, Khan Academy has hundreds of videos and tutorials that explain almost everything.

They also have videos explaining personal finance, economics, history, civics, and SAT prep. Khan Academy is an amazing free resource for older children and I highly recommend it.
---
Socratica makes high quality education videos for kids and adults. They have a great series on the 50 states (although it looks like they've only released about half of them at this point) which would go great with the United States notebook project.
They also have videos covering math, science, language, and the arts. Most of Socratica's math and science videos are geared towards middle and high school, while their 50 states and grammar videos could be used for elementary lessons.
---

It's hard to beat the video quality of National Geographic Wild on YouYube.
They don't have a ton of videos, but the few that they have are the same quality that is shown on TV.
These are not specifically for kids, but my children have always enjoyed these videos and remember an amazing amount of details.
---

Whenever we study animals I find myself searching youtube for videos to help make the animals come alive for my kids. Sometimes we find good videos and sometimes we find some creepy reality TV video that I have to shut off halfway through.
The Kid's Animal Channel has over 100 videos covering a variety of lessons and types of animals. It is a great supplement to any animal unit study. This channel is geared toward elementary aged kids.
---

It seems like there are thousands of videos for kids who need to work on learning their letters and sounds. I like Elf Kids because their videos are more advanced.
The videos cover vocabulary, verbs, emotions, etc. They also have videos for younger kids, but they are one of the few channels I've found that have good videos for kids in first or second grade who need review.
---
The Learning Station is Cora's favorite YouYube channel. Their days of the week video has over one million views and I'm sure half of them have come from her!
This channel includes tons of videos that encourage your kids to move around and participate while watching. They have tons of the classic preschool/ kindergarten songs as well as videos about the days of the week, alphabet, months of the year, etc.
---
Busy Beavers is geared towards toddlers and preschoolers. Their videos include catchy songs about letters, shapes, numbers, and colors.
Busy Beavers is a fun way to reinforce lessons already taught at preschool or home.
---

Kids TV123 is another channel for preschool kids. The videos are simple, but they teach things like phonics, so they are great for review and reinforcing concepts.
Videos include phonics, specific letters, holidays, colors, counting, time, basic science and more.
---

The Cool School is a fun channel which has an entire section for kid's crafts. My kids love to make crafts and we're always looking for new ideas.
Most of the crafts use items you probably already have in the house or can be found at your local craft store.
---

The videos on Make me Genius are good (not amazing) but they do have a corresponding website which is why they made the list. You can download quizzes, tests, and questions that go with many of the videos. The website also has pages of fun facts.
This channel is geared toward elementary children. One strange thing about this channel is it seems like the voices of the kids on the animation are actually adults trying to sound like kids. Younger children probably won't notice, but I find it a little annoying.
I love that there are so many free resources on the web, although it is sometimes hard to weed through the garbage to find quality resources. Bookmark these ten channels to help supplement your child's education.
You might also enjoy: