The following is a guest post from Sharon Jeffus.
Most moms have lots of creativity stored up and lots and lots of things that get thrown away.  Many moms also like to surf through treasures at thrift stores.   My hope is that these ideas for painting on recycled materials will help you save money while at the same time encourage creativity and out of the box thinking for your kids.
You can approach these projects as exploring new ideas and having fun with your children. I have had children come up with wonderful projects on their own out of recycled materials. Here are three ideas for painting projects that will save you some money.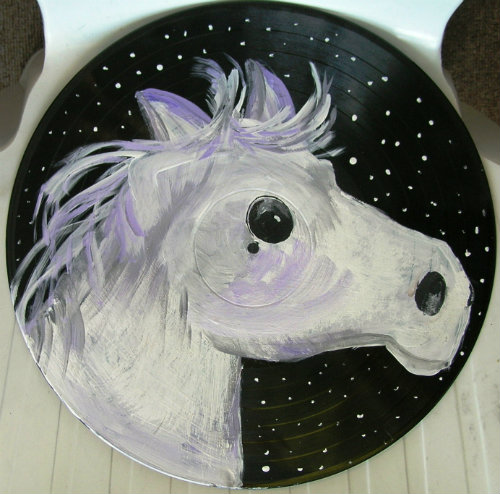 Paint on Old Records or CDs
Do you have or know where you can find any old records and CDs that are not any good? The size of these old records can be large or small, but they make a wonderful lesson in fine art and painting.
Before you use an old record for artistic purposes, check wikiHow to see if it has any value. I found that most old records have no value.  I didn't want to throw them away, and I found that no one wanted them, so I got the idea to paint on them with children.
Sand the records or CDs lightly first, and then paint a base color.  Paint easily adheres to this. You can even varnish when finished.  Not only can children recognize and learn painting technique, but it is an opportunity to talk about art and music history as well. Renaissance masters painted pictures in a circle like this Madonna by Raphael.

Paint on Cardboard
For older children and adults I suggest using cardboard and latex enamel paint to make large beautiful paintings.  You can also mix latex enamel  with acrylic paint and watercolor as they are both water based.
Contact local painters and see what they do with their leftover paint. Although many of these are white, you can color and tint them with watercolor or acrylic paint.   I had a house painter give me large numbers of paint quarts that were half full.
Large pieces of cardboard can be found nearly everywhere.  You can also ask your local hardware store for discontinued masonite samples.  What boards you don't paint on, you can use for drawing boards for your children. Make sure the cardboard is clean and draw your design with pencil first.  I suggest covering with varnish when finished. Go to Bowen Collections to see the work of an artist who uses these materials to create lovely art.

Paint on Items you Find at a Thrift Store
Children can put patterns and themes on animals and other items from thrift stores.  This is folk art that you see in Mexico.  Paint realistic animals and make them new by putting bright colors and small patterns on the figure.   This is good for fine motor control.
Use kid friendly acrylic paint and varnish when finished.
You might also enjoy:
Sharon Jeffus has a B.S.S.E. in Art Education from John Brown University and studied art at SIU and Metropolitan and has written over 20 books on art education including Teaching Geography through Art, and is currently teaching online live through the Red Oak Academy.