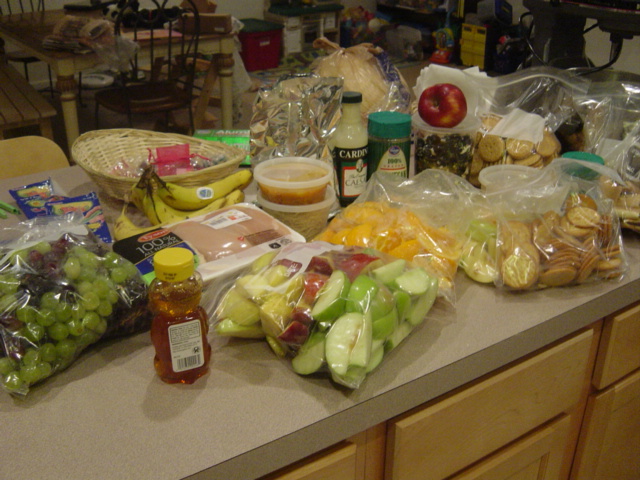 I recently read a news article about the rising cost of food. The price increase you might already be seeing in the grocery store is due to rising commodity prices especially on items like corn, coffee, sugar and grain. It is interesting to see how so many things can affect the family budget, but since groceries are a necessity and one of the easier expenses to reduce, I wonder how the rising cost of food will affect families?
According to the USDA, a family of four who is thrifty will spend $587 a month on food (including snacks). This does not include toiletries, diapers, cleaning products, etc. The "liberal" plan family of four spends $1163 a month on food! That is a lot of money. I think people can spend significantly less and still eat healthy meals without spending hours in the kitchen.
I have noticed a few things go up in price over the past few weeks, especially butter and dairy, but I haven't seen a huge jump in our grocery budget over the past few months.
There are a many things you can do to trim the grocery budget and still eat healthy meals. Cheap doesn't have to mean unhealthy or processed.
1. Use Coupons
I have heard the argument that you can't get "real" food coupons. I don't believe it. I have used coupons for fresh fruit, milk, healthy snacks, whole grain crackers and more. It might take a bit more work like visiting the manufacturer's website or emailing the company but these coupons do exist.
Using coupons to save on items like toiletries and paper products gives you more money to spend on produce.
2. Make More Meals from Scratch
You either have more time or more money. If you have more time than money start making more meals from scratch. Most of the time it is cheaper to make healthy homemade bread than buy healthy bread from the store. It is cheaper and healthier to make your own pizza, than to get delivery.
3. Shop Loss Leaders
Most grocery stores run great sales on various items each week. These sales are usually published in weekly flyers which can be viewed online. If you have time and live close to several grocery stores you'll have significant savings just buying the lost leaders. This technique takes self discipline because it is tempting to run into the store to buy a 10 pound bag of potatoes for $2 and come out with 2 gallons of ice cream too.
4. Shop Alone
I realize that not everyone has the luxury of shopping alone, but I feel it is worth it to pay a babysitter so you can shop by yourself. When you are alone you can focus on coupons, sales, and finding unadvertised specials throughout the store. Save the trips with your kids when you don't need to focus all your efforts on saving money.
5. Make a List and a Plan
I have never met anyone who has a reasonable grocery budget and shops without a list or a plan. You need a list to help you remember what to buy, what is on sale, and what has a coupon. You can make your own list or download a free one. You also need a plan. Many people plan their menu based on store sales or clearance items. This can really save you money if you have a plan for all that discounted food. Discounted food that rots in the fridge does not save you money!
Are you struggling with your grocery budget? When we got serious about getting out of debt the grocery budget was the first thing I started slashing. While we ate a lot of beans and rice in the beginning eventually I figured out how to make delicious healthy meals that didn't cost my family a fortune.