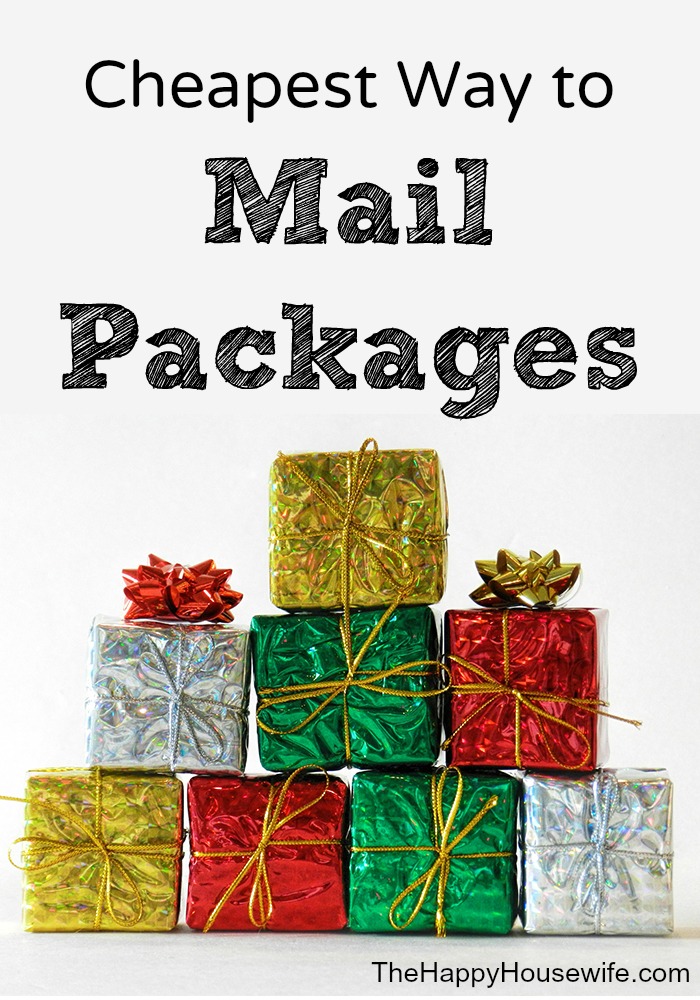 This post has been updated as of November 2014 with current information and prices!
Don't you hate it when it costs more to ship a gift than the cost of the actual gift? I do. A few years ago I wrote a post about the cheapest ways to mail packages, but a lot as changed since then so I thought I would give an update. With Christmas fast approaching I know many people are waiting in long lines at the post office to ship their packages, and the post office isn't always the best deal.
While this post is in no way comprehensive, it should help save a little bit of money on your shipping.
Cheapest Ways to Mail Packages
Free Shipping
Almost every online retailer is offering free shipping this time of year. Amazon
offers free two-day shipping all year round to its Amazon Prime
members and now you can receive free shipping if you spend $35 or more on select items. Other stores such as Kohls, Land's End, Gap, Old Navy, Barnes and Noble, and many others offer free shipping if you spend over a certain amount. I try to buy as much as possible from Amazon.com, but for other items I always go through Ebates or Savings.com as they often have a coupon code as well as cash back on my purchases.
USPS Shipping Options
Media Mail
The post office has several different shipping options. The cheapest shipping option is almost always Media Mail, but you must be mailing media (intended for educational materials). This includes items such as books, film, manuscripts, sound recordings, video tapes, and computer readable media- CDs, and DVDs (restrictions apply*). You can mail a 10 pound package for only $6.52 using Media Mail. The problem is there is no guaranteed delivery date (delivers within 2-8 days), so if you are trying to get it there by Christmas this might not be your best option unless you are shipping early.
*Note that video games regardless of how they are packaged and USB drives are not eligible for media mailing.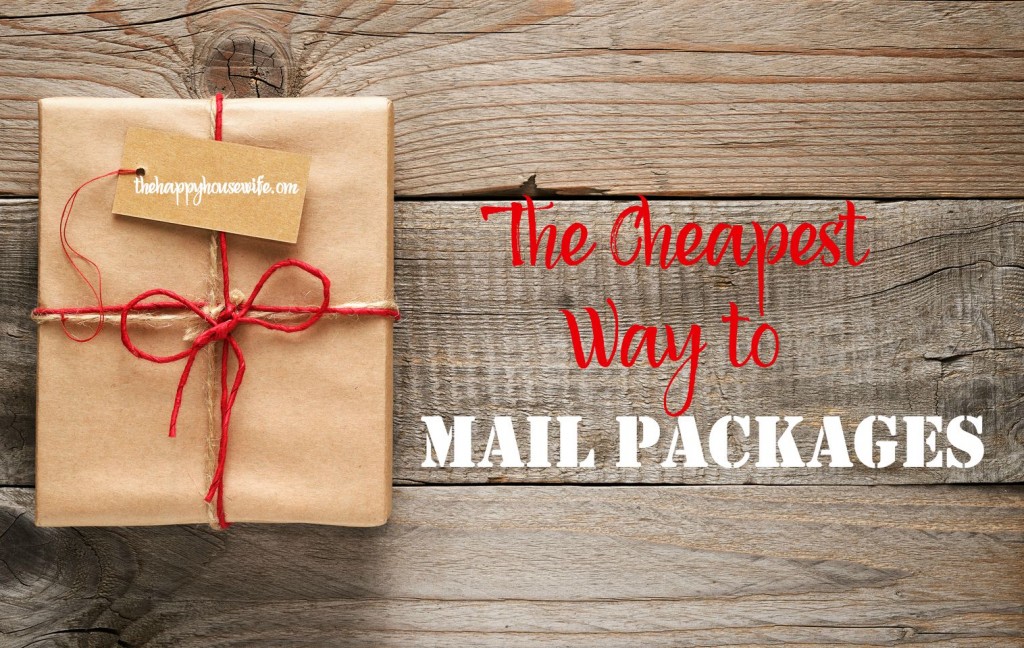 Standard Post (formerly Parcel Post)
The cheapest way to mail non media via the USPS is Standard Post. Check the price though, many times parcel post isn't much cheaper than priority and it is much slower (2-8 business days). Parcel post is calculated by weight and location, and is good when you aren't in a hurry or are mailing over sized packages. You can mail a 10 pound box across the country (from Maryland to Washington State) for about $25.  You can see more information about Standard Post on the Post Office website.
Priority Mail
The USPS has introduced Flat Rate Priority Mail boxes. Basically whatever you can jam in the box you can ship for one price. So, if you box weighs 5 or 50 pounds you pay the same price. The priority mail boxes are free and are available at your local post office, or you can have them shipped to your door. Check how much your package will cost online here.  A sampling of the Priority Mail Flat Rates are below:

If you choose to use your own packaging you can send it priority mail too. Prices are based on weight and location and start at about $5.50. You can view all the priority mail rate prices on the USPS website.
Priority mail is usually 2 to 3 day shipping, but it is not guaranteed.
Priority Mail Express (Formerly Priority Mail)
If you are short on time but not on money, Priority Mail Express is your best option at the USPS. Express mail starts at $14.10 for an envelope and goes up from there. You can send a flat rate envelope for $19.95. It is guaranteed overnight delivery to most locations and you get a refund if they don't deliver it by the guaranteed day.  The first 4 images below are the prices and dimensions for Priority Mail Express:

Other USPS Details
Insurance is not including when shipping via the USPS. You can purchase insurance for your packages, as well as other options such as delivery confirmation, tracking and more.
The post office will come pick up your packages as long as they are ready to be shipped. It is a free service as long as you are using an expedited service like Priority Mail, Priority Mail Express, Global Express Guaranteed, or Merchandise Returns services. There is also an on demand service which costs around $18 per pick-up, but allows you to schedule the window of pick up. You can find out more about mailing packages from your home on the pick-up options section of the USPS website.
UPS (and FedEx)
I love seeing that big brown truck pull up to my house, don't you? The UPS has a shipping matrix that rivals most calculus textbooks, but the basic deal is, the heavier the package and the farther away it is going the more you pay.
The benefit of shipping via UPS (or FedEx) is that you know when the package is going to arrive, have access to tracking, and insurance is included in the price, up to $100 worth of coverage.
Below is an example of what 20 pound package shipped from Maryland to Florida would cost using the different UPS options.
Next Day Air = $159.40
2 Day Air = $75.59
3 Day Select = $52.17
Ground = $23.51
To compare, that same box shipped via the post office with 2 day priority mail is $42.15 at the post office or $35.85 online or you can save even more with the priority mail flat rate large box that would cost around $16.85 and get there about the same time as UPS Ground.  It definitely helps to play around with the online price tools to find the best deal!
While UPS's shipping matrix is complicated, it is actually very easy to calculate the cost of postage. Visit their website and use the shipping calculator to find out exactly how much it will cost to mail your package.
UPS will also pick packages up at your door if you schedule a pick-up.
FedEx is similar to UPS and you can find out their shipping rates on the FedEx website.  As of October 2013, FedEx introduced FedEx Flat Rate (similar to the USPS) that has the possibility of saving you lots compared to regular FedEx (or UPS) shipping.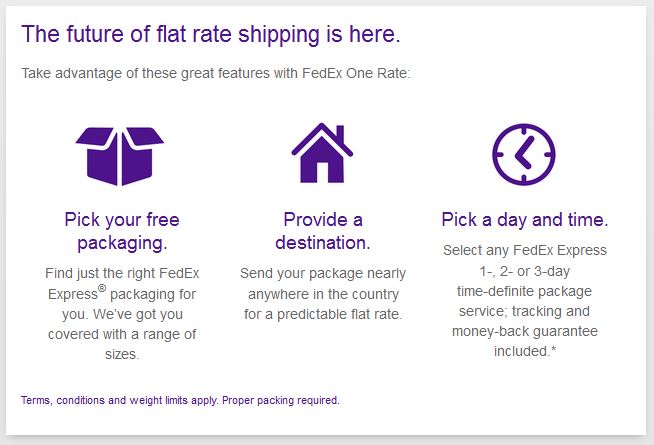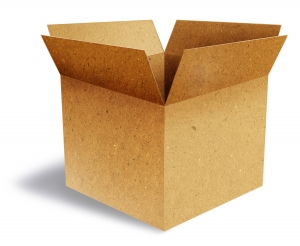 So, What is the Cheapest Way to Ship Packages?
My answer is still the same, it just depends on the size of the package and the destination. The Priority Mail flat rate boxes can be a great deal if you are mailing something very heavy, but you would probably do better using regular priority mail if you are shipping cotton balls or a feather boa.
UPS or FedEx is usually the best option for shipping heavier items and provides superior tracking and delivery guarantees.  Although, with the new FedEx Flat Rate shipping method they introduced in October 2013, there could be some big savings to have!
Whatever you chose remember to read the shipping guidelines before you ship that nail polish or perfume. There are many items that you cannot ship and you don't want to waste the time or money shipping a prohibited item that will be returned.
Don't Forget to Save on Stamps!
Stamps.com is the easiest most convenient way for everyone to manage your mailing needs and it can almost completely eliminate trips to the Post Office!
Print USPS-approved postage right from your PC.
Use Stamps.com postage to send letters, packages, and even Priority Mail.
Sign up for Stamps.com and get an $80 offer that includes postage and a Free digital scale (S&H fee required).
Stamps.com offer a 4-week no-risk trial for all new customers.
Check out all the details for Stamps.com here!
Turn Your Photos into Postage Stamps

PhotoStamps is a fun new product that allows you to use your own photos and place them onto actual U.S. Postage stamps!   This would be a fun gift idea for a wedding, birthday invitations, graduation announcements, homeschool pen pals etc!  Here's how:
Simply upload your image to the PhotoStamps website.
Customize the image with their easy-to-use toolbox.
Place your order!
They'll arrive in the mail in about 5-7 days.  Postage denominations include $0.39 – $4.05.
Also, check out 5 Free Shipping Options for the Holidays to avoid paying for shipping altogether!
Looking for gifts to ship? Check out our Homemade Christmas Gifts round-up that includes more than 300 homemade gift ideas!