A few years ago I started reading a blog that posted grocery store coupon match-ups. After reading for several weeks I got my list together, clipped my coupons, and headed to the store to stock up on all sorts of free products. Except when I arrived at the store nothing was free, or even close to free. In fact only one of the six deals I was trying to buy at the store was even a good deal compared to what I usually paid at the commissary.
The problem, the blog I was reading used prices from the midwest and I was shopping in the DC suburbs. The difference was amazing. I'm sure if this is true for me, then it is probably true for many of my readers as well. How do you know if a good deal you see on a blog, in a newspaper, or in a store flyer is really a good deal?
Create a grocery price book.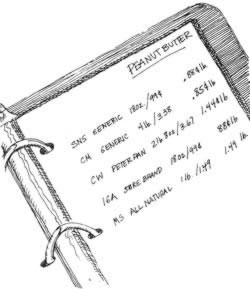 A grocery price books allows you to track the prices of groceries at the stores where you normally shop. Creating a grocery price book is a great way to know what the best prices are for your area! A few weeks ago I was talking grocery prices with some friends and the price of milk varied by $2. The stores where only three miles apart! Since the price of groceries varies so much based on location a price book is the best way to determine when to stock up.
For example, if the price of tuna never goes below $0.75 a can at your store, then you know to stock up when it goes on sale for $0.44 a can at Amazon.com
. If you can find tuna for $0.25 a can, then you don't need to snag that deal. A price book works because you keep track of your best prices, not the prices of people who live 1,000 or even 100 miles away from you. You can use the grocery price book with the grocery store coupon match-ups to find the best deal for you!
By using a price book, you determine the best price and when to stock up. I have yet to create a price book for my new location, but it is on my summer to do list. Do you have a grocery price book? Has it saved you money on groceries?
Image source: Tightwad Gazette
by Amy Dacyczyn