The following is a post from contributing writer Angie.
Menu planning can be one of your first best defenses in taking care of both your physical and financial health.  By menu planning, you can make sure that you don't end up rushed at 6 o'clock and saying things like, "You know what?  Let's just go pick up something."
With the ease of adding way too many calories and spending too much money each time you go to a restaurant, menu planning is really the way to go to avoid breaking down after a long day.
The only problem is that, of course, menu planning takes planning.  That planning can be especially difficult if you are feeling stuck in a rut with your menu planning.  If you're in a rut now, or need fresh inspiration for your menu routine, here are some places to look for new ideas (or to remember old favorites).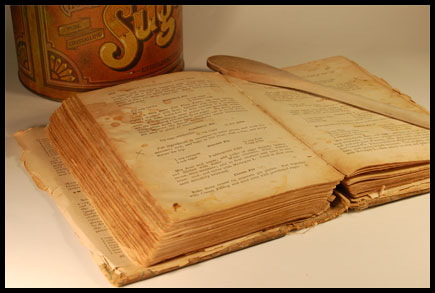 Look Through Cookbooks
With so much being online these days, it can be easy to forget to grab your old friend Betty Crocker and take a look at the recipes that she has to offer.  When I'm in a rut or just want some new ideas, I pull all of my favorite cookbooks off of my book shelf and go through them with Post-It notes in hand, marking ones that sound good to try.
Compile a Recipe Binder and Use It
My favorite place to look for recipes is the recipe binder that I have made with loose recipes that I put together, which you can read about in my organizing loose recipes post.  Even though I was the one who put it together, I forget about all the great recipes that are in there.
Browse on Pinterest
Although it is easy to pin far more dessert recipes than dinner recipes, Pinterest is still an amazing visual resource for finding recipes to add to your repertoire.  If you need a starting point for finding recipes to add to your menu plan, can check out some of these great boards: Simple Chicken Dinners, Lunch and Dinner Ideas, Pasta Pasta, Get Your Grill On, Yum Savory, and Vegan Cooking.
Ask Friends and Family for Ideas
With friends and family being so connected through places like Facebook, it can be as simple as just posting to your Facebook wall that you're in a menu planning rut and could use ideas.  Ask people to share some of their favorite meals.  Just include any limitations (such as dairy free, meatless, or whatever may apply to your family), and watch those ideas come rolling in.
Swap Meals with a Friend
This one is a little more out there for most families, but if it works for your family, you could try to arrange with a friend (or a few friends) to all prepare meals and swap them out.  For instance, your family might make three lasagnas, keep one, and give one each to two friends.  You, in turn, would get a meal from each of them.  Voila!  Three days worth of dinner are done with only one meal idea from you.
Use a Menu Planning Service
If menu planning really isn't your forte and your family is generally open to a lot of meal ideas, a meal planning service could be right for you.  They vary in price and what they include, so make sure to check them out and see which might work best for your family and budget.  An example of this type of service is eMeals.
Take Inventory of The Food in Your House
I am sometimes surprised at the wonderful foods that I have available to me just because they got stuck in the back of my pantry or freezer.  Taking an inventory of the food that you have in your refrigerator, pantry, and freezer can help you to notice that you have everything (or nearly everything) you need for a lot of great recipes that you can add to your menu plan.  Plus, as a bonus, you'll use up things that you already spent money on were just wasting away waiting to be used.
Stick to a Set Menu Plan
If you don't mind a lot of repetition or you're just at a time in your life when things are really crazy, you could consider coming up with two weeks worth of meals and just keep repeating them until you get too tired of them or things slow down in your life.  For some people, this could be too monotonous.  However, for those people, a set monthly plan that gets repeated would probably be reasonable.  It would take one time of great planning, and then could be used over and over.
What do you do if you're in a menu planning rut?  What is your best menu planning tip?
photo by Julia Freeman-Woolpert
Related articles