The following post is another installment in our Dash of Dad special needs parenting series by Bob Williams, father of three children including Kyle, a special needs teenager. When he's not parenting his three kids, you can find him creating sweet treats at the Dillsboro Chocolate Factory in North Carolina.
Encouragement is something that as parents we think we do routinely. Sometimes we do, and it is one of those little things in parenting which means so much to a kid—any kid and every kid for that matter.
For the record, I am not one of those parents who thinks every kid should get a trophy for just showing up or that we should not keep score at a kids soccer game. If only real life was like that, but it is not. And we need to teach our kids the virtues of winning and picking themselves up after a loss.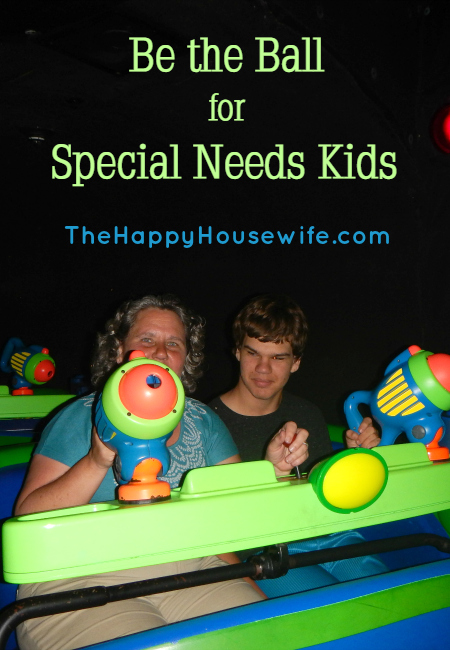 Because we all know that life tends to give us more days about picking up ourselves after losing than basking in the glory of winning, at least it does for me anyways. This is where encouragement comes in. Again, a huge disclaimer here, I am not a child psychologist, but I have stayed in a Holiday Inn Express, and almost as important, I have been a parent now for 18 years.
Also, I am one of those kids whose parents, my dad in particular, found it difficult to show encouragement and love in a way that I wanted and needed it growing up. One might say I am a recovering kid trying to get it right with my kids. You know, it is one of those breaking the cycle kind of things.
My dad truly struggled with this, and I recall him saying, "Robert if I did not have you, I would have a cleaner garage," (or a nicer stereo or something like that). I would try to fix something or build a model airplane, and when I was finished, my dad would often point out the flaws in my work. He was, after all, a quality control engineer, and thus he would bring his work home with him.
So when it came time for me to step up to the plate of parenting, I vowed not to be that kind of dad to my kids. I would be better than that, and I have found in some ways I am. But I also found parenting has its own pitfalls, and I too have made my mistakes and perhaps unknowingly handed down some of my own sins to my kids. With that said, my kids know two things are absolute: I am proud of them when they try, even if they fail, and I love them through it all.
When Kyle was born, my world was rocked in tragic way. I was facing life with a disabled kid who, at the time, I was told would be not much more than a vegetable. His entire occipital lobe was destroyed by meningitis. He was blind, well mostly blind, and had cerebral palsy and later developed epilepsy. When I found out the news of what had happened to him, I was devastated. Honestly, until somebody lives through something like a doctor telling you that your son had a massive stroke and his brain was destroyed, words simply cannot describe the horror and pain of that news.
In the days after that, I had to face my upbringing. My dad, while not the best encourager of the little things, made it clear that going to college was everything. He had 6 kids, and all of us had to go to college. Education was key in our home, and I recall my dad more or less making fun of folks who only finished high school.
So there I was with my son who would never go to college, never dream big, never build a model airplane, never do much of anything, and I was faced with a billion unknowns of a future that seemed so bleak. My son's brain damage and him as a person came crashing against everything I was raised to be and value. A man is only as good as the sheepskin hanging on the wall. So what value would Kyle be when he may never talk or walk, I thought.
In essence, my dad was an educational snob to be honest about it, and I had a son who, based on the value system I was raised with, had little value in this world. I say this even though I went to church and all. I truly did not see the value of Kyle even in the kingdom of God. Pain has a way of blurring the truth about the value of the soul of another.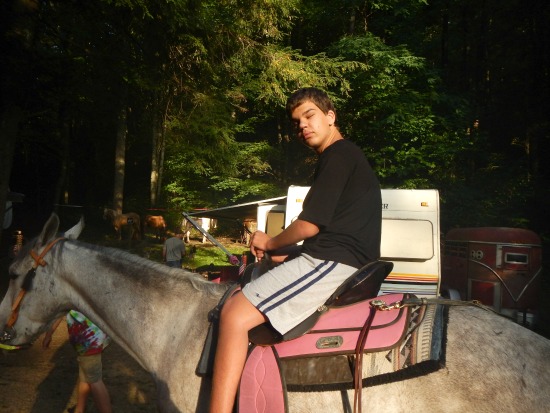 Life is amazing, and sometimes amazing things happen in the tiniest of ways. One of my friends came to visit Kyle and us in the hospital. My friend Rafael has a daughter two years older than Kyle with half of the right side of her brain damaged from a bleed shortly after birth. Rafael stepped up and encouraged me about Kyle's future. He encouraged my faith and hope, and told me that I could do this, that I could be the dad Kyle needed.
I cannot begin to tell everyone how his coming alongside of me in that time impacted me in such a great way. I was down in the dumps, and I had every right to be, but Rafael helped me see the value and beauty of my son like no other person could. See, Rafael got me on the road where I needed to be for my son, and since he walked the path ahead of me already, he was somebody I could trust because he had already been there. He passed some wisdom on to me in his encouragement: "I used to complain about not having any shoes until I saw a man with no feet," he would say to me.
I plan to write a piece on just this wisdom alone. Rafael and his wife Elaine showed Tonya and me the ropes of the Part C program and encouraged us to get Kyle therapy as soon as he was discharged from the hospital. They were there in the early days walking along with us and sharing stories of raising special needs kids. We miss them to this day for sure, as we moved away from central Florida going on nine years ago.
So with a little help from my friends, a lot of praying, and a lot of tears, we picked ourselves up and got Kyle into physical and occupational therapy when he was about eight weeks old. One day as I took Kyle to therapy, when he was around 3 or 4 months old, I said to him, "Kyle, I love you. Work hard. I am proud of you, and you need to be the ball. Just be the ball."
This is a line from the movie Caddy Shack where Chevy Chase's character is trying to encourage a caddy to compete in a golf game, and he has this kid trying to putt. He keeps saying, "Just be the ball Danny, be the ball." It is a throwaway line, and I honestly don't know what it means. But since Kyle was about 3 months old, I have told him and his sister and brother this almost daily for 16 years now, before they head off to school or whatever, "You just got to be the ball."
We had a couple of really good doctors along the way in raising Kyle, and they have all said that with special needs kids like Kyle, one huge difference maker in their outcomes is the parents. Parents make the difference in these kid's futures. I am here to say I believe that, and I have tried to be the ball with all my kids, but especially with Kyle.
So if you are struggling with your special needs kids or not so special needs kids not diagnosed with anything, I am here to say that a little encouragement goes a long way. Showing your kids a little hope, a little love, and pushing them a little, even when you don't know if it matters, does make a difference.
I am also here to say that kids know, even those that are trapped in a body or mind that does not work right, that it matters that their parents believe in them. When Kyle was an infant, we were not even sure he could hear us, and we were pretty darn sure his cortical blindness meant he could not see us. Yet there we were encouraging him and telling him to work hard at therapy and be the best he could be.
Sometimes just being there is enough and other times it is a kind word or a simple phrase like "be the ball" that is enough to make that connection—a connection of love, hope and a future that will be brighter. Don't give up on your kids and really don't give up on your special needs kids. You are your kid's best advocate in life and encourager. I can say Kyle has defied the entire prognosis the doctors gave him as an infant.
The credit goes to a lot of prayer, a lot of work on his mom's part, trying our best to not treat him as a crippled little kid, and letting the kid inside of him out in ways where Kyle is just another guy. He is far from a vegetable that the doctors said he was going to be. The boy loves life, he loves the outdoors, and he has taught me so much about the importance of being the ball myself. Go out today and be the ball, just be the ball.