When I was house hunting in Maryland I had a few "must haves" on my list. One thing that wasn't on my list was a pool. I mean really, who needs a pool in Maryland when you can only swim four months of the year?
Well wouldn't you know, the house we ended up buying had a pool!
Since we moved into our house in December, our kids have been anxiously awaiting summer. In fact I've never seen my kids so excited for a season until this year.
The pool is now ready for summer and rain or shine the kids want to be in it! Some of my best childhood memories are when my brother, sister, and I would swim all day and into the evening. We would eat dinner outside and then get back to our swimming. (After the required 30 minutes of rest, as dictated by one of my grandmothers and then passed down to my mother, of course.)  On special nights we'd get a cold treat after dinner which made the day even better!
Now that we have a pool and about one hundred nights of summer to enjoy, I'm looking forward to creating the same awesome memories with my kids.
Since I'm trying to be a yes mom and make the most of our summer, I'm letting the kids swim as much as possible. It's better than television and they always sleep in a little later the next day. Can you blame me?
I also keep a secret (or not so secret from my big kids) stash of treats to surprise them on extra special nights.
This week we surprised them with Nestle Drumsticks.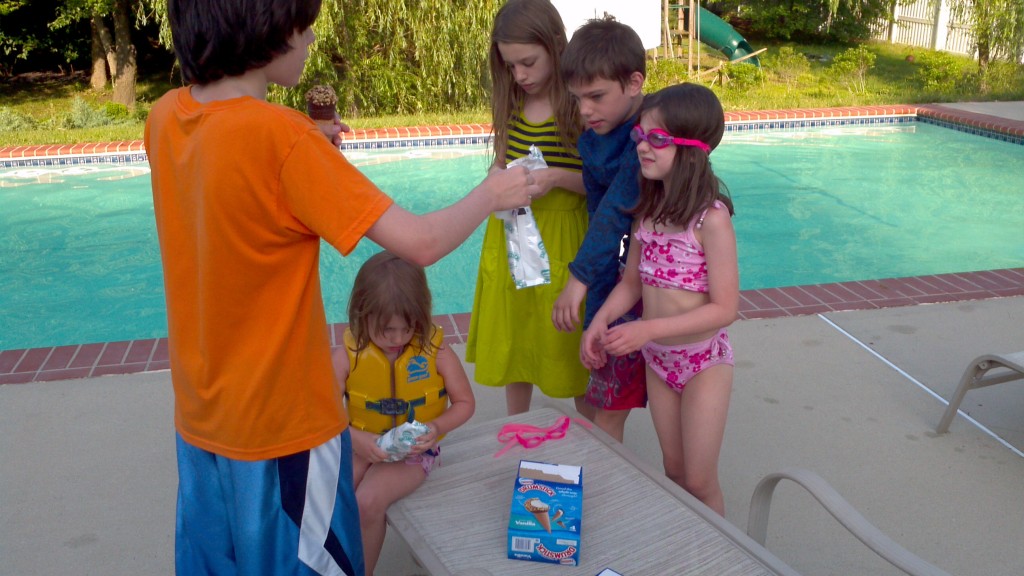 I remember these nutty cones from when I was a kid and thought it would be fun to surprise my kids with a Nestle Drumstick during their evening swim.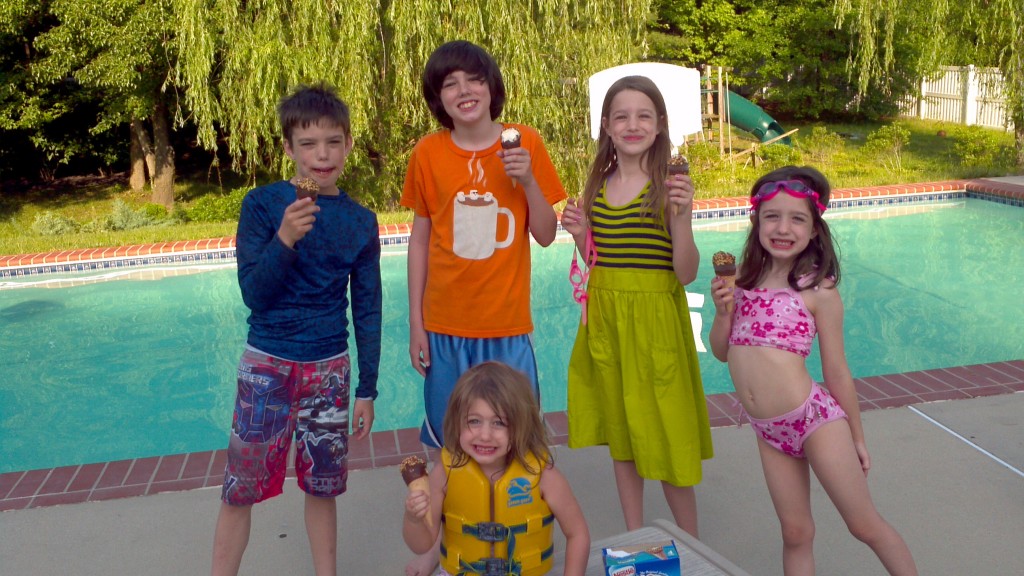 Combining two of their favorite things- swimming and ice cream guarantees some happy kids.
Would you like to win a lifetime supply of Nestle Drumstick cones (for real folks!)? Submit a photo raising your cone for summer to the Raise a Cone for Summer website and you could win! You have until June 21st to submit your photo, so don't delay!
Oh and before I get back to my poolside spot, have you ever wondered why they named an ice cream cone after a chicken? I always did! Well, when the Drumstick was invented in 1928 one of the wives thought it looked just like a friend chicken leg, and the rest is ice cream history!
Don't forget to submit your Raise a Cone for Summer photo for a chance to win a lifetime supply of Nestle Drumstick cones!
I've partnered with Nestle to promote their Raise a Cone for Summer campaign. All opinions and ice cream eating children are my own.