This post is in partnership with Kidde, all opinions are my own.
When you renovate your home, it is easy to focus on the big things, like floors, paint, or appliances. But one important thing you should not overlook is the smoke alarm. Even if you're not renovating it is important that your smoke alarm is always functional, including the batteries!
Did you that last year in Florida 43% of the homes that had fire related deaths either did not have a smoke alarm, or the alarm was not working properly?
On January 1, 2015 new smoke alarm regulations went into effect for the state of Florida. In accordance with the building code, homeowners whose homes are currently equipped with battery-powered smoke alarms must install 10-year, sealed-battery smoke alarms when replacing outdated alarms.
Personally, I love these sealed alarms, like the ones from Kidde. I'm sure I'm not the only one who has been woken up by the sound of an alarm with a dying battery! I've actually pulled a smoke detector out of my ceiling because I couldn't get it to stop chirping in the middle of the night and I didn't want it to wake the baby.
Unfortunately many people do the same thing and wait a day or longer to replace the battery in the alarm, which is super risky.
A 10-year, sealed battery smoke alarm is great because you don't have to worry about chirping batteries or frequent battery replacement, and it is tamper-resistant.
For Florida homeowners who are repairing or updating their homes (a "level 1" alteration as defined in the Florida Building Code), you can use a 10-year sealed-battery alarm instead of retrofitting the area with smoke alarms powered by the your home's electrical system.
Any time I don't have to mess with electricity I'm happy. After replacing almost every outlet and switch in our house I avoid electric work if I can!
Did you know that a ten-year sealed-battery smoke alarm costs around $25-50 at your local home improvement store or online? It is estimated that consumers will spend $40 replacing batteries in a smoke alarm, so not only are you safer, you are saving money too!
Every three hours someone dies in the U.S. from a home fire. Many of those deaths are preventable! I personally know two people who have lost their homes to a fire, thankfully their families were safe, but 114 people in Florida last year were not as fortunate and lost their lives in a home fire.
If your home was built before 2004, chances are your smoke alarm needs to be replaced. I recommend purchasing a 10-year, sealed-battery smoke alarm by Kidde.
Kidde has a wide range of products that will help keep your family safe and they are affordable too!
If you are a Florida homeowner you can learn more about this new legislation here.
For my Florida resident readers I have a great giveaway for you.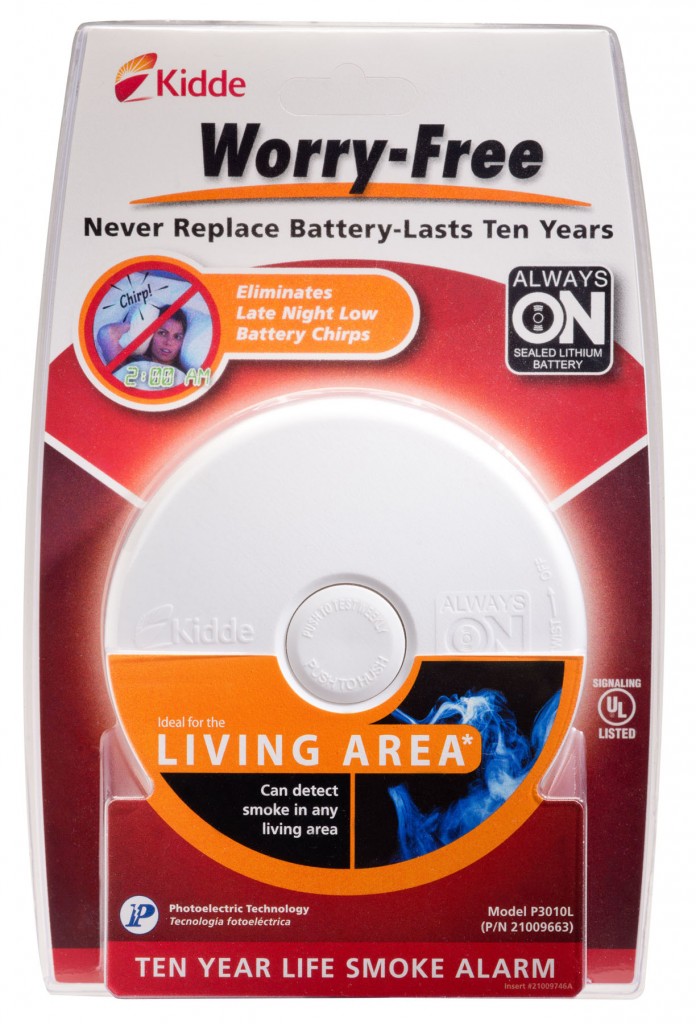 One Florida reader will win a Kidde 10-year, worry free smoke alarm. The features are below:
It's Always On: 24 hr/day, 7 day/week protection from smoke and fire
Decade of protection: sealed lithium battery provides 10 years of continuous power
Maintenance-free, hassle-free: never replace a battery during the alarm's operating life and no need to worry about the batteries being removed
Goodbye late night low battery chirps: an end-of-life chirp tells you when it's time to replace the alarm
Location-based attributes make it simple to select the right alarm for the right location in your home
Money savings: no batteries to buy and replace every six months, save up to $40 over the life of the alarm
Quick and easy installation: simply twist the alarm onto the mounting bracket and it activates
To enter please leave a comment. Giveaway is to Florida residents only and ends February 27, 2015.