Over the past several months I've been working to help promote shopping at tobacco free retailers. Before participating in this campaign I was unaware of the facts about our tobacco industry.
When I learned that tobacco kills 1,300 people every single day and costs our country $289 billion a year in health care and lost productivity, I knew it was important to get the message out to the public.
What really struck me was that 90% of all smokers start before they turn 18.
If you think tobacco companies are not marketing to kids you are wrong! In an industry where almost all of their users start before their 18th birthday, it would be bad marketing not to.
When kids are young, they often mimic or assume the values of their parents. If I talk to my kids and explain why we shop at stores like CVS, Aldi and Target, I'm starting a dialogue with them about making choices that support our values as a family. As parents we have the opportunity to be a positive influence on our children and help them make smart choices as they grow up.
Also, if I can avoid exposing my young children to some of the 8 billion dollars spent on tobacco marketing I will.
If you think one person doesn't make a difference, think again. Since the tobacco free campaign launched late last year over 700 stores have stopped selling tobacco products! That's 700 fewer places our children will be exposed to tobacco.
Unfortunately stores like Walmart, Publix, Walgreens, and Safeway are still selling tobacco products in their stores.
Even though we're wrapping up the campaign it's not too late to get involved and encourage more stores to stop selling these harmful products.
Here's what you can do:
Check out the list of tobacco free retailers and support those stores. You can find a list of retailers who are tobacco free here.
Find out which of your local stores are still selling tobacco products and send them a message on social media. Here are some sample messages you can use.
I am proud to #ShopTobaccoFree at my local tobacco free retailers! Find out where you can shop tobacco-free at shoptobaccofree.org

Want to know my #OneGoodReason to #ShopTobaccoFree? Putting my family's health first! Learn more at shoptobaccofree.org

I learned where I can #ShopTobaccoFree from @TobaccoFreeKids' shoptobaccofree.org. Check it out!

Join the movement & #ShopTobaccoFree with me! Encourage your retailers to take tobacco off their shelves! shoptobaccofree.org
Add a Shop Tobacco Free badge to your social media profile. (Right click and download)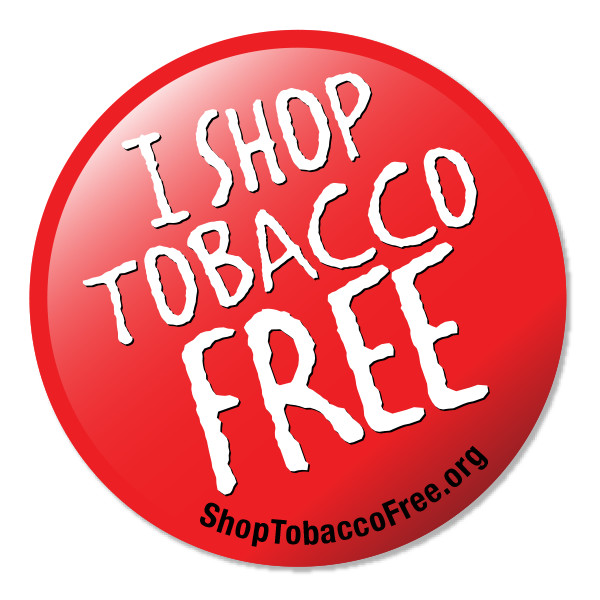 Download the shopper toolkit for more information. 
Follow Tobacco Free Kids on social media and use the hashtag #ShopTobaccoFree.
As for my family, we will continue to support our tobacco free retailers like Aldi and Target and encourage other retailers in our area to stop selling tobacco. What will you do to make a difference?
This post is in partnership with The Campaign for Tobacco-Free Kids, all opinions are my own.