In January we read through Proverbs taking one chapter a day. Since there aren't any books of the bible with 29 chapters (and you all requested another bible reading on Facebook) I thought we could read through Ephesians in February.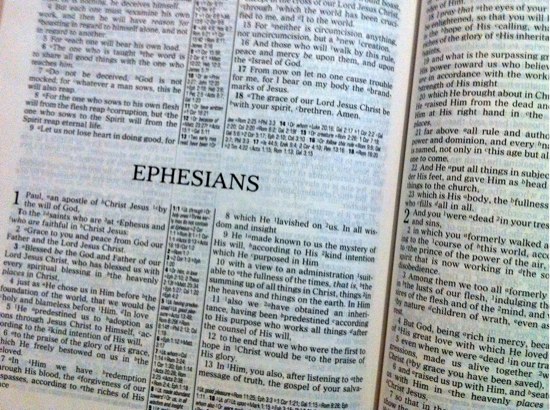 This is a little different than last month as the readings are much shorter for the first three weeks. Then the last week we will be rereading Ephesians, one chapter each day.
I'll be sharing verses from the reading every day on Facebook, feel free to share yours as well.
Here's the reading schedule, and don't forget to follow along on Facebook.
Feb 1: Ephesians 1:1-14
Feb 2: Ephesians 1:15-23
Feb 3: Ephesians 2:1-10
Feb 4: Ephesians 2:11-18
Feb 5: Ephesians 2:19-22
Feb 6: Ephesians 3:1-6
Feb 7: Ephesians 3:7-13
Feb 8: Ephesians 3:14-21
Feb 9: Ephesians 4:1-5
Feb 10: Ephesians 4:7-13
Feb 11: Ephesians 4:14-16
Feb 12: Ephesians 4:17-24
Feb 13: Ephesians 4:25-28
Feb 14: Ephesians 4:29-32
Feb 15: Ephesians 5:1-7
Feb 16: Ephesians 5:8-14
Feb 17: Ephesians 5:15-20
Feb 18: Ephesians 5:21-33
Feb 19: Ephesians 6:1-4
Feb 20: Ephesians 6:5-9
Feb 21: Ephesians 6:10-17
Feb 22: Ephesians 6:18-24
Feb 23: Ephesians Reflect on what you've read
Feb 24: Ephesians Reread chap 1
Feb 25: Ephesians Reread chap 2
Feb 26: Ephesians Reread chap 3
Feb 27: Ephesians Reread chap 4
Feb 28: Ephesians Reread chap 5
Feb 29: Ephesians Reread chap 6