Have you ever read through your entire Bible? How about in only 90 days?!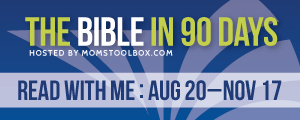 My sister-in-law, Amy, from Moms Toolbox is once again hosting a Bible in 90 Days challenge that is perfect for anyone regardless if you've read through the entire Bible zero or 10 times!  This session she is changing things up a bit by offering several new options for the groups:
Cover to cover
Chronologically
Catholic version
This session begins August 20 and will end before Thanksgiving on November 17. And, in case you are trying to decide whether this commitment is valuable to you, check out my reasons to read the Bible in 90 days.
Get signed up to read The Bible in 90 Days today!