I have decided to end my 30 Days of Disney series with the posts I wrote several months ago when we were visiting the parks. I wrote a post per park, so tonight it is all about Epcot.
Today we headed out bright and early for Epcot. Arrive early so you will be able to speed through the lines the first hour or two the park is open. We started with Spaceship Earth while my husband went to get fast passes for Soarin'.
We then walked to The Land and rode the boat through the gardens and by the time we were done we could ride Soarin'. I stayed behind with our two year, but the unanimous decision was this ride is a "must-do." During the morning we visited most of the pavilions in Future World.
A few Future World tips. Get to the Character Spot early. This is a chance to meet Micky, Minnie, Donald, Goofy and Pluto. We happened upon this building on our way to The Land. It is marked on the Epcot map and easy to find. There was no line to see any of the characters and the kids were able to spend a good amount of time visiting with them. This is the best place to see the characters in the park and it is free.
Visit Club Cool, this little oasis gives you a chance to taste sodas from other countries. I did not see it on the map, but it is directly across from the large fountain on the same side of the park as Imagination! It is all you can drink, for free. The kids think this is better than getting ice cream so I highly recommend stopping by.
Don't forget to visit Turtle Talk with Crush. This fun interactive show was the highlight of our day. (The kids are still talking about it 6 months later!)
After visiting most of Future World we headed to the World Showcase. This part of Epcot is a little less appealing to toddlers. We skipped most of the films because we knew we would be dealing with fidgety kids. We did watch several of the street performers. They are always excellent and you can find show times in your guide.
After much debate we ended up eating in America. I do not recommend this as a dining option… but we were nearing meltdown with the little one and we made a strategic decision to go with hot dogs. In my opinion the food was overpriced and didn't taste very good at all.
This kids did participate in a little parade with the fife and drum players in America. They were awarded copies of the Declaration of Independence for participating and they held them tight for the rest of the day.
We rode the Grand Fiesta Tour in Mexico and the Maelstrom in Norway two times each. There were no lines on any ride we went on today so by 5:30 we had visited almost everything in the park. Since we have Animal Kingdom tomorrow we decided to head back to my in-laws so everyone could get a good night's sleep.
Here are a few pictures from Epcot.
At the Character Spot… the much requested picture of me!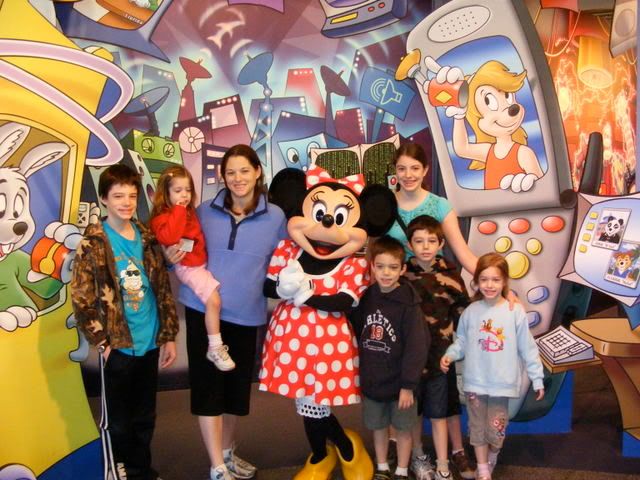 With Goofy
Trying to get a picture with all the kids…
The Nemo ride ~ I was seriously unimpressed by this ride. You sit in a shell and watch bits of the movie as you slowly move through the ride. I was very glad we did not wait in line to ride this, it would not have been worth it!
Another picture of "goofy"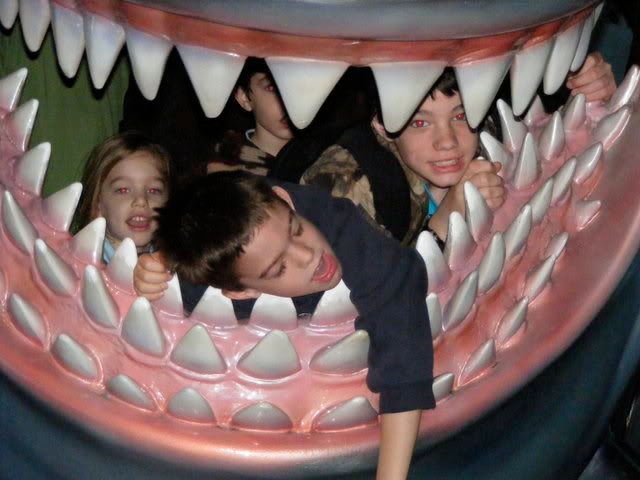 This fun little photo-op is in The Seas.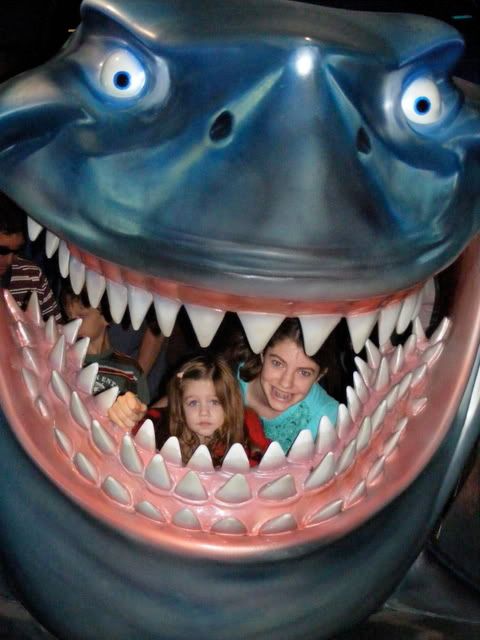 Club Cool, all you can drink soda, for free!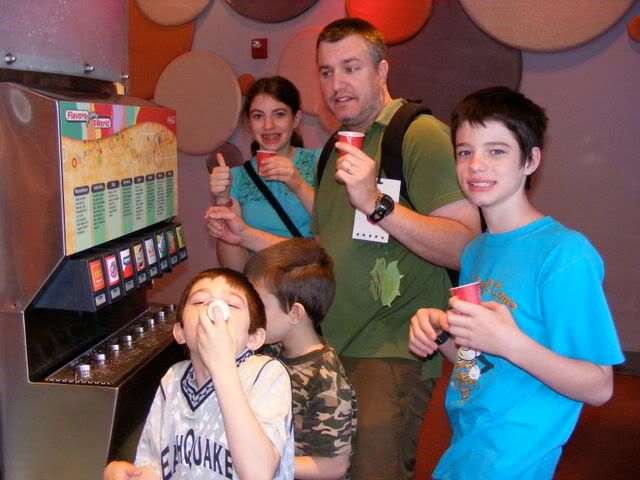 The fountain across from Club Cool.