Last Friday my friend Andrea won a night in Cinderella's castle. I was sitting at her table when she won and was thrilled for her! I assumed she would be coming back to the Magic Kingdom with her family and spending a night in Cinderella's castle until I learned that she would be going there that night! I was truly excited for her, as she has three boys and I knew they would never want to do such a "girly" thing.
Later that morning I was sitting listening to the speaker and I received this message from Andrea on my computer:
I'm putting you and Amy down for tonight. You want to I'm sure, right????!!
It was all I could do not to squeal with excitement during the conference. I was going to be spending the night in Cinderella's Castle!!!!!
I would say something about dreams coming true… but I honestly never thought you could even stay in the castle. We packed our bags that afternoon and at 4pm we met our carriage aka minivan.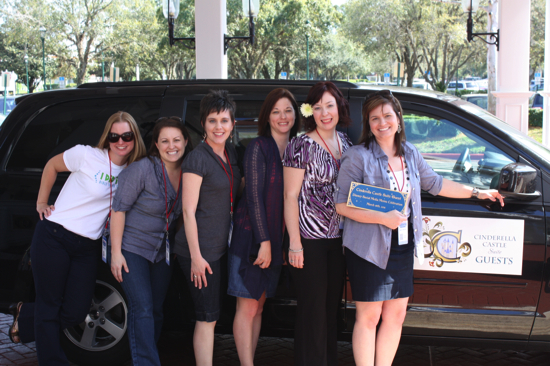 Accompanying Andrea on the trip were Amy, Briana, Amanda, and Crystal.
Our driver Sean, started telling us about our evening. We would arrive at the Magic Kingdom and could do whatever we wanted. Ride the rides, hang out in the castle suite, shop, eat, it was up to us. We were assigned another guide, Steve, when we arrived through a back door at the Magic Kingdom.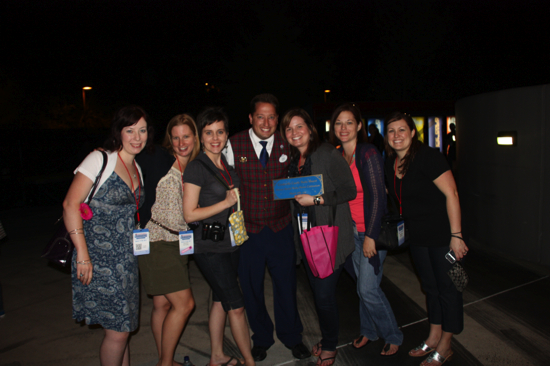 We quickly learned that staying in Cinderella's Castle suite was a pretty big deal. There is only one room in Cinderella's Castle and you can't buy it. The room is given away randomly throughout the year. In the Year of a Million Dreams they would surprise one family a day with a night in the castle. Now, the room is given away every two weeks or so. The Castle Suite has only been used 600 times.
I don't think any of us knew what to expect when we started our castle experience. The rest of the day unfolded like a dream. Steve was a walking encyclopedia of Disney knowledge, he shared stories and pointed out little details in the park that I had never noticed before.
Steve was also our human "fast pass." If we wanted to ride a ride, Steve would walk us in the back entrance and we would get right on… no waiting! It was amazing. On every ride Steve would share with us the story of that ride. Since Disney was built by movie makers and not theme park designers every single ride tells a story. It was fun to hear these stories and learn more about the people who built this park many years ago.
But, since many of you know a lot about Disney I'll get straight to the photos. We took several hundred between us, so I tried to find some of my favorite, and some that give you the best "view" of Cinderella's Castle suite. I'll share in another post soon some of the Disney facts I learned from our guides.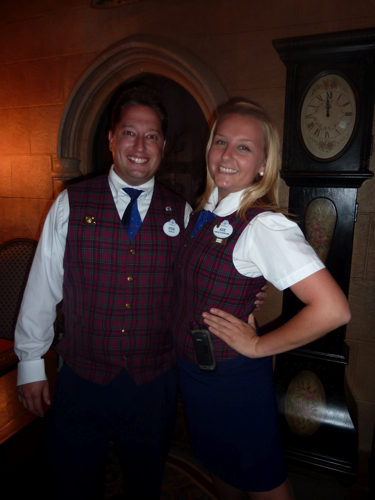 Two of our amazing guides, Steve and Kate. They are standing in the lobby of the suite. Notice what time it is on the grandfather clock?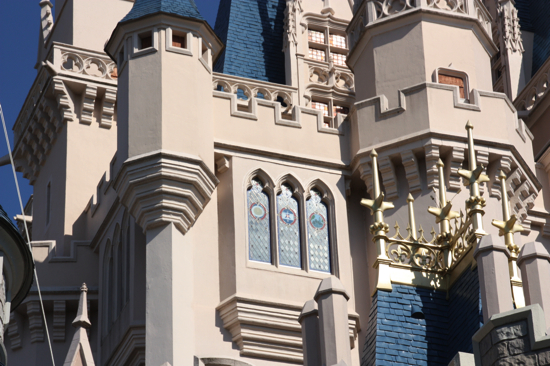 I'm sure you have seen these windows on the castle. Those are windows in the suite.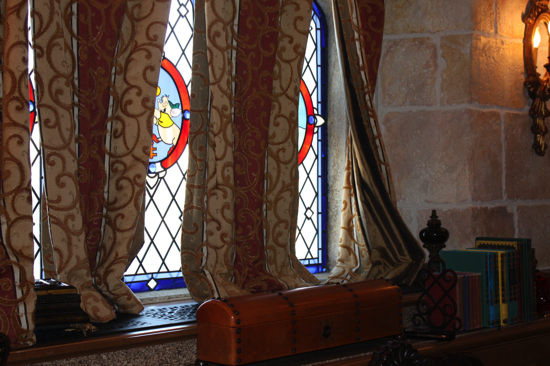 Same windows on the inside of the suite.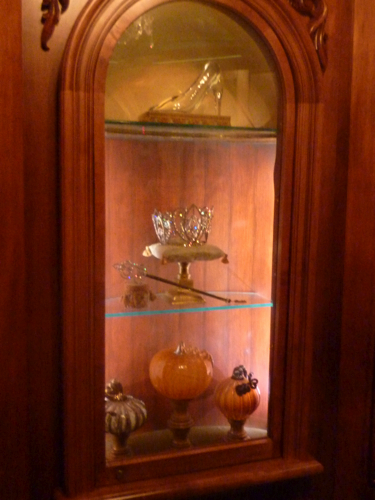 After you enter the lobby, you take a ride in the carriage to your room. When you step out of the carriage you are in a beautiful entry. There is a display on the wall with some of Cinderella's favorite things, her glass slipper, crown, scepter, and three pumpkins, which were a gift from the Fairy Godmother, so she would never forget her humble beginnings.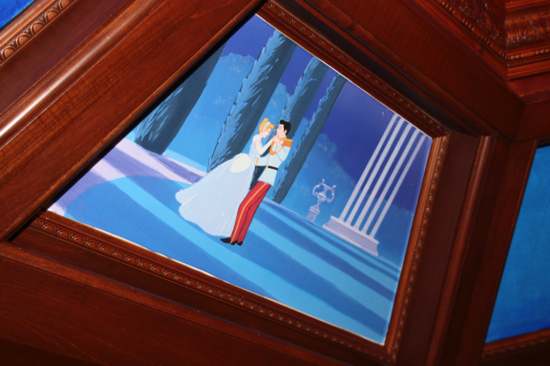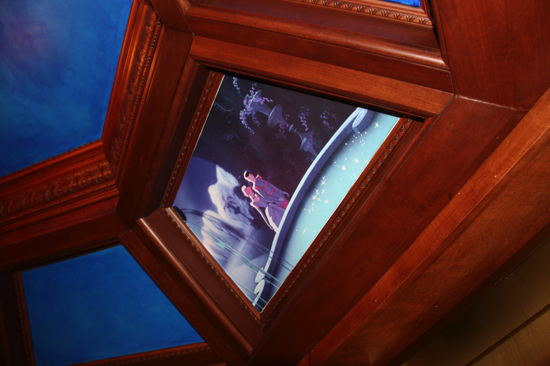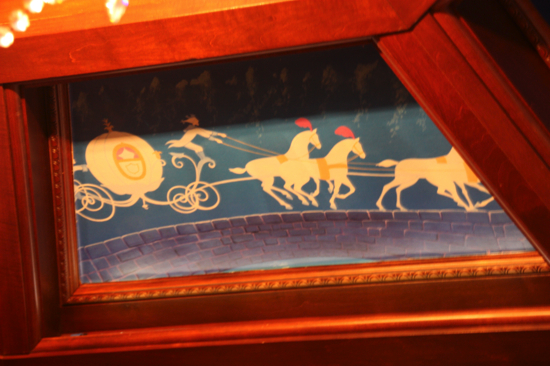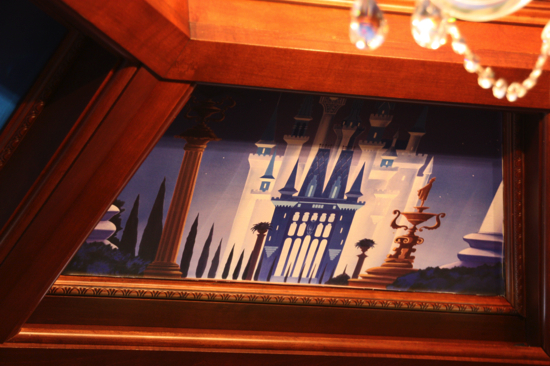 If you look up in the entry area you will see several images from the Cinderella movie.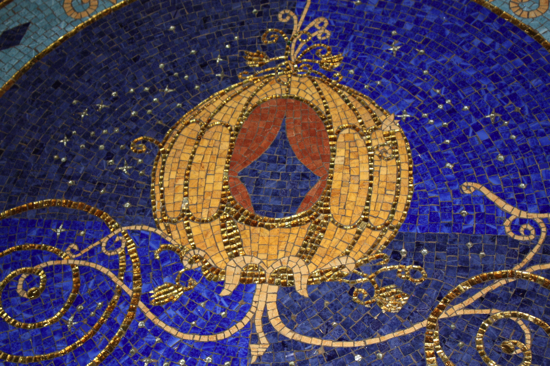 On the floor is a tile mosaic of Cinderella's carriage. It is made of over 30,000 tiles including tiles made out of gold and silver.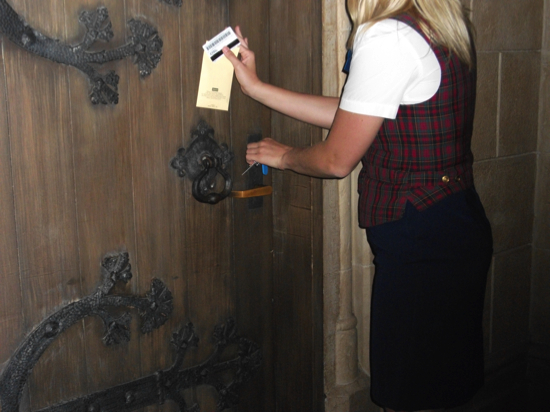 Getting ready to go inside the suite.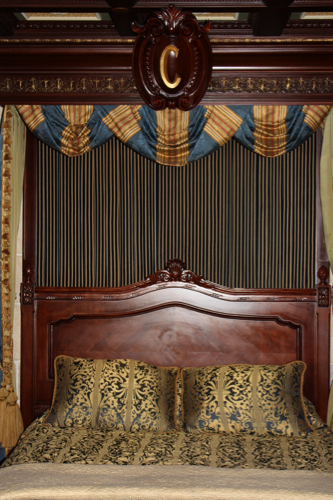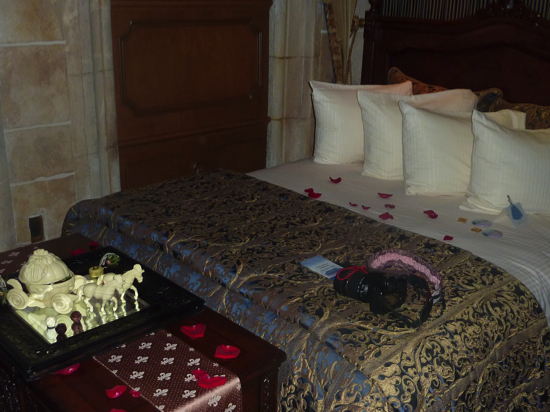 Cinderella's Bed. I bet you didn't know she had a digital camera. 😉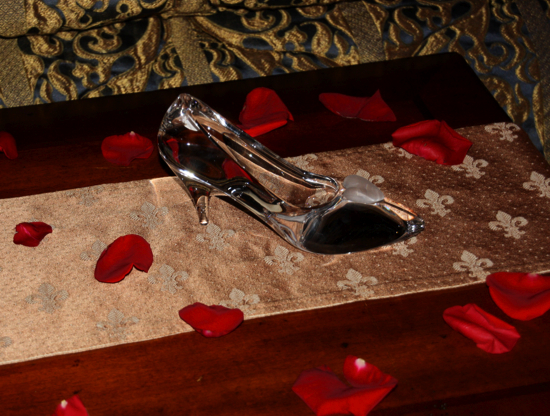 There was a glass slipper for Andrea to take home.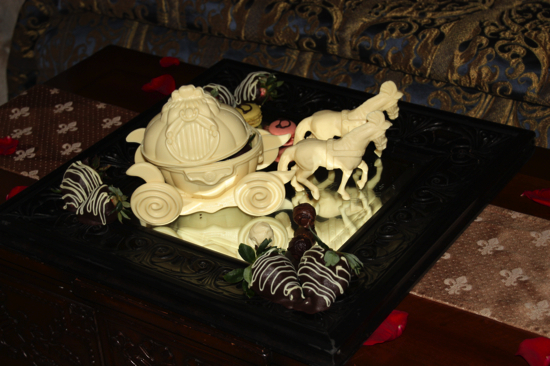 White chocolate carriage filled with chocolate covered strawberries.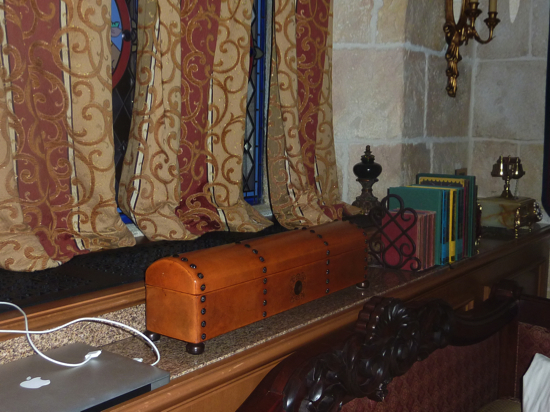 Telescope from Captain Hook, books on loan from Belle, and MacBook Pro on loan from the bloggers.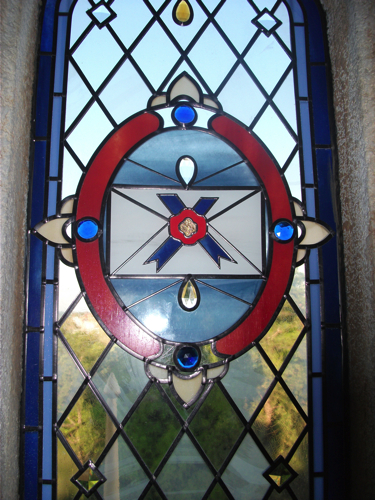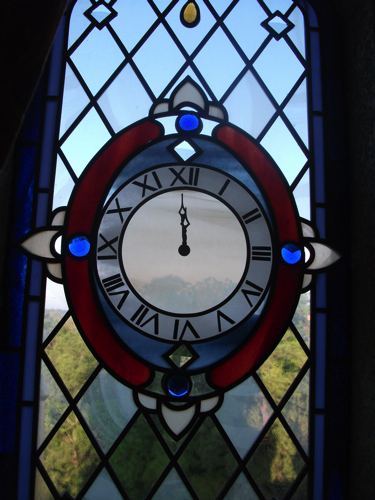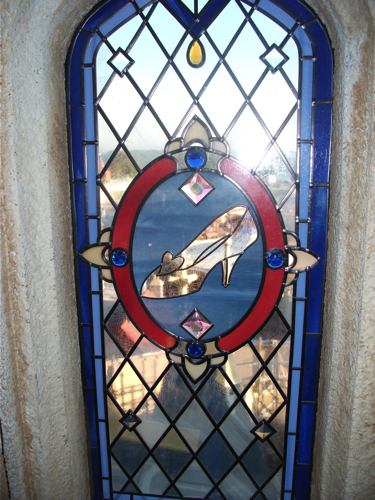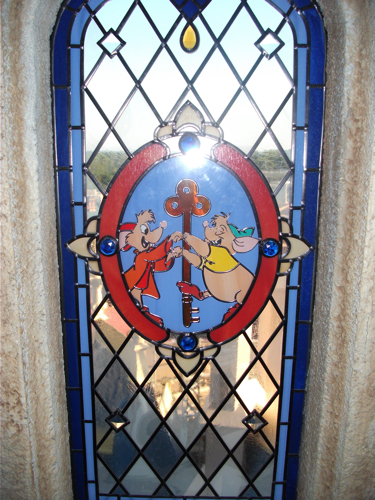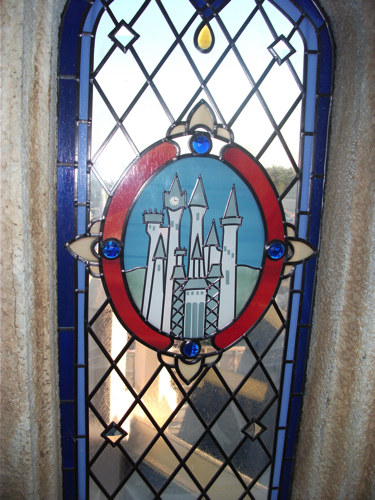 There are a series of stained glass windows that tell the story of Cinderella.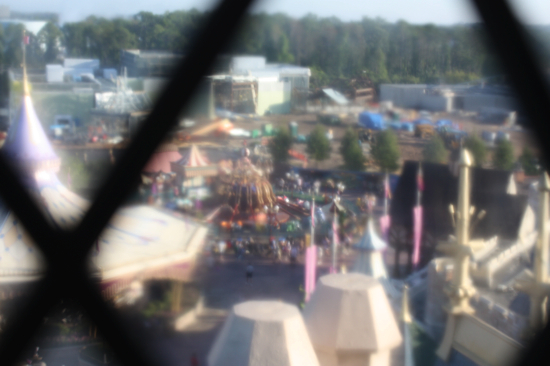 It is hard to get a good view from the caste suite since all the windows are stained glass.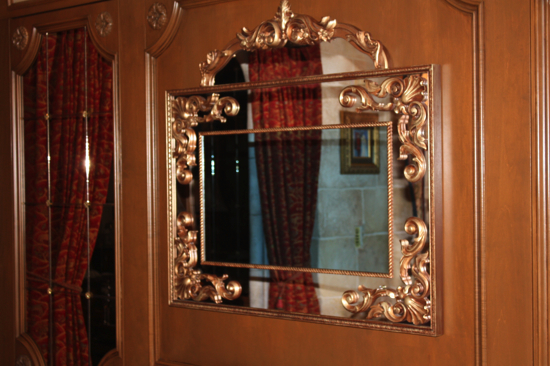 This is the television in the suite. To turn it on you push a button on the magic wand. Tinkerbell flies across the mirror and it turns into a television!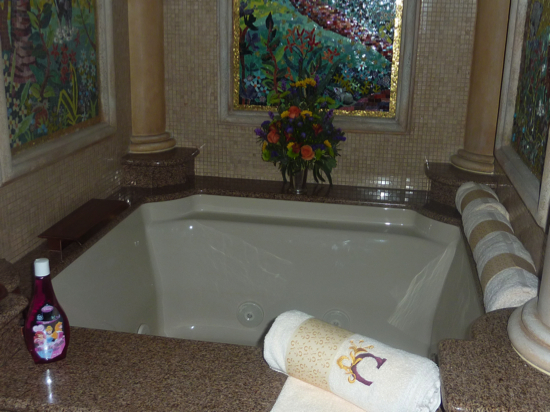 The bath tub, notice the princess bubble bath.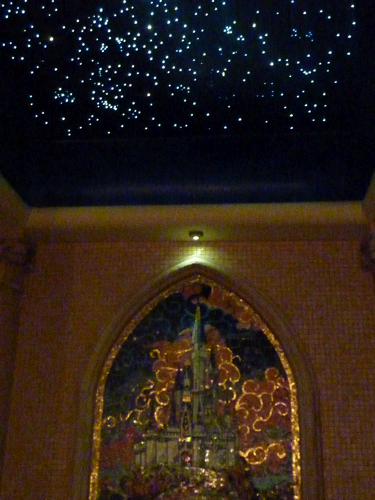 This is the ceiling above the tub in the bathroom. The lights twinkle like the stars.
A glass slipper made from a towel waited for us in the bathroom.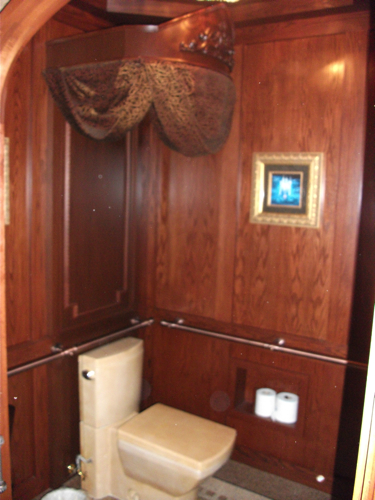 Would you expect anything else in a princess bathroom? Yes, the toilet is a throne.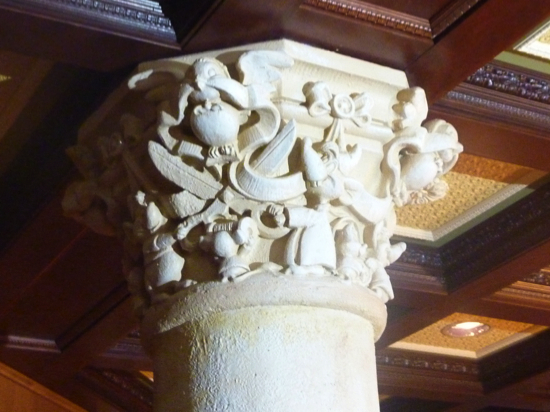 There are columns inside the suite. They are all decorated with the story of Cinderella.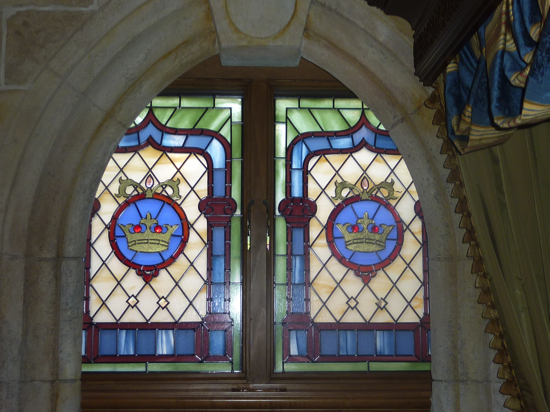 The emergency exit.
The one thing that amazed me about Cinderella's Castle suite and all of Walt Disney World is the attention to detail. I'll be sharing more about that later this week, but I'll leave you with one more observation. One of the first pictures in this post is a tile mosaic that is in the walkway of the castle. Thousands of people walk by it every day. Take notice the checkered floor pattern in the mosaic photo.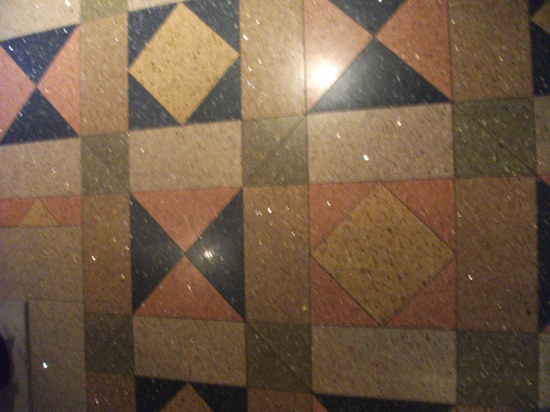 This is the floor of the suite, does it look familiar? It is the same floor as the mosaic! Nothing you see at Disney is an accident, it was all carefully planned by the Imagineers who designed this park. It was fascinating to learn about these details during our stay at the castle. I'll write more later this week about our stay and the fun facts I learned about Disney!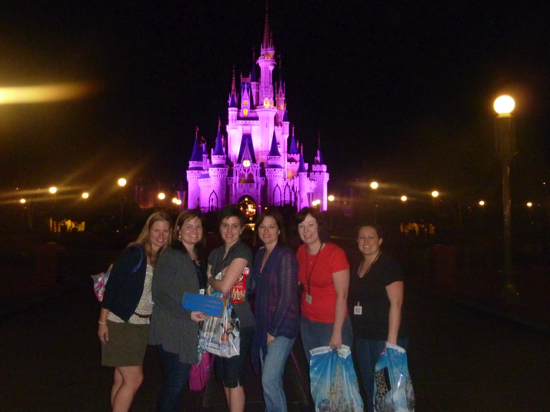 Disney… at 2am, the only ones left in the park!
See more about our Disney Trips including tips & tricks for making the most of vacations to Disney.  Having lived in Orlando for years, Disney is a way of life!  🙂