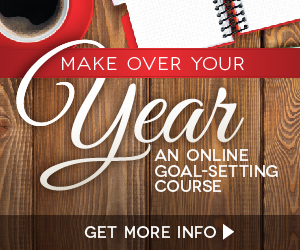 Do you have hope and dreams for the future but you struggle to figure out how to turn those dreams into realistic goals?  Crystal and Jesse Paine of MoneySavingMom.com have created a brand-new 4-week course that walks you through how to do just that!
Their Make Over Your Year course is a simple, effective 4-week, hands-on course designed to help you take your big dreams and ideas and turn them into realistic goals and a doable action plan. Over the 4-week period, you'll learn:
Why & how to decide your most important priorities in life
How to narrow your priorities down to specific focus areas
The 4 keys to creating goals that you'll actually follow through with
How to give yourself grace – without falling off the bandwagon
And more…
For the next couple of days they are offering a special launch price for this course. So head on over to MakeOverYourYear.com and get in on the rock-bottom price for this fabulous course today!