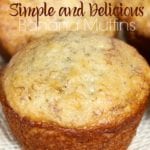 Print Recipe
Simple Banana Muffins
These banana muffins are delicious served warm straight from the oven or freeze for a quick breakfast or snack.
Mix together bananas, eggs, and oil.

Add flour, baking powder, baking soda, cinnamon, and sugar. Mix together until the dry ingredients are completely mixed in.

Scoop into a greased muffin tin (or line with muffin cups), and bake at 350 F for approximately 15 minutes.

Remove immediately from the muffin tin and serve.