The Care Package: a simple piece that can make all the difference in the long-distance relationship which usually comes with military life. But they're not as easy to send and put together as it might seem. Here are some ideas and tips to keep in mind.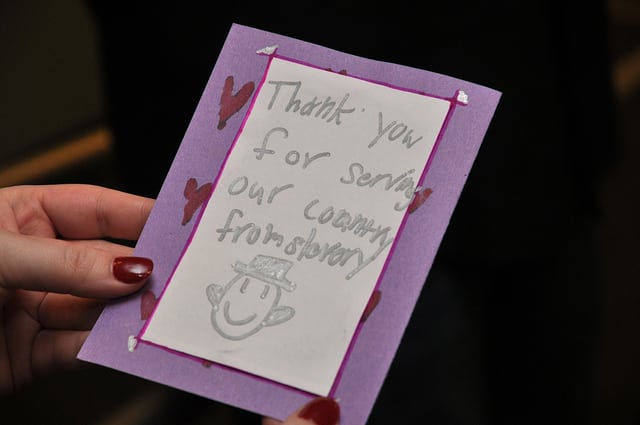 Holiday Theme
Have a holiday coming up? Center your gift theme around that holiday. For example, for the Fourth of July, think red, white and blue. Decorate the inside of your box, fill with patriotic foods that have been vacuum-sealed (sugar cookies with festive colored frosting for instance), and fill it with goofy party favors.
Movie Night
Send your soldier their favorite movie snack with a DVD that you two have seen together, or one that you think they'd like. If he/she has a microwave, send some popcorn or prepare your own and vacuum seal it.
Reading Material
Pick a serialized book and send it every few weeks. Your significant other will be racing against time to read the book before the next one arrives. If it's a series you've read before and have some extra time, what about sending them a clue with each new book? A prop or note will add some fun to their package and give them something to look forward to.
Homemade
Use your talents. If you enjoy photography, shoot some photos of the kids, favorite spots, landscapes, their favorite flower, etc. If you're a musician or just enjoy music, create a playlist of their favorite tunes and send a personalized mix-tape. Lastly, for all you artists out there, sculpt or paint something special but keep shipping in mind!
Board Game
There can be a lot of downtime when deployed; find a board game or two that your soldier would enjoy. For a bonus idea, make that the theme of your care package. For instance, if you decide to send monopoly, bake some monopoly-themed cookies, buy dice, or other fun accessories to really put a smile on their face.
Send it in a Chain
You can cut up a few envelopes and stitch them together, one for every day of the week! Fill it with mementos, notes and photos that will make each day unique. Over time, you'll end up with beautiful, fun traditions that your soldier will never forget.
Things to Keep in Mind
Send early — packages can take a lot of time to go through the full process so be sure to ship early for birthdays, holidays, etc.
Familiarize yourself with post office rules so you don't miss an important factor.
All packages are inspected so don't send anything inappropriate or dangerous.
Don't send chocolate or candies that could melt. Service members are often in tough climates; melted chocolates are no comfort, just a mess they'll need to clean up later.
Sending a care package to your soldier is a great way to show that you care. Personalizing them with fun themes and favorites can really go a long way, but keeping in mind the rules and guidelines will also ensure for the perfect presentation.
Photo credit: U.S. Army Corps of Engineers Los Angeles District
Maya Szydlowski is the community manager for Veterans United Home Loans, the top resource for the military community on news, benefits, and family life and is the leader in VA loans.