I'm not a good gift giver. While I like to give gifts, I have a hard time figuring out what to get people. I want the gift to be meaningful and still stay under budget.
This year I signed up for the Secret Santa Challenge with several of the Savings Nation Ambassadors. It seemed like a good idea when I signed up, but as it got closer to our gift exchange and we still hadn't closed on our home I started wondering why I agreed to do it!
The goal was to spend $20 (or less) on a gift before shipping. I was randomly assigned Melissa from Frugalissa Finds. I've only met Melissa once in person so I spent some time stalking her Facebook page to figure out what she likes in hopes of giving a great gift.
As the deadline grew closer I started to grow concerned. At this point we were living out of a hotel room and I didn't have access to my coupons, newspaper, and I didn't have a ton of time. I know Melissa loves Target so I grabbed a $10 Target gift card, but I still had ten more dollars to spend.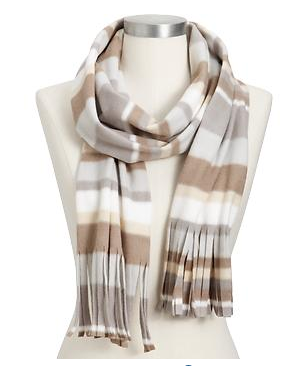 I needed a pair of gloves for the Gaylord ICE! experience and while in Old Navy I realized they were running some great sales. All fleece accessories were 2/$10 and you could combine that with a buy one get one 50% off sale. I was able to grab some cute gloves and a scarf for $7.50. I figure you can never have too many cute winter accessories- unless you live in Florida, and she doesn't.
This still left me with $2.50 to spend. At this point I was on my way to West Virginia for Thanksgiving. I knew my shopping options would be extremely limited once I arrived. I decided to go with my favorite go-to, in a pinch, inexpensive gift option, candy!
My friend and I decided to make fudge, carmel corn, and fudge popcorn. Unfortunately for Melissa the popcorn was way too popular with the kids so only the fudge made it into the box. I figure the cost of the ingredients was about $2, so I came in slightly under budget.
By the way- don't ever buy fudge again, I used a basic fudge recipe and it was very easy and tasted great! It also cost about 25% of the price of buying fudge.
I received an Amazon giftcard and a pretty package of assorted teas from my Secret Santa (from Melissa of This Mommy Saves Money). Hopefully I'll get my Christmas tree up and my girls can enjoy tea time around the Christmas tree. I'm excited about the Amazon gift card because I love finding great deals on Kindle books to add to my collection. $15 goes pretty far when you shop the deals!
You can read what other deals the Savings Nation Ambassadors snagged for the Secret Santa challenge by clicking on the links below.