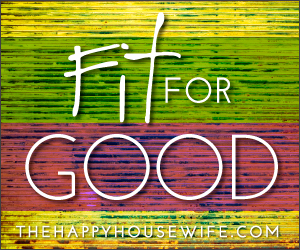 Real Food Basics eBook is a fantastic solution for anyone wanting to learn about real food living!  This is a 98-page real food and recipe guide that will show you:
…how to cook real, recognizable foods in your own kitchen. Foods that everyone loves, like pizza, ice cream, and French fries, that have been made over with healthy ingredients! People will be amazed that these foods are healthy because they are so delicious, but it's true. You don't have to be deprived when you're living the real foods lifestyle!
In short, this book is a bite-sized, reasonably priced bit of information that will help you to understand the real-food lifestyle and adapt your kitchen to it, while still making recipes that please your family.
This month it will be available for only $5 (reg. $7.95). And, today only, get it half off the discounted price for only $2.50 with coupon code: REALFOODLAUNCH at checkout.
More Fit For Good