When my oldest went to college we only visited one school. Looking back I wish we would have visited and applied to more schools because the school she ended up attending was not the best fit.
With my sixteen year old, we've already started discussing college options. Here are some of things things we are discussing in our family and I think every family should discuss.
Does this school have a strong program for your child's intended major?
Is your child looking to attend a large university or have a smaller more personal experience?
Is your child involved in an extracurricular activity and is that offered at potential schools?
Can we afford it?
What are their financial aid and scholarship options?
Will your child be able to live on campus?
Last month we were able to visit Johnson & Wales University in North Miami. Before being asked to tour the campus, I had never heard of this school. That made me realize that there are probably many great schools all around me that I haven't even considered. Since my children have grown up with a nontraditional education model (primarily homeschool and university model schools) sometimes these smaller private schools end up being a great fit.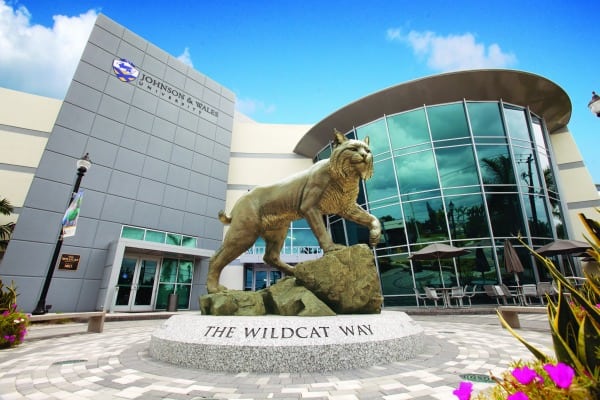 This JWU campus offers majors in Culinary Arts, Entrepreneurship, Fashion Merchandising & Retailing, Hotel & Lodging Management, Business & Marketing, Restaurant, Food & Beverage Management, Sports/Entertainment/Event Management, Tourism & Hospitality Management, and several more. They will even offer Software Engineering and a master's degree in business administration beginning in fall 2017!
Living in Florida it was exciting to visit a university that has so many opportunities for kids in our tourism driven economy.
Our tour started in their culinary department and by the time we walked out of the building I was ready to go back to college!
JWU's College of Culinary Arts has multiple technologically advanced kitchens to give students the opportunity to work and learn in a variety of environments. They also have gardens behind the building where they grow many of the fruits and vegetables used in the kitchen. They hope to eventually expand the program so that the college can grow much of the food that is used in the culinary classes.
They don't waste any of the food that is prepared by the students. Much of the food produced in the culinary labs is donated to local charities and they even have a program for local elementary aged students to come and participate in a cooking class as a reward for perfect attendance.
My son and I were truly blown away by the talent displayed in the culinary department. These flowers (made from gum paste) were one example of what students are learning to create in class. In every department we visited on campus you could tell the students took pride in their coursework.
We then moved on to the library and computer lab area. Their computer lab is open 24 hours which is great for all the night owls, and students are able to print for free.
For a small university the library was very large. It even has a large collection of movies and students can request a movie that is not currently in stock.
While we were visiting the library, they had cakes on display from the baking and pastry arts students that were all literary themed. I was impressed (and hungry)!
We then visited the fashion merchandising & retailing department. One aspect of JWU that really impressed me throughout our tour was that classrooms were not set up like traditional classrooms. One classroom was set up like a boutique, complete with racks of clothing, mannequins, floor sets, and more.
Another classroom was set up like a hotel lobby. The culinary department had a small restaurant and bar set up in one of the spaces.
This real-world approach to learning is something I really appreciate. I feel like many times a young adult graduates from college and has a lot of book knowledge, but little real world application. JWU seems to turn traditional learning on its head. Not only are classrooms nontraditional, students have the option to start their freshmen year taking some of their major courses instead of waiting until their third year to begin core classes. Students are able to quickly determine if a major is a good fit for them, and they are excited about their major from day one instead of wading through two years of humanities and college algebra to get to what they are interested in. These core subjects are woven in throughout the four years, which is a great idea.
Another great feature of JWU is their entrepreneurship lab. This is a place where students can come work on their business ideas, brainstorm, and get advice from other successful entrepreneurs. Every year they hold a "Sharkfest" competition where students compete to earn seed money for their businesses.
The walls of the entrepreneurship lab are all painted with white board paint, which was another great feature. As someone who loves to brainstorm and is a visual learner, this is a great way for students to develop their business ideas. We even got to leave messages on the white board for the students.
The student body is diverse and everyone we met during our tour were friendly and excited to talk about their experience at the university. It was especially fun seeing college students interact with the elementary children during their field trip.
Overall, our visit to JWU was a great one. The nontraditional learning environment is something I'm passionate about with my own children and it's great to see it at the university level.
If you'd like to learn more about JWU and its nontraditional approach to learning you can visit their website, and connect with them on Facebook , Twitter, Instagram and YouTube. In addition to their Miami campus they have campuses in Rhode Island, Denver, Charlotte and online.
This is a sponsored conversation written by me on behalf of Johnson & Wales University. The opinions and text are all mine.