This giveaway is now closed. Jamie is our winner!
Do your little girls love the Disney Fairies. Mine sure do! They have the dolls, the dress-up clothes, and now they have the Disney Fairies Pixie Hollow game to play online. I love to find safe, fun, and educational games for my kids and Disney delivers with their Pixie Hollow game.
When you log on you create your fairy. Here's mine!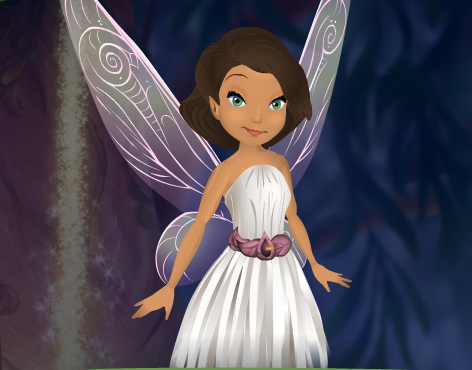 You can create your own fairy, decorate your fairy home, and even hold parties!
One fun area on the site is Dulcie's Kitchen where kids play games and make delicious treats. The games start easy but get harder as you earn more points. Kids can interact with other users on the site, but the chat is limited and there are parental control settings for the entire site.
My girls really enjoy this site, but it is geared more towards my six-year old, as my four-year old needs a little help with the games.
I am giving away a fun Disney Fairies Pixie Hollow gift bag filled with cooking items (aprons, pot holders, cookie cutters, and more) as well as a membership to the site.
To enter leave a comment telling me your favorite Disney character. Mine is Belle from Beauty and the Beast. Giveaway ends Monday, May 10, 2010.