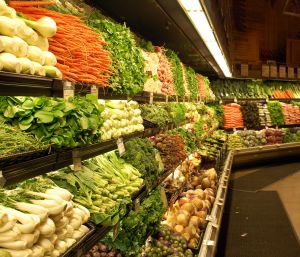 Shopping at your military commissary can mean big savings for your family. When you combine coupons with sales there are great deals.
Remember when shopping at the commissary look for the coupons on the tear pad. Sometimes these unexpected coupons can bring you the greatest savings, especially during the holidays. Come back tomorrow for my Commissary Holiday Shopping tips article.
If you want to make the most of your Commissary trip read my commissary shopping tips article. Make sure you also read the commissary coupon policy, know it before you go so you can make the most of your shopping trip!
Coupon Abbreviations SS = Smart Source Insert AY = All You Magazine P&G = Proctor & Gamble Insert RP = Redplum Insert GM = General Mills Insert
Military Commissary Coupon Match-Ups
December 1-14, 2011
Arm & Hammer Baking Soda $0.39
Bird's Eye Steam Fresh Vegetables $0.79
Printable Coupon $0.75/3
Final Price $0.54
Chex Cereals $1.99
Printable Coupon $1/2
Final Price $1.49
Daisy Cottage Cheese $1.79
SS Insert $0.35/1 (11/13)
Final Price $1.44
Green Giant Canned Corn $0.60
GM Insert $0.50/2 (11/13)
Final Price $0.35
Hormel Chili $0.99
SS Insert $0.55/2 (11/6)
Final Price $0.77
Muir Glenn $0.75/1
Canned tomatoes are often on sale for under a $1 so grab this coupon before it reaches its print limit.
Musselman Applesauce $1.69
Printable Coupon $.075/2
Final Price $1.31
Pillsbury Refrigerated Pie Crust $1.99
Printable Coupon $0.50/2
Final Price $1.74
Pillsbury Refrigerated Cookie Dough $1.99
Printable Coupon $1.50/3
Final Price $1.49
Progresso Soups $1.25
GM Insert $1/4 (11/13)
Final Price $1
Scott 1000 Roll (12 Pack) $6.59
Printable Coupon $1/2
Final Price $6.09
Snuggle Dryer Sheets $2.49
RP Insert $0.50/1 (12/4)
Final Price $1.99
Wisk Laundry Detergent $7.99
Printable Coupon $0.75
Final Price $7.24
Ziploc Bags $1.49
$1/2 Weight Watchers Magazine (136-137)
Final Price $0.99