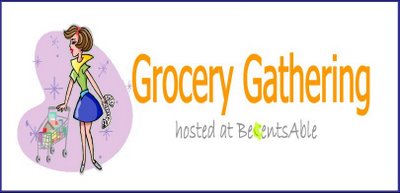 The following are commissary deals that run through 3/19/08
Barilla Pasta- $0.69 a box (this is a great price, so stock up, the commissary usually puts these on sale every other month)
Barilla Plus – $1.09 a box
Betty Crocker Fruit Snacks – $1.25
Edy's Ice Cream – $3.19 a container. Breyers is still cheaper at it's regular price of $2.99 but if you like Edy's you can save $0.70
Healthy Ones Lunch Meat $1.69
Kraft Mac and Cheese ~ $0.50 a box, in some stores there is a tear off coupon for $0.30 off 2. This brings them down to $0.35 a box.
Kraft Singles- $2.00
Luvs Mega Pack Diapers- $7.99
Muir Glen Organic Pasta Sauce – $1.69
Muir Glen diced tomatoes are $0.99. There is a coupon for 1.00 off here: http://www.eatbetteramerica.com/Coupons/
Thanks st8homom for the tip!
Nabisco Chips Ahoy Cookies $1.99
Pop Tarts – $1.25 and $1.50 a box depending on the box size. I am not sure how a great a deal this is because we don't buy pop tarts, but there is a coupon out there for pop tarts, so you might get a good deal on this one.
Totinos Party Pizza – $0.79
Other items on sale this week-
Aunt Jemima Pancake mix and syrup
Betty Crocker Frosting and Mixes
Breyers Ice Cream
Gold Medal Flour
Hidden Valley Dressings
Jolly Time Popcorn
Kraft and Cooper Cheese products
Muir Glen – assorted products
Mrs. Paul's Frozen Fish Products
Nabisco Triscuits and Wheat Thins
Ocean Spray Juice
Planters Nuts
Stouffers- Frozen Lasagna
Sunshine Crackers
Shelly brings up a great point regarding commissary shopping.
I have become a HUGE fan of the tear-off coupons that are often hanging on the shelf in the commissary. Very frequently they will show up WHILE the item is on sale, producing an awesome deal – and of course you can get multiples that way without having to buy multiple newspapers. I always watch for them now. Our commissary had tear-offs for the sale Pop-Tarts and for the sale BigG cereals. Don't forget the coupon table near the entrance to your commissary too. Again the best part is if you find a good coupon, you can have multiples! It often seems the coupons are released during or near the sale window for an item.
Currently there is a tear-off coupon at the Ft. Meade commissary for a free gallon of milk if you buy 3 Kelloggs cereals. Some Kelloggs cereal is on sale for $1.99 a box. This could be a great deal if combined with cereal coupons.
Check out BeCentsable for other great deals at all of your favorite stores.
Do you know of great Commissary sales going on this week? Email them to me at
thehappyhousewife@comcast.net and I will add them to this post and link back to your
site.