Almost every book I put on hold at the library came in this week. I was thankful I had my totes with me when I stopped by the library on Saturday. We filled the totes and I had kids carrying books out of the library too!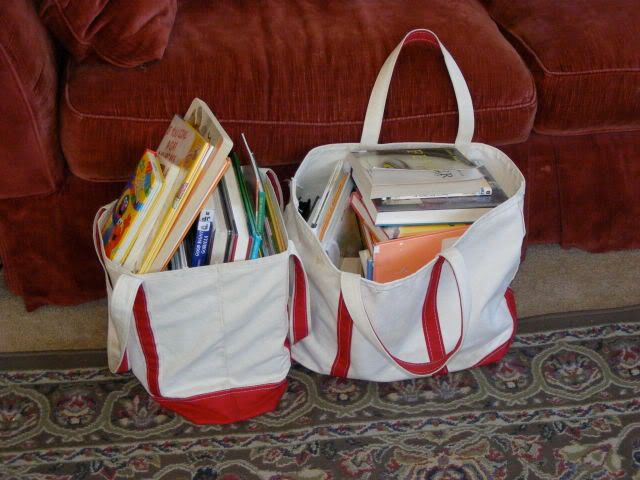 I haven't done as many read alouds as I had hoped this week, but we are still adjusting to Cora and the school schedule. Next week's list should be longer.
This week's reads.
Angus Lost
by Marjorie Flack I was really hoping to love this book, but I didn't. It is a story about a dog who is curious and wanders away from home. It just didn't wow me, the illustrations were okay but the story was choppy and the sentences cut off in weird ways.
How Are You Peeling?
by Saxton Freymann I love these books. Characters are made from fruits and vegetables and there are usually a few words accompanying each picture. My kids also enjoy these books. The older kids like to figure out what food items are used and the younger one's enjoy the photos.
The Fourth of July Story
by Alice Dalgliesh This book does a great job of explaining America's quest for independence. My third grader read this on his own and enjoyed it. There are illustrations on almost every page and while this is more story than reference book there are plenty of facts in this book. A great supplement for a study on early American history.
Alice's Adventures in Wonderland: A Pop-up Adaptation
by Robert Sabuda I love Sabuda's books. This is a pop-up version of Alice and Wonderland, the pop-up art is amazing and my kids loves looking through this book. I do recommend supervising your children while they read this book as pop-up books can tear very easily!
An Orange in January
by Dianna Aston This is a cute book that tells how an orange gets from seed to your kitchen table.

Good Night Gorilla
by Peggy Rathmann Fun book about zoo animals that follow the zookeeper home to bed, in which the zookeeper's wife promptly marches them all back to the zoo.
Amelia Bedelia Books
by Peggy Parrish Remember Amelia Bedelia from your childhood? These books about zany Amelia have been a favorite of all my children. They are also easy to read which make them perfect for your young readers, although they might not get all the jokes.

The Adventures of Tom Sawyer #1: A Song for Aunt Polly (Easy Reader Classics) (No. 1)
by Mark Twain We actually read a few books in this series. I like these books because they are easy reader versions of the bigger books. My eight year old really enjoyed them, although he could probably read the advanced books too.
The Rag Coat
by Lauren Mills I had a hard time reading this book without crying. (post baby hormones?) This is a touching story about a little girl is given a rag coat after her father passes away. She is made fun of at school until she reveals that each piece of the coat tells a story. A must read!
From Caterpillar to Butterfly
by Deborah Heiligman This book does a great job of explaining the butterfly life cycle to young kids. The author uses scientific terms, but it is told in a story format which keeps younger kids' attention. The illustrations are easy to follow as well. A great science supplement for the K-1 bunch.
Now it is time to link up your book basket posts. Please link to your book post not your blog homepage. Also please link back to this post so more people can participate. I can't wait read your book recommendations!