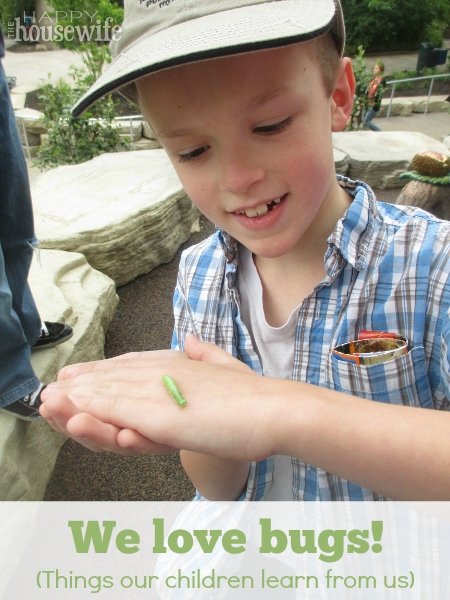 By contributing writer Tabitha
All things that creep and crawl on this earth apparently are friends to my children. It's shown in the stories my 15-year-old daughter brought home from camp this summer.
Apparently their tent was plagued with daddy long legs, which she took care of by removing them gently, and one morning a snake took up residence among their shoes. She was the one who discovered this (thankfully) and made sure this little guy was also moved to a safer location.
Just to show her intelligence, she also did NOT inform her tent-mates of this intruder until later. A lot later. She was a little frustrated with how scared they were of bugs and other "creepy" living things.
I can only take partial credit in that I try to be supportive of learning about animals.  I try not to show disgust or fear unless it was warranted.  For example, no pet wasps.  Sorry, kids.  So the kids are totally afraid of wasps, but back to "safe" bugs and other things people sometimes are afraid of.
We love bugs and other creatures. Over the years, we've had a lot of insects, spiders, and other living things cross our paths. We have a pet snake, a bearded dragon, and fish. We've also had dwarf hamsters.
While I knew this wasn't normal, I didn't realize how far from normal we were until I tried to find someone to pet-sit for a family vacation a few months ago. I was told in no uncertain terms where to go. Elsewhere, mostly.
Happily, we found a reptile-friendly family willing to check on our pets as well as feed and water them, and all was well.
This got me thinking, though, that maybe when we as adults show our fears or dislikes, our children are less willing to try something new, like pet a snake or pick up a big caterpillar.
I try to never discourage learning about animals and what they are allowed to pick up, study, or touch (within safety limits).
While this is JUST FINE with some parents, (and I refuse to judge either way!) it can apply to more than just how our children view bugs.
Kids learn more from our actions than we can ever tell.
While it doesn't matter whether we allow snakes or bugs in our home, it does matter:
when they see how honest we are.
when they see how we treat our parents and other extended family members.
when they see how we treat those less fortunate.
when they see how we treat those we disagree with.
what we do at home versus how we are outside our home.
Always act in a way you would like your children to emulate, and both you and your children will benefit!
You might also like…