Update

This summer has been very different for us. With my daughter having a broken leg we are very limited with what we can do outside because we don't want her to get all hot and sweaty in her cast.

We've been doing a ton of inside activities this summer and one of them is movie night (or afternoon). One of my girls' favorite movies on DVD this summer is Paddington. They've watched a few times with their friends. Paddington is a small bear who comes to London to explore and find a loving family.

Paddington is accident prone which makes for some very humorous scenes my children love. Paddington is a great family movie that is perfect for a family movie night or a rainy afternoon.

We have an awesome summer giveaway for you this week!

We're giving away a cute Paddington plush, Paddington water bottle and Paddington Blu-ray Combo Pack.

To enter the Paddington giveaway leave a comment sharing how you are beating the summer heat. Giveaway ends June 29, 2015.
With the heat of summer and the searing July sun, we're dragging. We are doing less, lounging more, and just kind of… blah. Along with the rising temperatures, we find the whines rising too.
"I'm bored."
"There's nothing to do."
Do you, like us, need fun activities to get you through these "I'm bored" days?
Try some of these fun ideas that just might encourage your kids to award you "Mom of the Year" and help you put a stop to the whines once and for all.
Summer Fun for Kids
Have a Bike Wash
Invite your kids and the neighbors to bring their bikes to the driveway and set out buckets of soapy water and sponges. Let them wash their bikes and trikes in their bathing suits.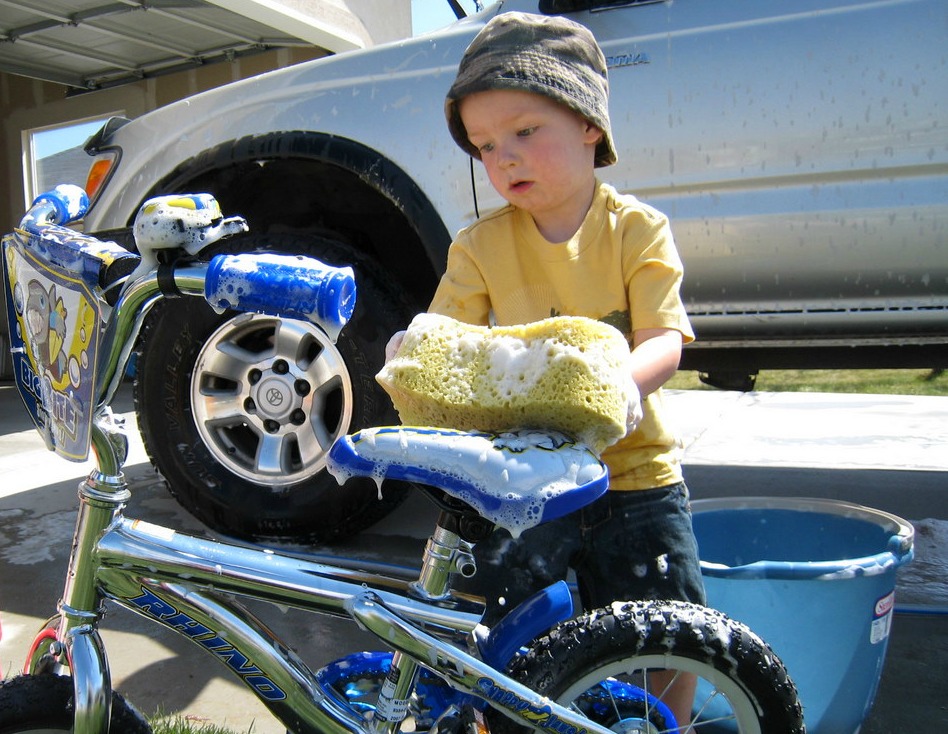 photo credit: Paul Mayne via photopin cc
Let them Get Muddy
I hate muddy kids. Unfortunately for me, my kids love mud. Since I'm trying to be more intentional about saying yes to messes, I decided to embrace their love of mud and set up some mud play this summer.
We have an old baker's rack in the backyard that I set up as a "mud pie bakery." I put out little pie pans, bowls, measuring spoons, and other kitchen supplies from the dollar store. The girls love it.
Go to a Parade
My kids love parades. It doesn't really matter to them what the parade is for – they just love seeing people march by them and scramble to pick up the candy that's thrown at them. With a little bit of research, I was able to find three local parades within the next few weeks. They're all associated with city "Home Days" celebrations and kick of festivals and carnivals. We'll hit at least one of those before riding some of the rides and eating carnival food for lunch.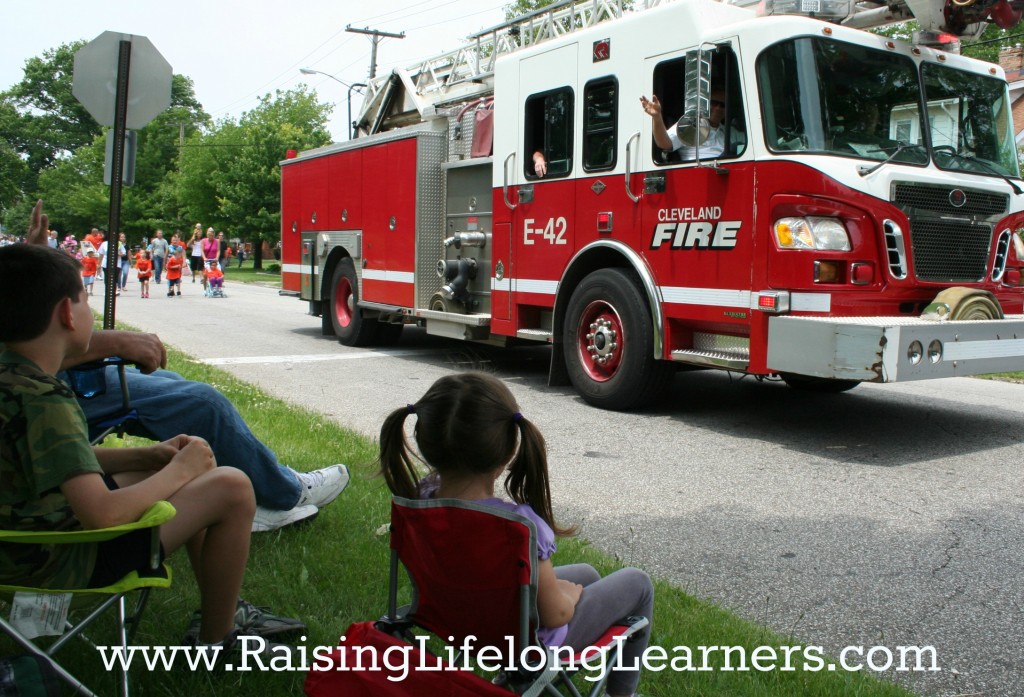 Have a Parade
My five-year old was in a parade that was just made up of the baseball league her T-ball team is a part of. A fire truck led the parade, and a police car ended it, and in between were hundreds of T-ball and baseball players of all ages and their coaches. Regardless of the simplicity, people young and old lined the 2-mile path while kids of all ages flung candy (and pocketed some for later). The parade ended at the ball fields where everyone enjoyed ice pops, chips, hot dogs, and bottled water.
Can you do something like that in your neighborhood? Call the police or fire station and ask if they're available to lead your kiddos down the street with their lights. End it in a cul de sac or blocked off area and have a little potluck block party with snacks and sprinklers. Neighborhood relations and family fun all rolled into one!
Learn Something New
My daughter keeps playing with an old Hula Hoop we picked up at a garage sale last year. She thinks she's getting it, but it keeps falling around her ankles, and I can't help her. So, we plan on getting the family involved, making some bigger hula hoops for my husband and me, and learning as a family. There are great video tutorials (Google it) and it can double as homeschool P.E.!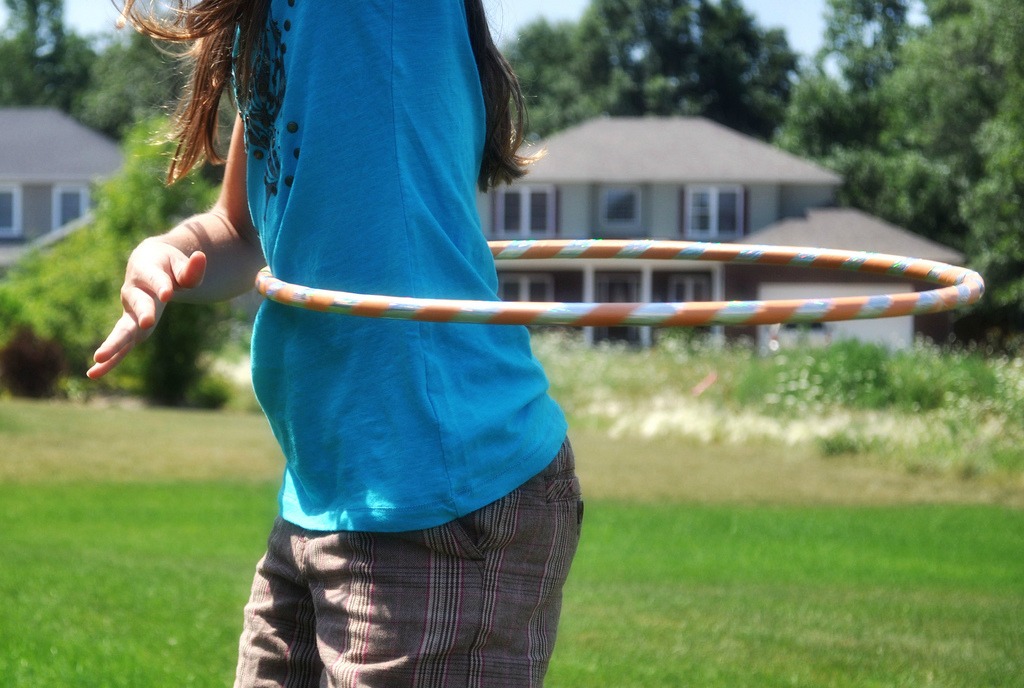 photo credit: Close to Home via photopin cc
Imagine It
Studies show that kids that who use their imaginations are happier, healthier, and more successful as adults. Encourage your kids to imagine. You don't need money to do this. Hand over a cardboard box, some old scarves or blankets, and let them go create caves, tunnels, houses, stuffed animal dens, and more. Praise them for their creativity and ingenuity, and they'll want to do more.
Beating summer boredom doesn't have to be expensive or time-consuming. Be intentional about how you play with your kids or how you encourage them to play with others. And if these ideas fail, there's always the old standby, "You're bored? Okay…I have some chores that need done. You can clean the kitchen so you're not bored anymore."
It's a surefire way to cure boredom.
What are some of your creative and inexpensive ideas for summer fun? Share in the comments – I'm always searching for more ideas!