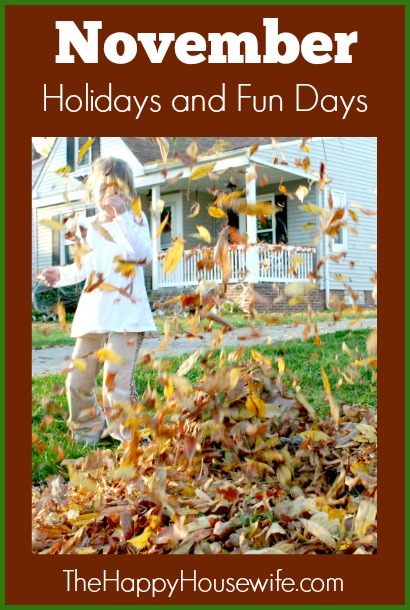 November is known for Thanksgiving, which is a great opportunity to count our blessings, give thanks, and enjoy good food and company. But November has other holidays and fun days for you to enjoy too.
November Holidays and Fun Days
November 1 – National Weather Service Established
Try these weather related experiments:
November 2 –  Book Lovers Day
November 5 – National Doughnut Day
Make homemade doughnuts. Here are a few recipes to try:
November 11 – Veteran's Day
November 16 – Button Day
Try making one of these button projects:
November 17 –  Homemade Bread Day
There's nothing like homemade bread. Plan time in your day to try one of these recipes with the kids.
November 19 – Gettysburg Address Delivered
November 27 – Thanksgiving
We are thankful for you!  Here are some activities and general Thanksgiving tips you might enjoy.
November 30 – Mark Twain's Birthday