The following is a post from contributing writer Angie.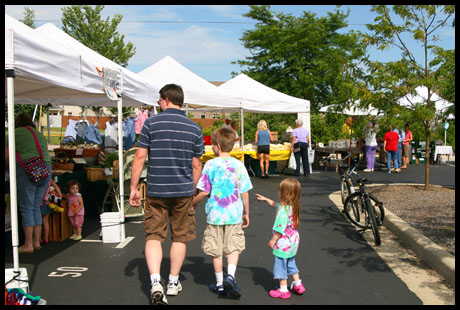 As Spring is wrapping up and Summer looms on the horizon, farmers markets are having their opening days all over the country.  While my family loves attending the farmers market just for the sheer fun of it, I am also always astounded at the educational opportunities that abound there.
While farmers markets offer different items, attract various vendors, and vary greatly in size from one another, I have compiled a list of ideas for a field trip that you can tweak to suit your particular farmers market.
Be Daring with Food
The funny part about this is that it actually doesn't have to be all that daring.  Challenge your children to seek out some type of produce that they haven't tried before so that you can purchase them one to try for the first time.
Even better yet, prior to attending the farmers market, give each of your children a list of produce that they will probably find at the market.  Ask them to find the items when they are there, and then buy a sampling of the items.
When you get back home, have everyone in the family taste at least a small amount of each item and then rate it.  You could either  finish the activity at that point, or you can involve some graphing to find out what your family's favorite and least foods were.
Learn About Art Techniques
At most farmers markets, there are artists of some type, whether they be photographers, painters, jewelry artists, textile artists, or any other branch of the arts.  While the produce vendors can sometimes be swamped at a farmers market, it's not unusual for artists to be able to make time to talk about their art with interested children.
At our trips to the farmers market, my children have seen earrings being made (by a jewelry artist that just happened to ask if we wanted to watch), learned about the process of making decorative ceramic pieces, and even been the proud canvases of Henna art (while the artist told them all about the process).
If the artists don't just naturally start chatting your family up, help your children prepare some questions that they would want to ask of artists ahead of time.  It's an amazing way to talk one-on-one with some really interesting people.
Plan and Prepare a Meal
Meal planning and preparation are skills that are vital for children to learn to save them from a life of macaroni and canned soup.  The farmers market presents an amazing opportunity to work on those planning and preparation skills.  Assist your children in planning a meal based on the foods that are expected to be at the farmers market that week (many have schedules available in print or online).
Your children can look for the best quality and prices as they shop for their planned meal.  Help them to be prepared to make substitutions.  A back up meal plan may be a good idea.  If you wanted to add to the challenge, you could even give them a budget for their meal.
After everything has been purchased, assist your children (as needed) as they prepare their market fresh meal.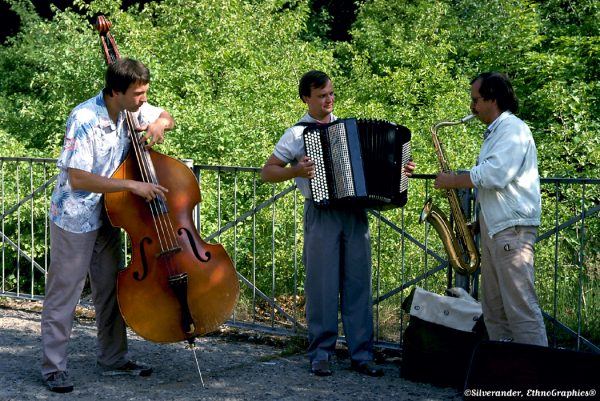 A New Musical Experience
Many farmers markets have musical performers at them either on a regular basis or on special occasions.  At larger farmers markets, there may even be multiple musicians at various locations throughout the market.  This can offer a great chance to see a performance, learn about local musicians, see unfamiliar instruments, or be exposed to music that is more common in other cultures.
One highlight for my children is to put in a little money for the performer after they are done watching.
Watch for Themed Days
Your local farmers market may be ever changing if they have themed days.  Be sure to check out their schedule to see if a trip to the farmers market may actually afford you a chance to see a presentation from local police, the city's newest fire truck, a cooking demonstration, or any number of opportunities that aren't normally scheduled.
If you're disappointed because your local farmers market is little more than a few tables, be sure to do some research about other farmers markets within driving distance.
Learning about Small Businesses
If your children are like mine, they are enamored with the idea of running a small business.  A farmers market gives you access to lots of small business owners all at once.  If you have a budding entrepreneur, have them prepare some questions that they would like to know about to ask vendors who are not busy at that time.
While in depth questions are probably not the best options, they might ask things about why the vendor likes having a small business, what challenges they face, if this is their sole income or if they have to have another job, and why they decided to start their own business.  It's, of course, best for your child to share up front that they are asking because they hope to have a small business one day too.
Do you frequent your local Farmers Market?  What are your favorite things about it?