Whether you're throwing end-of-the-year homeschool parties, hitting the pool, or pressing through the summer on schedule, set aside some quality time to enjoy a few June holidays and fun days.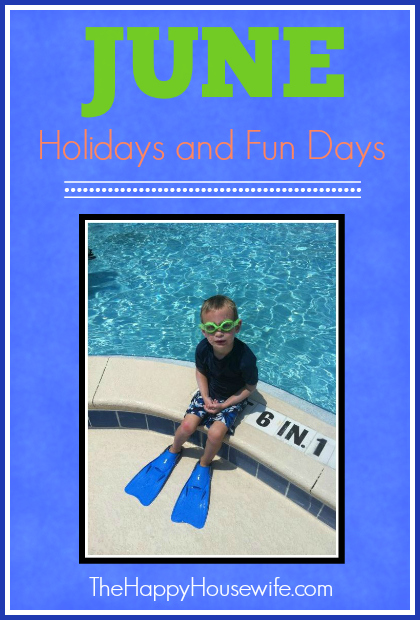 June happens to be one of the lighter months without many holidays, so carve out some memory making opportunities! Turn on the sprinklers, make homemade ice-cream, picnic outside, watch the sun set, and catch some fireflies!
June Holidays and Fun Days
June 4 – Applesauce Cake Day
June 12 – National Doughnut Day (2nd Friday)
Try a few recipes from The Happy Housewife:
June 14 – Flag Day
How is flag day different than July 4th?  Flag Day is the anniversary of the adoption of the Stars and Stripes as the official US flag in 1777.
June 18 – International Picnic Day
Go for a picnic and remember to pack some kid essentials like sun block, bug jar, zip lock bags (for treasures), binoculars (bird watching), and wipes. You might also like these ideas:
June 18 – Father's Day (3rd Sunday)
Nothing says "Happy Father's Day" in our home quite like barbecue brisket. The dad in your home  might not be a fan of brisket, so get with your kids and plan some of dad's favorite meals.  Forget the tie and have fun cooking together for the special dad in your home.  Don't forget to call a father-in-law or another special dad who made an impact on your life!
June 21 – Summer Begins
Here are some great ideas for you and your family this summer:
June 25 – Eric Carle's Birthday
Whatever you're doing this June, enjoy the moments to the fullest!