We have been homeschooling for four years now, and I'm always sad to see a mom grow frustrated with an uninterested learner.
I read many blogs where moms shared how they neglected to involve their children's interests during school time.  Each blog shared their discouragement with homeschooling.  Homeschooling isn't the problem – it's lack of interest led learning and we can avoid that!
This year my son jumped into football and every day school lessons started to drag as he wanted to throw the football, talk football, watch football, eat and sleep football.  So what is a mom to do? Adapt!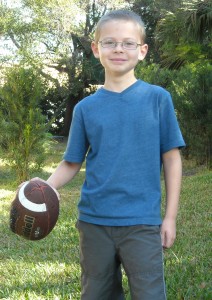 I incorporated football into our lessons.
Vocabulary – Look up every team mascot (Patriot, Bronco, Raiders -know what they are and mean.  There are some interesting ones).
Math – Create word problems. "If the Packers score 3 touchdowns, 4 field goals, and 1 safety – how many points do they have?" or "The Steelers beat the Cowboys 21-14, by how many points did they win?" Older students … "The Broncos play at home Sunday at 1pm, what time is that at the New England Patriots stadium?"

Geography – Learn all the cities and states that are home to the football teams.
Science – Learn all the animal mascots and something special about each one! Learn different biomes.
History – Where was the first football game played? Who was the first quarterback? Different rules of football.
Thankfully the football season ended, but rather than be done with that phase, I'm going to ask "What do you want to learn about now?" and create fun in our classroom.
Recently I attended an Apologia facebook party.  Someone asked Jeannie Fulbright (science curriculum writer) a question about her son's interest.  She had purchased a different curriculum than what he wanted to read.  Jeannie encouraged that mom to put down the curriculum and pick up on her son's interest!
What are your children's interests … are you including them in your homeschool lessons?