By contributing writer Tabitha
I knew my children didn't want a standard insect learning time. They were the kids that checked out the piles of books about extreme insect closeups and tromped around the backyard finding bugs and being bugs.
Even my daughters have no fear when handling insects found in the backyard, but you can't always see everything about an insect just by catching one.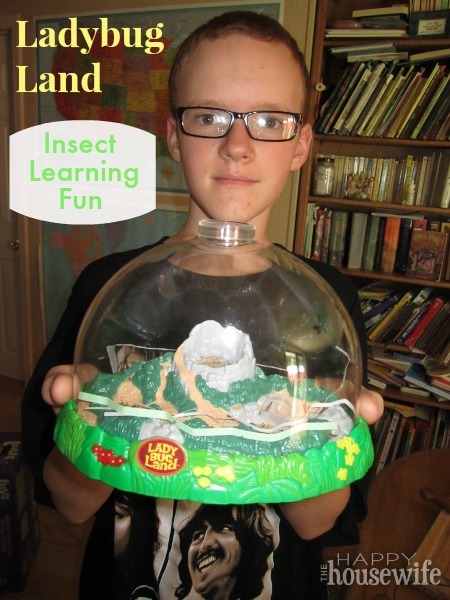 We started looking for more hands-on insect experiences. In the back of my mind I thought we were going to buy a butterfly kit, with the caterpillar to butterfly fun. My kids had already done that on their own with caterpillars found in our backyard… so we looked at other insects.
We were amazed at the choices available!  The options included silkworms, butterflies, a praying mantis, ants, plus ladybugs.  There were also many learning sites with ideas to make the project last longer than just the life cycles of the insect or other animals.
Ladybug Land is reasonably priced and you can get it on Amazon or elsewhere. You send off a card for the ladybug larvae or they can be ordered online. Insect Lore was easy to deal with, and even when our ladybug larvae arrived in less than the best shape, we were able to get replacements in a hurry. (This was through no fault of the company. Our weather was unseasonably warm the week they arrived.)
The ladybug larvae were easy to take care of and fascinating to all my children. While my oldest sons were the ones taking care of the ladybugs, everyone got to share in the experience as we watched the ladybugs change from larvae to adult beetles.  It was something they'd read about but hadn't seen before.  The process does take a few weeks but was fast enough to keep even my preschoolers interested.  The larvae tube has all the food the little insects need, and you just add a little water.
Ladybug Land was budget friendly compared to other options.  I loved that the habitat was reusable, and we've even repeated the experience since and enjoyed it just as much as the first time.
I love how hands-on experiences can help a child learn something so quickly that they might never remember when learned another way. This really worked well for our family!
You might also like…