Do you live in the Philadelphia area? If so, please join me at the Teach Them Diligently Marketplace in a few weeks.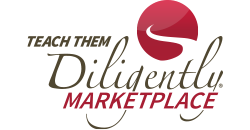 I'm pretty excited, okay – I'm really, really excited because I'll be speaking at the Marketplace on some of my favorite topics.
If you are thinking about homeschooling, already homeschooling, or maybe your children are homeschooling you don't want to miss it. Not only will there be great sessions from Ken Ham, Hal and Melanie Young, and Carol Barnier you can also shop the curriculum centers and find the best prices on books you need for next year.
Want to learn how to Be a Yes Mom? I'll be sharing how I stopped being a supermom and started being a "yes mom" at 1:10pm. Need help fitting meals into your already busy homeschool schedule? I'll be sharing my secrets to getting dinner on the table without losing your mind or your wallet at 4:40pm. Got average kids? I do, so I'll be sharing ideas and practical tips for homeschooling the child who will never win a spelling bee or ace the SAT at 8:10pm. 
The best part? It will only cost you $15. Seriously. When was the last time you paid $15 to go to a homeschool convention? With your $15 you'll receive a $10 off coupon for any purchase of $100 or more in the Marketplace. This is a deal you can't pass up!
If you don't live in the Philadelphia area don't worry, there are eight other locations across the US. You can find all the Marketplace locations here.
I hope to see you in Philadelphia! If you'll be there send me an email and let me know so we can meet!
Learn more and register for the Philadelphia Marketplace here.