Journeying through the Bible with a new letter and theme each week with your preschooler in this complete 28 week curriculum, God's Little Explorers: A-Z Adventures in God's Word and World for Preschoolers from MotherhoodOnADime.com!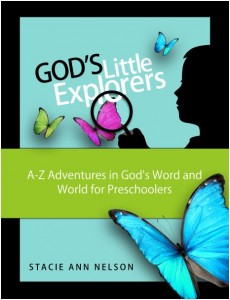 There are four main parts to the program:
Bible Adventure:  This is the time to read the Bible story, sing any recommended songs, and do a related craft or project.
Theme Adventure:  During this time, we explore the theme with crafts, science projects, cooking projects, and so forth.
ABC & 123:  This time specifically introduces an alphabet letter.  We also explore colors, shapes, and numbers during the year.
Life Skills:  Preparing a preschooler for life is much more than teaching them the ABCs!  Each week, we review various self-help skills, learn to complete chores correctly, practice manners, and do a service project.
This 192 page curriculum geared for 3-4 year olds (but easily adapted for 2 and 5 year old as well!) is only $14 for 28 weeks of 4-day/week curriculum plans!  So really only 50¢ per weekly lesson!
Purchase the God's Little Explorers Preschool Curriculum here.