Today was our first official day of school. The kids did not want to get up, but other than that the morning routine went well. I took pictures of each child and measured them to see how tall they are at the beginning of the year. It is quite funny to measure your daughter on your tiptoes.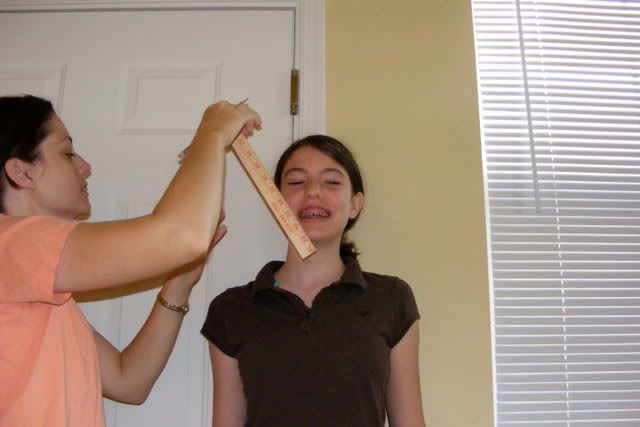 I took a group photo (those are always fun) and then we started our day.
In typical fashion our first day was not without interruption as out littlest one was sick and we visited the doctor and pharmacy. Nothing like strep throat on the first day of school. Doesn't she look terribly ill?
The kids finished all of their school work and had time to play in the afternoon. For some strange reason I let them get out the paints, and said yes to them painting on the front porch. Wait, did I say on the front porch, I meant paint the front porch, because that is what they did in the 15 minutes I spent on the computer during free time.
Remember the post I wrote a few weeks back about letting your preschoolers make messes…. I take it back.
Anyway, I attempted to scrub and spray the paint off the house and porch for about 45 minutes. It looks better but not great, any ideas?
Dad came home while I was scrubbing and we headed out for our celebratory 1st Day of School Dinner. Let's just say I was not feeling very celebratory at this point, but I was hungry.
After much debate we went to Fuddruckers and everyone, including me had a good time.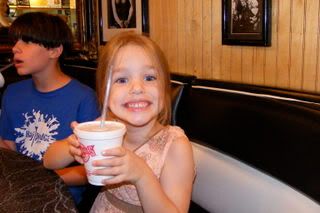 Here are my kids, completely glued to the television which was tuned in to the Democratic National Convention. Huh?
As you can see, I was in a much better mood leaving Fuddruckers…
In all seriousness, today was awesome. We got everything done and 4 out of 5 kids said they had a great day! Hopefully tomorrow will be as successful but less eventful!